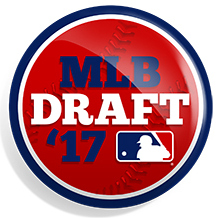 Now that all the pomp and circumstance of Day One of the amateur draft is in the books, it's time for teams to really get down to business. The first rounders get all the attention and understandably so, but Days Two and Three separate contenders from pretenders. The teams that turn those mid-to-late-round picks into valuable (or just useful) players have a big advantage over the teams that don't. How many teams right now wish they used a third or fourth rounder on Jordan Montgomery in 2014? Exactly.
The Yankees selected two players during Day One: South Carolina RHP Clarke Schmidt (first round) and California HS RHP Matt Sauer (second round). Here is my Day One recap. The draft continues today with Day Two, covering rounds 3-10. Day Two is, typically, the most boring day of the draft. Teams typically use most of their Day Two picks on cheap college seniors to save bonus pool money. Lame, but it is what it is. Here are some stray draft links:
The draft resumes today at 12:30pm ET and you can stream it online at MLB.com. There is no MLB Network broadcast today. The draft shifts to online only for Days Two and Three. Here is the MLB.com Draft Tracker. Talk about all things draft right here throughout the day.