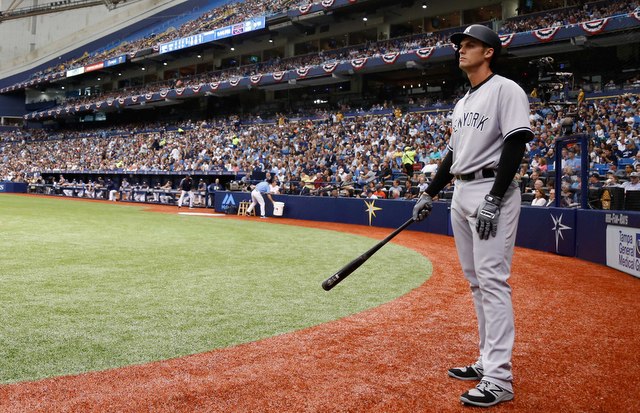 Yesterday afternoon, Brian Cashman announced the Yankees have "pulled the plug" on Greg Bird's rehab assignment because he still doesn't feel right. The weird thing is that it's unclear what exactly doesn't feel right. Officially, the Yankees pulled him off rehab with a right knee contusion. So is this a new injury? Or is the ankle still a problem?
Either way, Bird's rehab assignment has been put on hold. Hopefully this is a short-term thing and he can resume playing in a few days. That would be rad. At this point though, given all the injury issues, it might be time for the Yankees to stop counting on Bird for first base help this season, and begin looking outside the organization.
Now, let me be clear about this: I'm not saying the Yankees should give up on Bird. Hardly. He remains a big part of the future (I hope) and he should continue to get chances to be the first baseman of the future. What I am saying is Bird is dealing with so many problems right now …
Continued recovery from shoulder surgery and the ongoing process of shaking off the rust.
A bone bruise in his ankle from the foul ball in Spring Training.
Now a knee contusion, apparently.
… that taking a step back and allowing him to focus on getting healthy rather than doing all he can to return to the Yankees as soon as possible might be the best thing. Does Bird want to do that? Of course not. He's a competitor and he missed all of last season. He wants to get back into the lineup as soon as possible. It would be weird if he didn't.
The Yankees have to take the big picture into consideration though. Bird already spent a month playing through an ankle injury — a bad decision that only looks worse as time goes on — and now apparently he has a knee problem. The absolute last thing anyone wants is Bird to re-injure his shoulder by changing his mechanics at the plate to compensate for a weakened lower half. That's something that can happen subconsciously.
The best thing now might be treating this almost as a rehab season. Let Bird rest and get healthy. The knee, the ankle, everything. Give him as much time as he needs, then give him regular at bats in the minors to make sure his swing is all the way back. Remember how bad he was earlier this season? No one wants to see that again. When Bird comes back, the Yankees want him to be healthy and ready to do damage.
For that to happen, a "rehab" year for Bird, the Yankees will need to bring in first base help. Chris Carter had a nice game last night, though he's been pretty terrible overall, and I'm not sure there's enough upside here to remain patient. Yes, Carter has legit 40+ homer power and that's cool. There are so many other holes in his game though. Last season was a career year for him, and those 41 homers came with a 112 wRC+ and +1 WAR. Meh.
Who the Yankees could target for first base help is another conversation for another time, and something we'll no doubt talk about in the near future. The Eric Hosmer rumors are inevitable — did you realize the Royals are only two games back of a postseason spot? — though I'm partial to Yonder Alonso. There are first basemen out there to be had, better first baseman than Carter who would make it easier to be patient with Bird.
Even though they're in first place, the Yankees are a rebuilding transitioning team at heart right now, and they're focused on developing their young players to build a new core. Bird is part of that group. He's not healthy right now though. He's not healthy and it seems like his swing might not be all the way back either (3-for-21 in Triple-A on rehab). This is extending beyond the simple "he's banged up" stuff players deal with all the time.
The Yankees should put Bird's long-term future first, and in the wake of this latest setback, that means given him all the time he needs to get 100% healthy and to get his swing back. Going out and getting first base help, someone better than Carter, would make that easier. And whenever Bird is all the way back, be it August or September or next April, the Yankees will find a way to get him in the lineup.