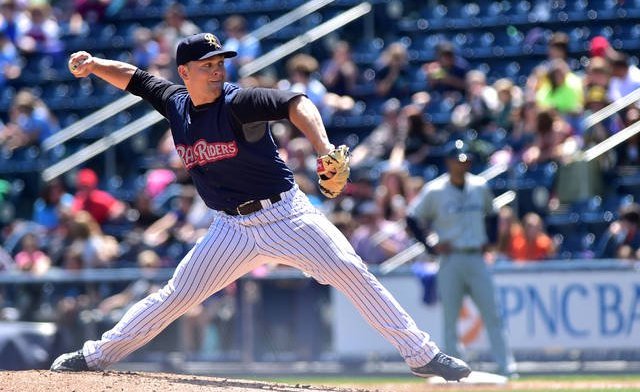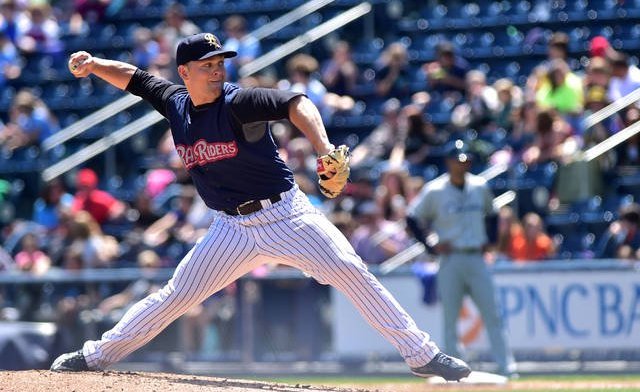 It happened again last night. For the fifth time during the seven-game losing streak, the bullpen let a winnable game slip away in the late innings. Tyler Clippard did the honors again, this time by allowing three runs in the span of four batters. Sometimes the bullpen is going to let a game slip away. It happens. That's baseball. It has been happening entirely too often this last week though. It's bad.
The Yankees did welcome Aroldis Chapman back from the disabled list Sunday, and adding him to the bullpen will no doubt help. Dellin Betances is now freed up for seventh and eighth inning work. Beyond those two though, the Yankees are without the injured Adam Warren, have a malfunctioning Clippardbot, and will need guys like Jonathan Holder and Chasen Shreve to get big outs. Not ideal!
The season is more than one-third of the way complete now, and it's looking like the bullpen needs more help than a healthy Chapman. The trade deadline is coming up and trades are fun! We're going to talk about them a bunch in the coming weeks. No doubt about it. But give the Yankees and Brian Cashman a truth serum, and I'm guessing they'd say they'd rather not trade prospects for non-elite bullpen help.
With the Yankees in the middle of their youth movement, going out and making a trade to shore up the bullpen may be Plan B. Plan A could be looking for help within first. We've seen guys like Gio Gallegos and Ben Heller already, and they could get more chances. I'm not talking about them though. The Yankees could turn to some of their high-end minor league starters for bullpen help, specifically Chance Adams and Domingo Acevedo. Let's talk this out.
1. Using minor league starters as big league relievers is tried-and-true. Teams have been doing this for decades now. It's not a new idea. Chris Sale spent his first year and a half as a big leaguer in the bullpen before transitioning into the rotation and becoming an ace caliber starter. So did Carlos Martinez. Jeff Samardzija, Marcus Stroman, Aaron Sanchez, Dylan Bundy, Adam Wainwright. They all broke into the show as relievers.
The Yankees have done this too. They did it with Joba Chamberlain, most notably. Phil Hughes spent just about the entire 2009 season in the bullpen. Luis Severino did the bullpen thing last season before getting another chance to start this year. I know we're all still scarred from the Joba Rules and the weird way the Yankee used Joba late in 2009 and all that, but that was almost ten years ago now. The Yankees have learned from that. I know that because they've done absolutely nothing like it since.
The bottom line is this: if the Yankees believe in a player as a starting pitcher, they're going to give him a chance to start at some point, likely sooner rather than later. They are not against an apprenticeship in the bullpen, however, because that can be beneficial too. Learning how to get outs in the big leagues is valuable experience regardless of role. Does Severino become the pitcher he is today without pitching out of the bullpen last season? I don't think so.
2. Both Adams and Acevedo can miss bats, and that's huge. I'm of the belief that the ability to miss bats is essential for bullpen arms. The Warren types, who succeed despite an okay-ish number of strikeouts thanks to weak contact and deep arsenals, are pretty rare. Being able to miss bats and get swings and misses in the late-innings is crucial. That ability to escape jams — or prevent rallies from getting started — by limiting balls in play is huge. Huge.
Both Adams and Acevedo can miss bats. They've racked up strikeouts in the minors — Adams has a 25.5% strikeout rate this year, Acevedo 26.2% — and the scouting reports suggest it's not a fluke. Adams has a mid-90s fastball and a pair of quality breaking balls in his curveball and slider. Acevedo is 6-foot-7 with big extension on his mid-to-upper-90s fastball, plus he has a quality changeup. Let them air it out in relief for an inning or two at the time and these guys could run strikeout rates north of 30%.
3. It won't be long before they bump up against their workload limits. I don't know what the number for either guy is, but the number exists. The Yankees have some workload limit in mind for Adams and Acevedo, two of their top pitching prospects, because they want to protect their arms long-term. Here are their recent innings totals:
| | Adams | Acevedo |
| --- | --- | --- |
| 2014 | 56.1 | 15.1 |
| 2015 | 94.1 | 49.2 |
| 2016 | 127.1 | 93 |
| 2017 so far | 75.2 | 81.2 |
| 2017 limit | 160? | 140? |
The old and outdated Verducci rule says you shouldn't increase a young pitcher's workload more than 30 innings from one year to the next, but that is, well, old and outdated. Teams are smarter than that now. Every pitcher is different and a blanket "no more than a 30-inning increase" doesn't make sense.
The Yankees are fairly aggressive with their workload increases. Severino threw nearly 50 more innings in 2015 than he did in 2014, for example. (He threw 48.2 more innings, to be exact.) The Yankees will set limits and stick to them, however. They shut Adams down completely right before Double-A Trenton started the postseason last year. Took away the club's best pitcher for the sake of his long-term health.
Whatever it is, Adams and Acevedo have an innings limit this year. Maybe it's the 160 innings and 140 innings I threw in the table. Maybe it's something else entirely. Whatever it is, rather than shut these down like they did with Adams last year, the Yankees could use those final few innings — their last, say, 20-25 innings, maybe? — out of the big league bullpen.
Remember, we're not talking about Single-A pitchers here. Both Adams and Acevedo are in Triple-A now. Letting a young, talented pitcher reach his workload limit only to shut him down for the year in Triple-A rather than give him a chance to help the MLB team, even as a September call-up, almost seems wasteful.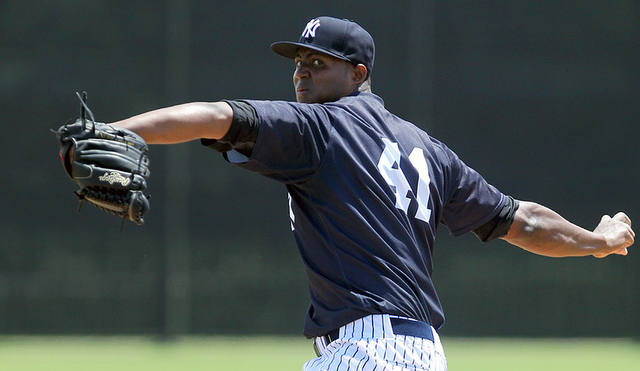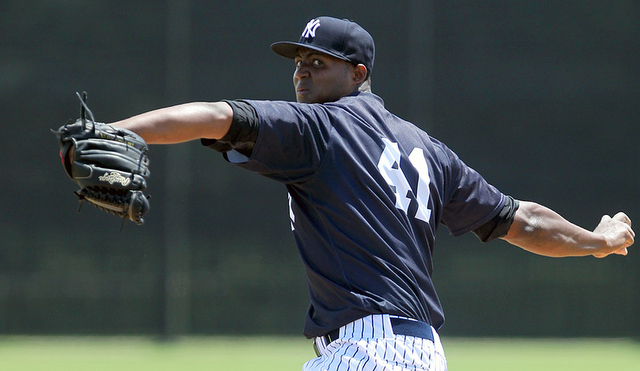 4. Service time, minor league options, and the 40-man roster aren't obstacles. Any time you call up a player, there are roster consequences to be considered. In the case of Adams and Acevedo, neither is on the 40-man roster. The Yankees have an open 40-man spot right now, plus Greg Bird is a 60-day DL candidate, though that might not be the case when they're ready to call up these two pitchers.
Acevedo will be Rule 5 Draft eligible after the season, so calling him up would simply be getting a head start and adding to the 40-man a few weeks early. Adams won't be Rule 5 Draft eligible until after next season, however. And once both guys are on the 40-man roster, they're not coming off. The Yankees would be tying up a spot for good and that limits their roster flexibility. That's not nothing!
That said, Acevedo is going to end up the 40-man roster soon anyway, and Adams is likely going to be big league ready before being Rule 5 Draft eligible. This isn't like adding, say, Jorge Mateo to the 40-man last year. Mateo is a Single-A kid who isn't MLB ready but was Rule 5 Draft eligible. Acevedo and Adams would be added to the 40-man when the Yankees deem them MLB ready. They'd be on the roster because they're ready to help.
As for minor league options and service time, who cares? It's not worth worrying about service time with non-elite prospects, especially pitchers because they get hurt so often. And if the Yankees run into options trouble with Acevedo and Adams down the line, then things are going wrong. Not being able to send them to the minors in 2020 would mean something has gone wrong. These roster issues really aren't worth worrying about.
* * *
All of that was a long way of saying that if the Yankees consider Adams and Acevedo big league ready, there's no good reason not to use them as relievers. The guys in the bullpen are not getting the job done and sticking with the status quo might not be viable much longer. The Yankees are going to have to get some new bodies in there if things don't change soon.
Adams and Acevedo can go back to starting next year and the roster situation isn't enough of an obstacle. Maybe the Yankees end up needing both Adams and Acevedo in the rotation and this is all moot. If not though, the bullpen is waiting, and both should be considered middle relief options. If they're deemed ready to help, let them help, even if they're only throwing one inning at time.