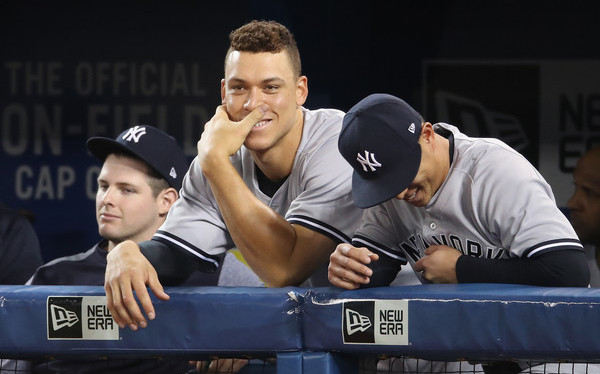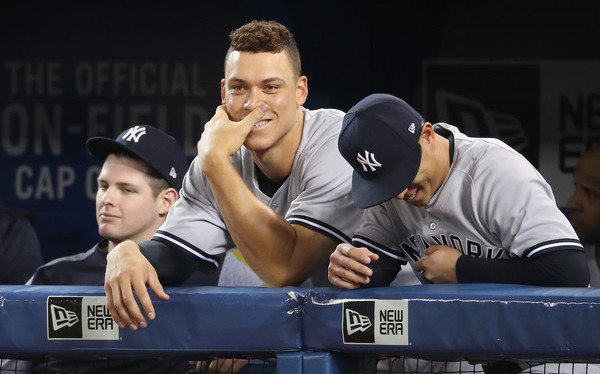 Last night's win was one of those wins that makes you feel good all day, you know? The Yankees had a tough go of it in Baltimore, but they came out and laid a beating on the Blue Jays early in the series opener. Always nice to see them turn things around so quickly. Hopefully it continues tonight.
Tonight the Yankees have a chance to do something they haven't done since way back in 2010, and that's win 32 of their first 52 games. At 31-20, the Yankees currently have their best record through 51 games since that 2010 team also went 31-20. Only three times this century have the Yankees won 32 of their first 52 games: 2002 (34-18), 2004 (33-19), and 2010 (32-20). Pretty cool the Yankees are where they are. Here is the Blue Jays' lineup and here is the Yankees' lineup:
LF Brett Gardner
C Gary Sanchez
RF Aaron Judge
DH Matt Holliday
2B Starlin Castro
CF Aaron Hicks
SS Didi Gregorius
3B Chase Headley
1B Chris Carter
RHP Michael Pineda
The internet tells me it is cool and cloudy in Toronto tonight. I'm not sure whether the Rogers Center roof will be open. Tonight's game will begin at 7:07pm ET. You can watch on YES locally and MLB Network nationally. Enjoy the game.
Injury Update: Jacoby Ellsbury (concussion) was scheduled to hit a little bit today. Joe Girardi said it is unlikely Ellsbury will be activated during this series.
Awards!: Congrats to Judge, who was named AL Rookie of the Month for the second straight month. He's the first Yankee ever to win the award twice, and he did it back-to-back months. Sanchez won it last August, so Yankees have been named AL Rookie of the Month in three of the last four months. Is that good? That seems good.