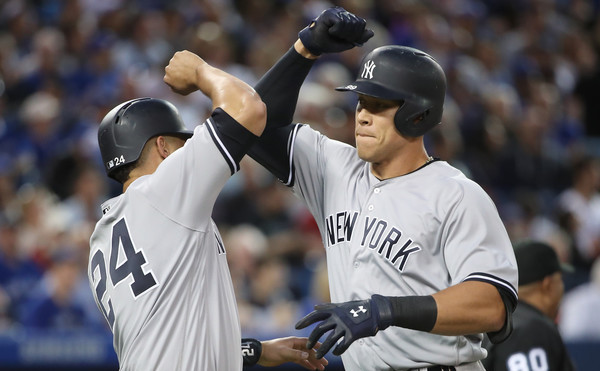 The Yankees have alternated wins and losses for a week now, which I guess means they're due for a win this afternoon. Go home, nothing to see here, game is already in the bag. If only, huh? The offense has come back to life — the Yankees have scored 40 runs in their last six games — and now it's time to get the pitching back on track.
This afternoon the ball will go to rookie Jordan Montgomery, who hasn't pitched all that well in three of his last four starts. General baseball randomness, or the league catching up to him? Whatever it is, he and the Yankees could use a good outing today. I'm not sure how many more duds Montgomery can manage with Chance Adams looming. Here is the Blue Jays' lineup and here is the Yankees' lineup:
LF Brett Gardner
CF Aaron Hicks
RF Aaron Judge
DH Matt Holliday
2B Starlin Castro
SS Didi Gregorius
3B Chase Headley
C Austin Romine
1B Rob Refsnyder
LHP Jordan Montgomery
The Rogers Centre roof is going to be open this afternoon, which means it's a lovely afternoon in Toronto. Today's game will begin a little after 1pm ET and both YES and MLB Network will have the broadcast. Enjoy the game.
Injury Updates: Jacoby Ellsbury (concussion) has been shut down. His headaches have returned. He'll see a neurologist when the Yankees get back to New York on Monday. I guess this solves the "Hicks has to play every day" problem for the foreseeable future. This stinks though. Brain injuries are no joke. Hopefully Ellsbury is okay … Aroldis Chapman (shoulder) threw a light 15-pitch bullpen session today. Joe Girardi estimated a return date of June 15th.