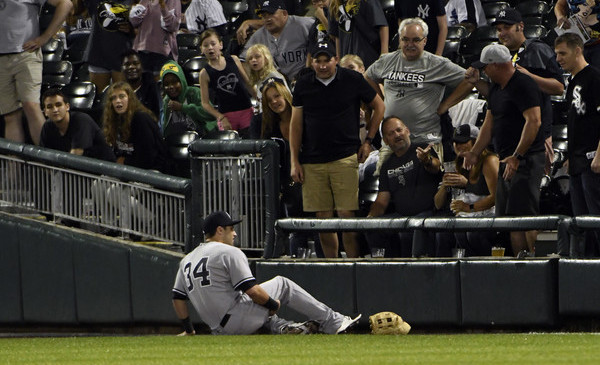 Yesterday was, by a frickin' mile, the toughest day of the season for the Yankees. Forget about the loss to the White Sox. The game is whatever. Dustin Fowler, in the first inning of his first MLB game, blew out the patella tendon in his right knee crashing into the side wall chasing a fly ball. His season is over. His day to remember turned into a day to forget. It's awful.
I suppose the good news is Fowler is in good spirits. The Yankees got together this afternoon and FaceTimed with Fowler to let him know they're thinking about him. Fowler said the surgery went well and he's facing a six-month rehab, which means he should be ready for Spring Training. It won't be easy, but Fowler is a no nonsense guy who will no doubt attack his rehab. Go out and win a ballgame for him. Here is the Astros' lineup and here is the Yankees' lineup:
LF Brett Gardner
CF Jacoby Ellsbury
DH Aaron Judge
SS Didi Gregorius
3B Chase Headley
C Austin Romine
2B Ronald Torreyes
RF Tyler Wade
1B Chris Carter
RHP Michael Pineda
It is very hot and humid in Houston right now, so the Minute Maid Park roof will be closed. Thank goodness for air conditioning. Man's greatest achievement. Tonight's game will begin at 8:10pm ET. You can watch on YES locally and MLB Network nationally. Enjoy the game.
Roster Moves: In addition to Fowler being placed on the 10-day DL — they'll slide him over to the 60-day DL next time they need a 40-man spot — the Yankees also sent down Ronald Herrera. Miguel Andujar and Bryan Mitchell were called up.
Roster Update: Tyler Clippard is away from the Yankees. His grandmother passed away. Our condolences go out to him and his family. Clippard will rejoin the team tomorrow.