Pretty huge mailbag this week. Fifteen questions. Send your questions to RABmailbag (at) gmail (dot) com each week. I'll answer as many as I can get too, assuming I actually know the answers.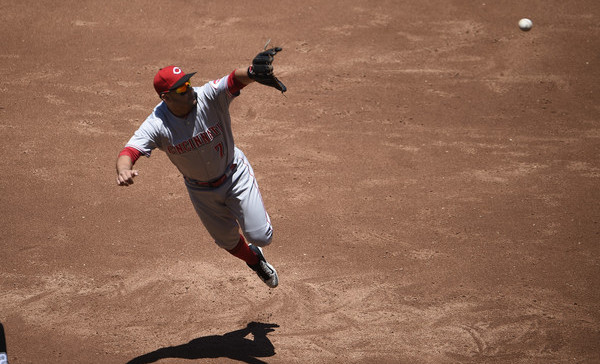 Dee asks: Seems like the plan is for Torres to take over 3rd but if not what about Eugenio Suarez of the Reds as a target? He's having a solid season (.283/.368/.597) but he's being pushed by Scooter Gennett for playing time, and the Reds top prospect (#20 overall) is 3B Nick Senzel, although he is at single A.
Suarez is younger than I realized. He'll turn 26 next month. He's been around a while and I kinda assumed he was already 27 or 28. The Reds got Suarez from the Tigers for Alfredo Simon (!) three years ago, and he's currently hitting .280/.368/.484 (124 wRC+) with ten homers and 11.2% walks as Cincinnati's everyday third baseman. He's a natural shortstop playing third in deference to Zack Cozart.
The Reds are in the middle of a rebuild, so they'll probably listen to offers for Suarez, though there's no indication he's on the market right now. With Cozart a trade candidate and impending free agent, I suppose their master plan could be sliding Suarez back to shortstop when Senzel is ready to take over third. Anyway, yeah, I think Suarez would be a real interesting trade target. He's always had some pop and he's starting to come into his own as an all-around hitter, which is exciting at his age.
As an added bonus, Suarez will remain under team control as an arbitration-eligible player through 2020, so he would be New York's long-term solution at the hot corner. I know Gleyber Torres and Miguel Andujar are coming, but Suarez is a good player too, and good players are always worth adding. Would it be unreasonable if the Reds asked for Clint Frazier? I don't think so. Doesn't mean I'd do it. I'm just saying that's what they could ask for in a trade. What about, say, Dustin Fowler and Chance Adams? I like the idea of Suarez. The question is, as always, cost.
Kenneth asks (short version): Michael Pineda has added a hesitation to his delivery from last season. It occurs when he brings his back foot down and starts to raise his hands. From a pitching standpoint, how far do you think this goes in terms of consistency, repetition, and overall makeup?
Kenneth has raised the mailbag question bar, folks. He not only made an astute observation, he also provided a video breakdown. 2017 Pineda is on the left and 2016 Pineda is on the right:
I hadn't noticed the hesitation in Pineda's delivery, perhaps because it's so subtle. Tempo is pretty darn important, and if this hesitation helps Pineda keep everything in check and be more consistent with his delivery, it could absolutely have an impact on his overall performance. At the same time, pitchers make these tiny little changes to deliveries over the years and often they don't mean anything. Compare any pitcher's delivery today to his delivery last year and there will be some differences, no doubt.
To answer the question, I think it's possible this little hesitation is helping Pineda's overall performance this season, though I'm not ready to say that with any certainty. Does he even do it every pitch? I'm not sure. If anything, this could be a reason for Pineda's success this year, but probably not the reason.
Joe asks: Is Jhonny Peralta better than Chase Headley?
Nah. Not at this point. The floundering Cardinals released Peralta earlier this week and ate the $10M left on his contract. He's been hurt (103 total games) and ineffective (81 wRC+ and -0.9 fWAR) the last two seasons, and at age 35, he just looks old and worn down. The bat is slow, the defense is rough, and the body doesn't recover as well as it once did. Any team can sign Peralta for the pro-rated portion of the league minimum now, so he's basically risk-free, but I have no interest in signing him to replace Headley, even as bad as Headley has been since April. I'd rather have Ronald Torreyes than Peralta, and the Yankees also have a few young infielders knocking on the door in Triple-A. I don't see Peralta having anything to offer New York at this point. He's at the end of the line.
Max asks: Mike, any interest in Ryon Healy as a potential deadline pickup to play third? What would it even take? Fowler and a good secondary piece?
I don't think the A's would trade Healy now because he's cheap and productive — he went into last night's game hitting .282/.310/.532 (125 wRC+) with 15 homers — so this is purely hypothetical. I'm not much of a Healy fan because he's so one dimensional. He's basically a power hitter and that's it. And that's good! If you're going to be one-dimensional, power is a good dimension to have. Hitting 15 homers in two months in that home ballpark is pretty impressive.
The downside here is that Healy is a brutal defender at third base. One of the worst in baseball. There's a reason he's played more first base and DH than third base this year. (That'll continue going forward with top third base prospect Matt Chapman now up.) Add in suspect strikeout (25.2%) and walk (3.5%) rates, and you've got a player who is going to have to continue hitting for big power to have value. I'd rather see the Yankees look elsewhere for third base help.
Daniel asks: Aaron Judge is currently hitting .323 and according to ESPN he is on pace to strikeout 196 times. What are the most strikeouts someone who has batted over .300 has ever had?
Judge went into last night's game hitting .338 with a 193-strikeout pace, which is a hell of a combination, even over a 63-game sample. The average really surprises me. I've always been a Judge guy, but I never expected him to hit well over .300 for this long a stretch. Certainly not so early in his career. Anyway, here is the answer to Daniel's question:
Bobby Bonds: .302 AVG and 189 strikeouts with 1970 Giants.
Ryan Howard: .313 AVG and 181 strikeouts with 2006 Phillies.
Freddie Freeman: .302 AVG with 171 strikeouts for 2016 Braves.
Sammy Sosa: .308 AVG with 171 strikeouts for 1998 Cubs.
Sammy Sosa: .320 AVG with 168 strikeouts for 2000 Cubs.
The Yankee record for strikeouts by a .300 hitter belongs to Alfonso Soriano. He hit an even .300 with 157 strikeouts back in 2002. There have been 20 instances in history of player hitting .300+ with 150+ strikeouts. Sosa and Mo Vaughn are the only guys to do it multiple times. Judge is still striking out a ton (28.9 K%) this year, but man, when he makes contact, it is LOUD. I keep waiting for the .424 BABIP to come down, but the guy hits like three 115+ mph line drives a night.
Sean asks: With Judge at 5th in Avg, 1st in HR's, and tied for 3rd in RBI's in the AL, is it out of the question to start talking about the triple crown? With his new spot as number 3 hitter and they way he's been consistently hitting, it seems like it's certainly possible. At this rate he's essentially a lock for ROY and is challenged only by Trout for MVP.
I read recently that no rookie has ever led all three Triple Crown categories as late into the season as Judge this year. (He held the lead outright in all three categories for a day earlier this week. I think it was Tuesday.) Here's where Judge stood in the Triple Crown race prior to last night's game:
AVG: .338 (second to Avisail Garcia .339)
HR: 22 (Logan Morrison is second with 18)
RBI: 49 (second to Nelson Cruz's 52)
We're still a long ways away from serious "okay he has a real chance to win the Triple Crown" talk — we have to wait until at least August for that, no? — but it sure is fun to think about right now, isn't it? Heck, if you're not talking about Judge maybe winning the Triple Crown right now, then what's the point of being a fan? It's fun and baseball is supposed to be fun. Go Judge, my large baseball mashing adult son.
Michael asks: At what point does Judge's rookie season get put in the conversation for the greatest rookie season of all time? What past rookie season would even be in Judge's conversation? (I know Ichiro's rookie year was amazing, even though he wasn't a true rookie)
Right now. It's time to start having this conversation. This is a topic worth its own post at some point, but here's a quick list of the best rookie seasons by a position player in history:
| | HR | OPS+ | wRC+ | fWAR | bWAR |
| --- | --- | --- | --- | --- | --- |
| 1. | 1987 Mark McGwire (49) | Judge (195) | Judge (200) | 2012 Mike Trout (+10.3) | 2012 Mike Trout (+10.8) |
| 2. | 1956 Frank Robinson (38) | 1911 Shoeless Joe (193) | 1911 Shoeless Joe (184) | 1914 Benny Kauff (+9.9) | 1911 Shoeless Joe (+9.2) |
| 3. | 1930 Wally Berger (38) | 2014 Jose Abreu (173) | 2014 Jose Abreu (167) | 1911 Shoeless Joe (+9.3) | 1964 Dick Allen (+8.8) |
| 4. | 2001 Albert Pujols (37) | 2012 Mike Trout (168) | 1914 Benny Kauff (167) | 1964 Dick Allen (+8.2) | 1914 Benny Kauff (+7.8) |
| 5. | 1950 Al Rosen (37) | 1914 Benn Kauff (165) | 2012 Mike Trout (167) | 1899 Jimmy Williams (+7.5) | 2001 Ichiro Suzuki (+7.7) |
Judge is currently on pace for +10.3 WAR, both the FanGraphs and Baseball Reference versions. Given the obvious issues with historical WAR — something tells me the defensive component for Shoeless Joe Jackson in 1911 might not be reliable — I'm inclined to look at offense only right now. That means Judge is up against guys like Trout, Abreu, and Pujols. Either way, WAR or offense only, Judge is doing stuff only a handful of rookies have done before. This will be fun to follow the rest of the season.
Kyle asks: How do minor league options work for international free agents? Are the Yankees allowed to option Tanaka to the minors? Or, does it need to be a phantom injury DL stint if this keeps up?
As best I can tell, there is nothing in Masahiro Tanaka's contract that prevents the Yankees from sending him down. Many of these overseas veterans have clauses put in their contracts that prevent teams from sending them down without the player's consent. Eric Thames has one, for example. Also, Tanaka doesn't have enough service time (needs five years) to refuse a minor league assignment.
So yes, the Yankees can send Tanaka down. I don't see that happening though. That's a pretty extreme measure and you risk making Tanaka, your best player last year and a guy you need to have a legitimate World Series chance this year, unhappy. That's not good. Relationships are important. If anything, I think the Yankees would put him on the phantom disabled list. The Yankees have yet to do that though. They're sticking with Tanaka because he shows enough flashes of snapping out of it. Sending him down ain't happening.
Anthony asks: I am a big fan of Miguel Andujar. Not the most sexiest name in the loaded Yankee's farm system but definitely a legitimate third base prospect. The writing is on the wall for Torres to take over third at some point this season. Where do you see Andujar fitting in the Yankee's future plans? Can we safely assume he has the flexibility to learn a new position or does he become trade bait at this point?
I imagine Andujar is going to head to Triple-A Scranton fairly soon. He's been at Double-A a year now — Wednesday was the anniversary of his promotion — and he's hit .285/.330/.419 (106 wRC+) with nine homers and a 13.3% walk rate in 133 games and 570 plate appearances at the level. Andujar has been excellent of late too, hitting .385/.420/.635 (192 wRC+) over the last month. He's figuring it out!
A promotion to Triple-A will complicate the infield situation because Torres and Tyler Wade have been working out at the hot corner, and Andujar has no experience at other positions. The Yankees have had him work out a bit at first base this year, though he's yet to play there in a game. I suppose the outfield could be an option, though it seems unlikely. The Yankees have not yet had him work out there anyway. I'm not sure Andujar is equipped to play anywhere other than the infield corners.
Perhaps the inevitable Andujar promotion to Triple-A coincides with Torres being called up to MLB, which would answer the playing time questions. If not, well, I imagine Andujar would get the lion's share of the playing time at third base for the RailRiders while Torres (and Wade) move around. What else would they do? I'm an Andujar fan and think he can be a starting big league third baseman, which would allow the Yankees to play Torres at second. Let's wait until everyone is ready before we start to worry about who fits where though.
Will asks: Any talk in the last CBA negotiations about teams being able to trade picks? There has been a lot of parity in MLB over that past decade or so and I do feel like not being able to trade picks helps (keeps teams from making stupid trades) but I love the idea. I don't follow them anymore but it makes the trades in the NBA and NFL much more interesting.
If MLB and the MLBPA talked about it prior to the new Collective Bargaining Agreement being finalized, it wasn't reported anywhere. Apparently the concern is small market teams would trade all their draft picks to avoid spending on bonuses, which seems sorta silly. I'm pretty sure every front office in baseball right now is smart enough to know high draft picks are crucial to long-term success. Trading picks would be really interesting and I'd like to see it. There probably has to be some limitations though. Only picks in the top ten rounds, the picks tied to the bonus pool, are tradeable, maybe? If not, why not ask for, say, a 30th round pick to be added to every trade? I really hope MLB makes draft picks tradeable at some point. It would be fun and it would make the draft more interesting.
Anonymous asks: It seems lately in blowout games, that Gardner is usually the first to get pulled. (Saturday and Sunday for instance). Any trade speculation talks? Thanks.
It doesn't have anything to do with trades. Gardner is the oldest regular position player on the roster — among guys who actually play the field, that is — and he's played a ton lately with Jacoby Ellsbury out, so when Joe Girardi has a chance to get Gardner off his feet for a few innings, he does it. That's all it is. There's no greater meaning here.
Christian asks: In Monday's game I was perplexed the Angels pitched to Judge with one out, Hicks at 2nd and 1st base empty… I'm glad they did. But it made me think if you would rather have Hicks hit a single or a double with one out? A single and they more or less have to pitch to Judge or a double to give the team a runner in scoring position in which case the smart move would be to walk Judge?
Yeah that made no sense to me at all. I get that Matt Holliday was on deck and he's a dangerous hitter, but man, how do you pitch to Judge in the late innings of a tie game with first base open? Both Judge and Holliday are dangerous hitters. Walking Judge means you only have one great hitter to deal with rather than two. Whatever. The Angels pitched to Judge and he socked the go-ahead homer. Hooray for that.
Anyway, as for the question, give me the double over the single in that (and every) situation. I understand the thinking, that Aaron Hicks stopping at first base forces them to pitch to Judge, but in the late innings of a tie game, you've gotta get to second base if you can. If they walk Judge, so be it. Take the free baserunner. Give me first and second with one out and Holliday at the plate over a man on first and one out with Judge at the plate.
Ryan asks (short version): What about locking players up (Judge, Sanchez, etc,) to long term extensions à la Tampa & Longoria?
The Yankees absolutely should consider long-term extensions for their young players, which means Luis Severino in addition to Judge and Gary Sanchez. I'd prioritize extensions for those players in this order:
Sanchez: Quality catchers are so hard to find and Sanchez very well might be the best hitting backstop in baseball for the next ten years.
Judge: Love the guy, but he's already under team control until his 31st birthday, and part of me worries about that big 6-foot-7, 282 lb. frame breaking down at some point.
Severino: Pitchers break, man.
My guess is the Yankees won't approach any of them about an extension until after they get under the luxury tax threshold next season. If the Yankees were give Sanchez, say, six years and $42M this offseason, he'd count as $7M against the luxury tax payroll next season, not his near league minimum salary as a pre-arbitration-eligible player. That hurts their chances to get under the luxury tax threshold. You could easily argue that, in the big picture, signing Sanchez now would save more than enough long-term to justify the luxury tax hit, but it's not like the Yankees couldn't afford to sign him down the road anyway.
Kyle asks: How soon after you draft a player can you trade him? I know you can't trade draft picks but I am wondering if there are any way to circumvent the restriction by making trades post-draft.
After the season. They changed that rule not too long ago. Teams used to have to wait one calendar year after the player signed his first pro contract to trade him. They used to get around that by including them in deals as players to be named later. That's what happened with Trea Turner. He was included in that big Wil Myers trade as a player to be named, and he had to stay with the Padres until he was eligible to be officially traded. It was a crappy situation for everyone. Turner was essentially a Nationals employee under Padres management. Because of that, they changed the rule. Drafted players can be traded right after the season, which is how Dansby Swanson went to the Braves in the Shelby Miller deal.
John asks: Who do you think the Yankees will send to the Fall League?
We're still a ways away from the Arizona Fall League rosters being officially announced. They usually aren't released until the end of August. As always, the best AzFL candidates are players who missed time with injury this season. That makes Dillon Tate (shoulder), Albert Abreu (elbow), and Dietrich Enns (shoulder) prime candidates. Top Double-A and Triple-A prospects are always candidates too. Wade, Torres, Andujar, Fowler, etc. They could be in the mix.
Because the Yankees have so many quality prospects eligible for the Rule 5 Draft after the season, I could see them using the AzFL as sort of a "last gasp" to evaluate guys on the 40-man roster bubble. Billy McKinney, for example. He has talent, and even though he hasn't hit much, you'd still hate to lose him for nothing. The AzFL could buy the Yankees some more time to evaluate him before making a decision about the roster. Others like Tito Polo, Thairo Estrada, Ian Clarkin, Rashad Crawford, and J.P. Feyereisen could fit into that class too.