I've been busy the last few days, so I didn't have much time for mailbaggin'. Only eight questions this week. These things used to only be three or four questions, you know. Now eight qualifies as small. Anyway, RABmailbag (at) gmail (dot) com. Send questions there.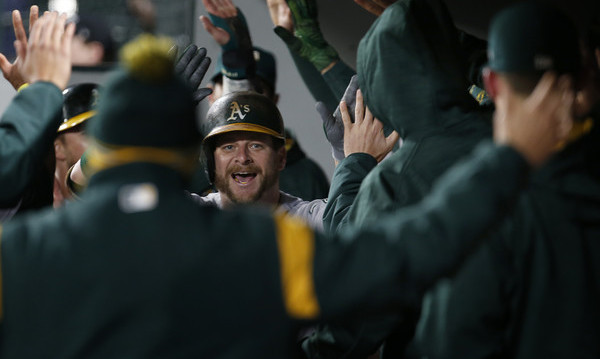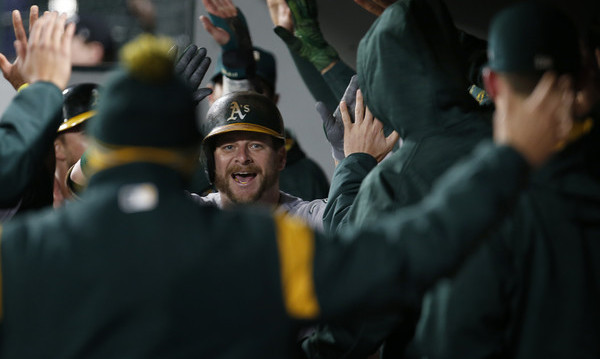 Mike asks: Do you believe in Stephen Vogt?
I believe in Stephen Vogt. The Athletics designated Vogt for assignment yesterday as part of their renewed emphasis on youth. Vogt is gone, Trevor Plouffe is gone, and I imagine it's only a matter of time until Jed Lowrie, Yonder Alonso, and Rajai Davis are gone too. The A's are going young.
Vogt, 32, was hitting .217/.287/.357 (73 wRC+) with four homers in 174 plate appearances this year — Chris Carter went into last night's game hitting .201/.287/.384 (77 wRC+) — after being an All-Star in 2015 and 2016. His production has dropped from a 116 wRC+ in 2015 to a 93 wRC+ in 2016 to a 73 wRC+ in 2017. That is: bad. And yet, there is this:
Vogt is a career .260/.320/.428 (106 wRC+) hitter against righties.
He's a left-handed hitter who can take advantage of the short porch. Example: this homer.
He can play first base, fake the outfield, and be an emergency third catcher.
Vogt is an A+ clubhouse dude. He's awesome. Example: his NBA referee impression.
If he gets released, Vogt can be signed for the pro-rated portion of the league minimum.
The Yankees gotten nothing from first base this year. Stephen Vogt has been very bad this year! Can he better in Yankee Stadium while limited to platoon duty? Maybe! Now that Aaron Hicks is healthy, the Yankees don't need Mason Williams on the bench. Sending down Williams for Vogt and giving him a chance at first base could be an upgrade. Probably not, but maybe so.
Here's the thing though: I don't think the A's will release Vogt, and he definitely won't elect free agency because he has fewer than five years of service time, meaning he'd forfeit the remainder of his $2.965M salary by electing free agency, and that's not happening. The A's will outright him to Triple-A and stash him as depth. I wouldn't trade anything to get him nor would I take on the salary via waivers. If the A's do release Vogt, sure, see if he'll come to New York. If they don't release him, then forget it.
Colin asks: Colin Moran, top college bat, high draft pick, local kid. The Astros are all locked up in the infield (although with Gleyber going to 3rd maybe the Yankees are now). He's 25 and seemingly figuring it out, would it be possible to pry someone like that away on the cheap side?
Eh, I'm not sure he's figuring it out as much as he is repeating Triple-A. Moran, the sixth overall pick in the 2013 draft, is hitting .279/.340/.541 (122 wRC+) with 16 homers, 17.6% strikeouts, and 8.2% walks in 57 Triple-A games this year. He's a left-handed hitter known more for his level swing than his power. MLB.com ranks him as the 23rd best prospect in the Astros' system. Here's a piece of their scouting report:
Known for his pure left-handed swing and his ability to barrel balls easily while controlling the strike zone … His approach and relatively flat stroke yield below-average power, however, and he's not the walk machine he was in college at North Carolina. Moran contributes little value beyond his bat, so he'll have to boost his projection to become a big league regular … He has the hands and solid arm to play the hot corner, though Moran lacks range there. He's a well below-average runner whose only other defensive option is first base.
The 'Stros have Alex Bregman at third base and Yulieski Gurriel at first — plus A.J. Reed is waiting in Triple-A — so there's no real spot for Moran going forward. He has a minor league option remaining for next season, so I suppose the Astros could stash him in Triple-A for another year as a depth option. They don't have to move him anytime soon.
The Yankees don't have a clear cut long-term third baseman. Gleyber Torres is awesome, though his recent Tommy John surgery throws a wrench into things. If nothing else, it delays his arrival. I am a big Miguel Andujar fan, but prospects are suspects until they prove otherwise. Could the Yankees get Moran for a similar busted former top prospect like, say, Mason Williams? It would be worth it given the uncertainty surrounding third base. Moran is by no means a "must acquire" though.
Jake asks: Given Bird's setback and the likely probability that Detroit will sell, Alex Avila seems like a good fit. He's on a prove-it contract that expires at the end of this year, he's played first in the past, and he's slashing well (including getting on base at a career-best .432 clip). Is he worth the risk?
Interesting! Avila has played 35 games at first base the last two seasons, so it's not completely new to him, plus you could always stick him behind the plate. Avila is hitting .314/.437/.587 (172 wRC+) with ten homers on the season, easily his best year at the plate, because he's doing the "hit more fly balls" thing (like Yonder Alonso):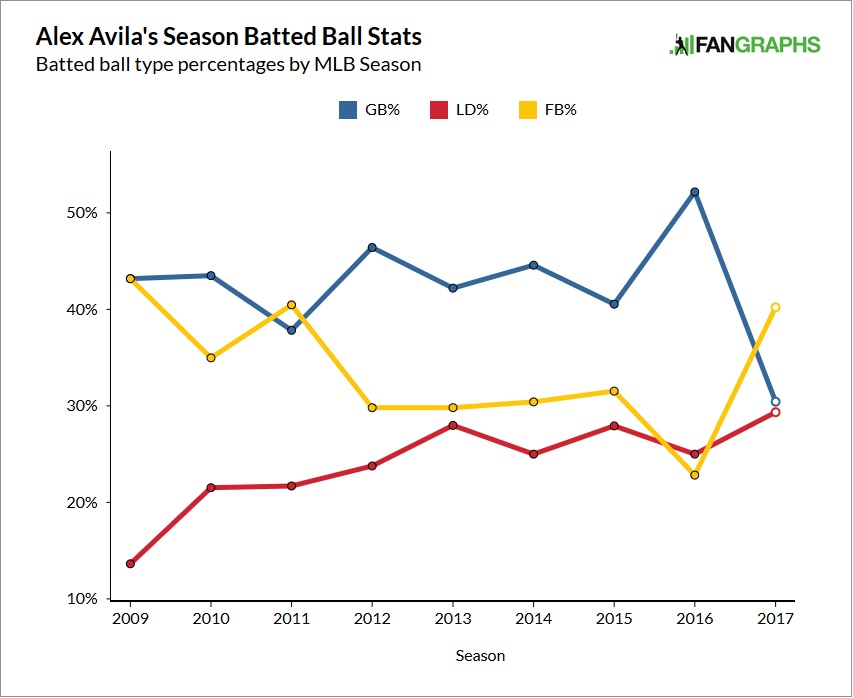 If Greg Bird continues to have injury issues, Avila would be a nifty little pickup. He'd slide right into Bird's roster spot as the left-handed hitting first baseman (slash catcher), and he'd give the Yankees a nice platoon option against righties. Plus, left-handed hitter and the short porch! Those two things always mix well. I wonder whether the Yankees could get him for someone like Ben Heller or Jonathan Holder. I can't imagine Avila has much trade value despite his great start. Getting him for an extraneous reliever (the Tigers are in perpetual need of bullpen help) would work.
Bobby asks (short version): Given that the Yankees drafted numerous players at the bottom of the draft who are early round talents, is there any chance that the Yankees would decide to go crazy and sign all of them to multi-million dollar bonuses? They would have to forfeit their first round pick in the next two drafts and pay 100% tax on the overage.
No team has ever exceeded their bonus pool to the point where they forfeit future draft picks and I don't see that happening anytime soon. It is an interesting idea though. In the late rounds this year, the Yankees drafted one bonafide first round talent (Alabama HS RHP Tanner Burns) and two players who could be first round picks next year with healthy 2018 college seasons (Stanford RHP Tristan Beck and Louisville RHP Riley Thompson). Beck is a potential top ten pick next year.
Exceeding your bonus pool by 15% or more means forfeiting your next two first round picks and paying a 100% tax on the overage. If the Yankees were to give those three players first round money, say $2.5M to $3M each, they'd be way over their $6.91M bonus pool. Let's call it $3M each. That means paying $9M in bonus, $9M in tax, and giving up their first round picks in 2018 and 2019. But! You are adding three first round caliber talents to the organization right now. I think this is seriously worth considering when you're talking about signing more than two such players. Doing it for one doesn't make sense. But three? It's not a bad idea. I don't see the Yankees doing it though.
Michael asks: With the hole at first base who would you acquire? Any thoughts on Matt Adams? He's cheap and controllable beyond this year.
I've never been a big Adams guy but he has been raking since getting traded to the Braves: .294/.346/.647 (148 wRC+) with eleven homers in 30 games prior to last night. Unless you think he's a new player for some reason — and there's nothing in the underlying numbers to suggest this is something more than a hot streak — Adams is the same guy he was with the Cardinals a few weeks ago. Atlanta gave up a non-top 30 organizational prospect to get him (Juan Yepez) and that's all I'd give up to get him now. I'm not paying a bigger price because he had a month long hot streak with the Braves that will in no way benefit me. If the Yankees can get Adams for a non-top 30 guy, say Abi Avelino or Chris Gittens, do it. That's about my limit here.
Henry asks: without seeing the numbers the eyeball test is telling me that Judges K rate has been climbing. It seems like he is maybe a little frustrated by the lack of good pitches in the zone and hes swinging more at the low and away out of the zone. It also looks that he might be sitting fastball a bit too much as im seeing him take a lot of loopy curves down the middle. do the numbers and your opinion back this up?
Aaron Judge's strikeout rate spiked in May and has stayed at the same level since. He was running a 29.8% strikeout rate heading into last night's game. Here's the graph: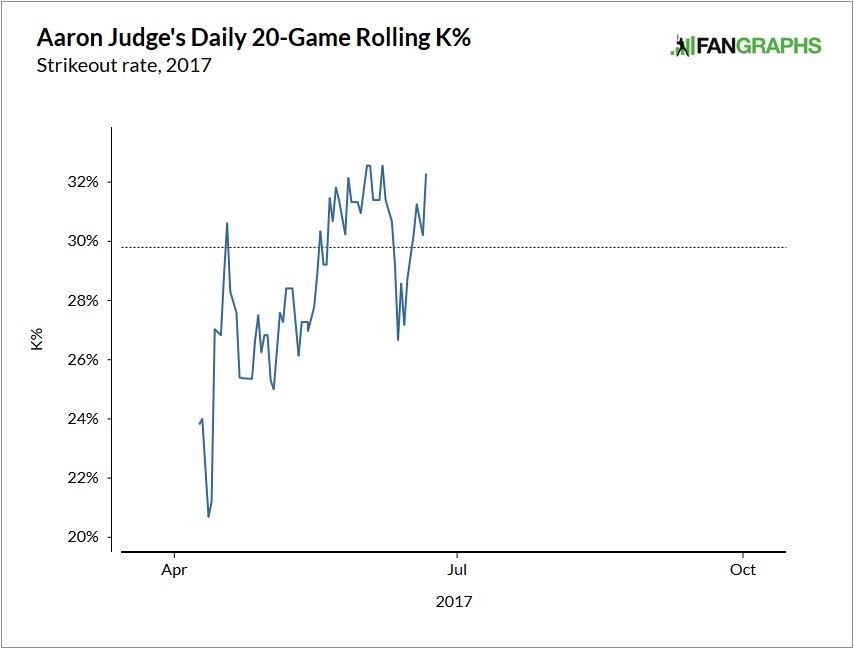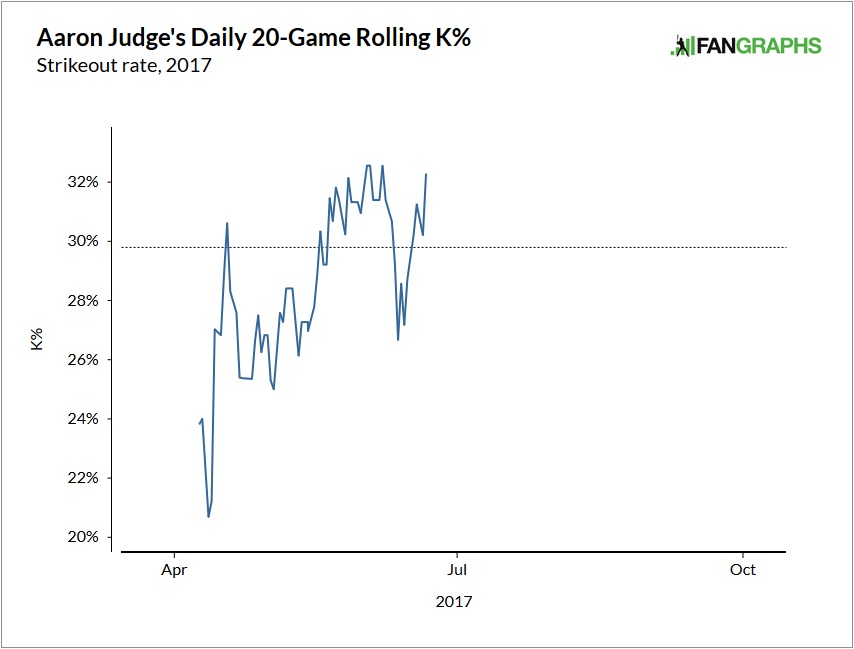 Twenty-eight of Judge's 87 strikeouts this season have been looking, or 32.2%. The MLB average is 23.3%. I'm guessing all those low strikes he keeps getting called against him has something to do with that. It does seem like Judge has been caught looking a little more often the last few weeks — I could be completely wrong — and maybe that means he's caught in between a bit. He's looking fastball but gets a breaking ball, and vice versa. That sorta thing. Judge is striking out a lot, but man, whatever he's doing, it's working. Keep doing it.
Michael asks: Is DiDi's very low walk rate concerning to you? There have been 208 players with 190+ PA and DiDi is ranked 204th with a BB% of just 3.1.
Nah. I wish Didi Gregorius would walk more, but I don't think it's going to happen. This is who he is. He's a free swinger. And it works for him! Didi makes plenty of contact and he can hit the ball over the fence. I'd just let him be. Swinging is in his DNA so let him do it. If Gregorius wasn't producing or if the Yankees had six or seven hitters like this in the lineup, it would be a problem. But he's been hitting and, by and large, the Yankees have a patient lineup. One (or two, really, counting Starlin Castro) free swinger ain't the end of the world.
Daniel asks: I don't have video evidence, but it seems to me that Betances has seriously closed off his stance on the mound. What do you think? With Shreve doing the same, does two make a trend?
Both Dellin Betances and Chasen Shreve have closed their deliveries this year. Here's what I mean: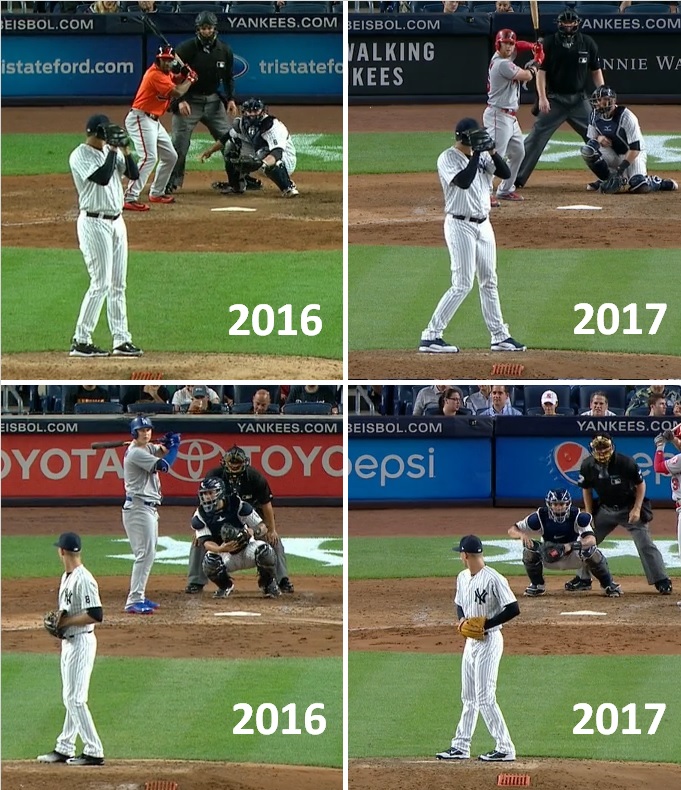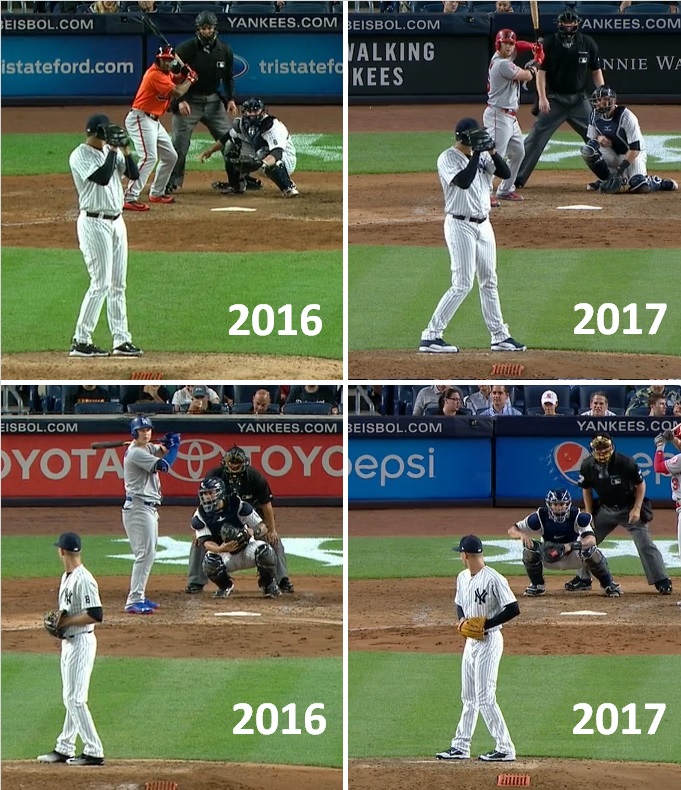 One of the ex-pitcher YES Network broadcasters spoke about this a few weeks ago. I think it was David Cone. He said closing up like that — Betances and Shreve are practically showing their number to the hitter now — helps the pitcher stop from flying open out front. They stay back better and can more easily maintain their balance through their delivery. That's what the broadcaster (again, Cone, I think) said, so take their word for it.
Shreve is throwing harder this season. His average fastball is 92.9 mph, up from 92.2 mph the last two years, and his max velocity has jumped from 94.8 mph to 95.7 mph. Basically one full mile-an-hour. That's not nothing. I have no idea whether the slight velocity jump is due to closing up his delivery, but I suppose it could be related. The fact two pitchers on the same staff have done this now, closed up their delivery, leads me to believe it's not a coincidence. The coaching staff encouraged this. And hey, given the way Betances and Shreve have pitched this year, it seems it be working.