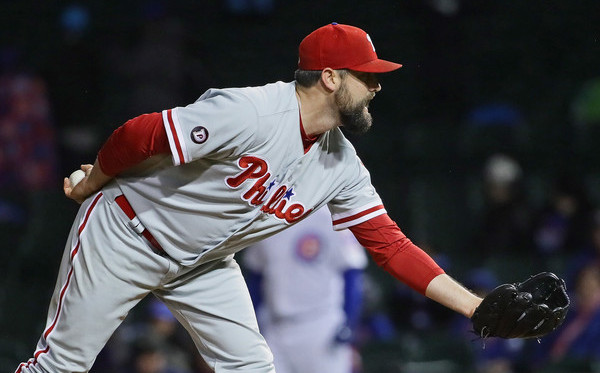 At the moment, the single biggest issue facing the 2017 Yankees is their bullpen, specifically the middle relief. Adam Warren is currently on the disabled list, and both Tyler Clippard and Jonathan Holder have been ineffective the last few weeks. Chad Green is the third option in the bullpen right now, and while I like Chad Green, the Yankees clearly need more help. The bullpen as is won't cut it.
If the Yankees do decide to go outside the organization for bullpen help — they could also call up some of their starting pitching prospects and use them in relief — one veteran reliever who will undoubtedly be available at the trade deadline is Phillies setup man Pat Neshek. The Phillies are terrible and Neshek is an impending free agent. He's getting traded at some point. No doubt about it. He's not the sexiest name, no, but let's see if he's a fit for the Yankees.
Current Performance
Neshek is no spring chicken. He'll be 37 in September and this is his 11th MLB season. He's a known quantity. Here are his numbers the last three seasons.
| | IP | ERA | FIP | K% | BB% | GB% | HR/9 |
| --- | --- | --- | --- | --- | --- | --- | --- |
| 2015 | 54.2 | 3.62 | 3.94 | 22.9% | 5.4% | 32.0% | 1.32 |
| 2016 | 47 | 3.06 | 3.68 | 23.2% | 6.0% | 33.3% | 1.15 |
| 2017 | 30.2 | 0.59 | 2.07 | 26.4% | 3.6% | 37.0% | 0.29 |
Neshek was rock solid with the Astros from 2015-16, and he's been out of this world with the Phillies this season. It's pretty obvious what's going on though, right? He's stopped giving up home runs this season without getting significantly more ground balls. Hmm. Neshek went from 10.9% HR/FB rate from 2015-16 to a 3.0% HR/FB this year. HMMM.
This isn't a new man. This is the same ol' Pat Neshek who just so happens to be on a run of good fortune when it comes to keeping the ball in the park. There's no reason to expect that to continue though. Not with the way balls are flying over the fence this season. The Phillies might want to consider trading him before the home run correction comes and sinks his trade value.
I think any team looking at Neshek as a trade target has to go into it expecting to get the 1.0+ HR/9 guy because that's who he's been his entire career. And if you get the 0.3 HR/9 and sub-1.00 ERA guy, great! Another Neshek issue is his platoon split. He's got a funky low arm slot and lefties see the ball out of his hand rather well. Since the start of the 2015 season:
| | AVG/OBP/SLG | wOBA | K% | BB% | GB% | HR/9 |
| --- | --- | --- | --- | --- | --- | --- |
| vs. RHB | .197/.235/.322 | .237 | 24.2% | 4.2% | 36.1% | 0.93 |
| vs. LHB | .230/.295/.443 | .306 | 22.9% | 6.9% | 28.8% | 1.19 |
Neshek isn't awful against lefties, though he is clearly better against righties, which isn't surprising considering his arm slot. That .213 ISO allowed to lefties is scary, especially since he would be moving into Yankee Stadium should the Yankees pick him up. The Yankees would almost have his treat him as a true right-on-right matchup guy, not a full one-inning reliever.
One thing that's worth noting is Neshek's usage restrictions. Apparently he only likes to work one inning at a time, and would prefer not to enter in the middle of an inning, then warm back up for a second inning. Both Neshek and Phillies manager Pete Mackanin downplayed those usage restrictions, but as Corey Seidman wrote, they're starting to become a bit of a headache. Huh.
Current Stuff
From that low arm slot come two pitches:  a low-90s two-seam fastball and a low-80s slider. Neshek also has a soft, almost cartoonish upper-60s changeup, but he rarely throws it. Everything this year looks like it has the last few years. Velocity, movement, whiff and ground ball rates, the works. Neshek's stuff is he same as it ever was. Here's the best recent compilation video I could dig up:
That funky delivery combined with two good pitches makes Neshek effective. It's easy to see why he's been death on right-handed batters too. It can't be fun seeing the ball come out of that arm slot.
Injury History
Neshek had Tommy John surgery way back in 2008, plus he had a finger issue in May 2010. Otherwise he's been completely healthy in his career. Kinda amazing a dude at that age and with that delivery can pitch for so long without any serious arm problems since Tommy John surgery nearly a decade ago.
Contract Status
Three years ago the Astros signed Neshek to a two-year deal worth $12.5M. This is the club option year of that contract. He'll earn $6.5M total this season before becoming a free agent this winter. Not that he would receive one anyway, but Neshek wouldn't be eligible for the qualifying offer after the season. Only players who remain with their team all season can receive the qualifying offer. This section was unnecessarily long.
What Will It Take?
The Phillies did well to pick Neshek up in a salary dump trade over the winter. They're now poised to flip him for a prospect(s) even though veteran non-elite relievers due to become free agents usually don't fetch much in a trade. Three recent deals stand out as benchmarks for a potential Neshek trade:
Joe Smith: Traded for a fringe top 30 organizational prospect (Jesus Castillo).
Joakim Soria: Traded for a top 15 organizational prospect (JaCoby Jones).
Brad Ziegler: Traded for two fringe top 30 organizational prospects (Jose Almonte and Luis Alejandro Basabe).
The Ziegler trade seems most relevant to me, and not only because he and Neshek use funky arm slots. Both Smith and Soria had some nagging injury issues the year they were traded, plus there were signs of decline in their game. Ziegler had no such issues. He was perfectly healthy and pitching as well as ever. The same applies to Neshek now.
Even after graduating several players to the big leagues the last few weeks, the Yankees have a deep farm system, and trading two fringy top 30 prospects for an immediate bullpen upgrade seems like a no-brainer. An equivalent package to the Ziegler deal would be something like, say, Trey Amburgey and Stephen Tarpley, or Abi Avelino and Erik Swanson. The Yankees have a ton of those dudes to peddle.
Will the Phillies get a better offer? Ken Rosenthal recently reported the Nationals have interest in Neshek, and they're a World Series contender with major bullpen problems. Their desperation could get them to up the ante. Jim Salisbury says the Phillies have a standing offer for Neshek from an unknown team. We don't know what that offer is, but the fact the Phillies haven't accepted it yet tells us they think they can do better.
In a vacuum, it seems the cost to acquire Neshek should be pretty low. In the real world, other teams will be competing for him, including several World Series hopefuls who figure to put their best foot forward. That doesn't mean it'll eventually take a top prospect to acquire Neshek (or maybe it does). It could mean getting him for two lower level lottery tickets is a pipe dream, however.
So Is He A Fit?
Yes, definitely. Even with the platoon concerns and his apparent disinterest in going multiple innings. The Yankees don't need Neshek to be a late-inning guy or a high-leverage guy. They need him to be better than Holder and Clippard are right now, and based on his track record, Neshek can do that. I have no illusions of him maintaining his current performance all year. The 2016 version of Neshek would be an upgrade for the Yankees.
Because the Phillies are so bad, this seems like something that could get done soon. Make a good offer and Philadelphia will probably take it rather than wait a few weeks and hope Neshek somehow ups his value. They could try to start a bidding war, and they might succeed, but how much more would they realistically get anyway? Neshek is no savior. He's an affordable and useful piece for the middle innings, and the Yankees need all the bullpen help they can get at the moment. That's it.