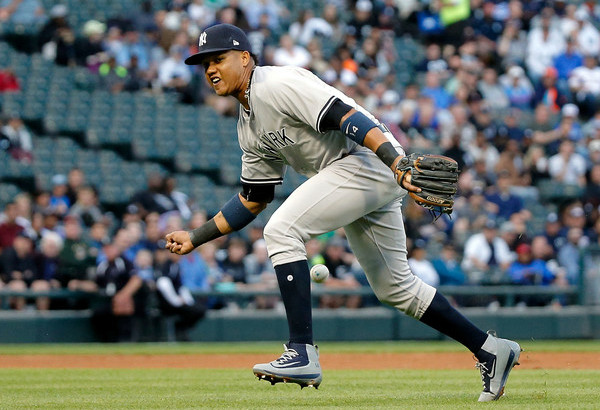 9:27pm ET: Castro left the game with a right hamstring strain, the Yankees announced. I imagine he'll head for tests to determine the severity and all that. Sigh. Rains, pours, etc. etc. Here's the video.
8:59pm ET: Starlin Castro left tonight's game in the third inning with an apparent leg injury. He pulled up lame running out down to first base on a ground ball. Joe Girardi and trainer Steve Donohue went out to talk to him, and Castro came out of the game almost immediately. He walked off the field gingerly.
The Yankees welcomed Jacoby Ellsbury back from the disabled list tonight, though they lost Aaron Hicks to an oblique strain yesterday, and they're still without Greg Bird (ankle), CC Sabathia (hamstring), and Adam Warren (shoulder). Matt Holliday is out with an ongoing allergic reaction issue too.
Castro went into Monday's game hitting .315/.350/.490 (122 wRC+) with 12 home runs. Losing him for any length of time would be really tough, especially with top prospect Gleyber Torres not an option to replace him. Stay tuned for any updates on Starlin.