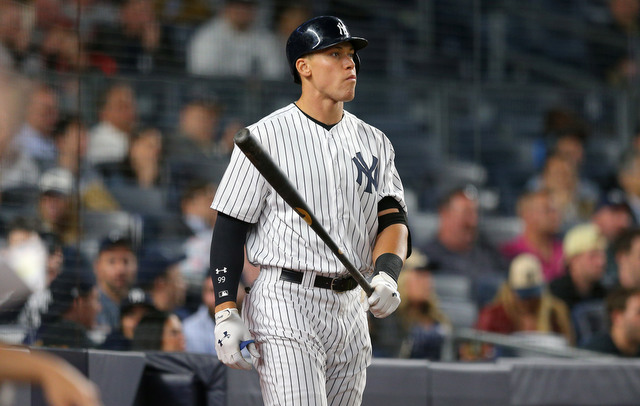 Last night the Yankees put a hurting on reigning AL Cy Young award winner Rick Porcello (lol), and they did it without getting anything from Aaron Judge. He went 0-for-4 with a walk and two strikeouts, which dragged his season batting line down to a still incredible .321/.428/.668 (190 RC+). There ain't much BABIP luck in there either. Judge tattoos the ball on the regular.
Over these last six games against the Blue Jays and Red Sox, Judge has gone 6-for-22 (.273) with eleven strikeouts, though he also has six walks and three extra-base hits (two doubles and a homer). He hasn't been bad by any means. That is a lot of strikeouts though, and it seems the Blue Jays and Red Sox have found a way to attack Judge: with high fastballs.
Here, via Baseball Savant, are two strike zone heat maps. The heat map on the left shows the fastball location Judge saw in April and May. The heat map on the right is the fastball location he's seen in June, which, conveniently, are these last six games against the Blue Jays and Red Sox (click to embiggen):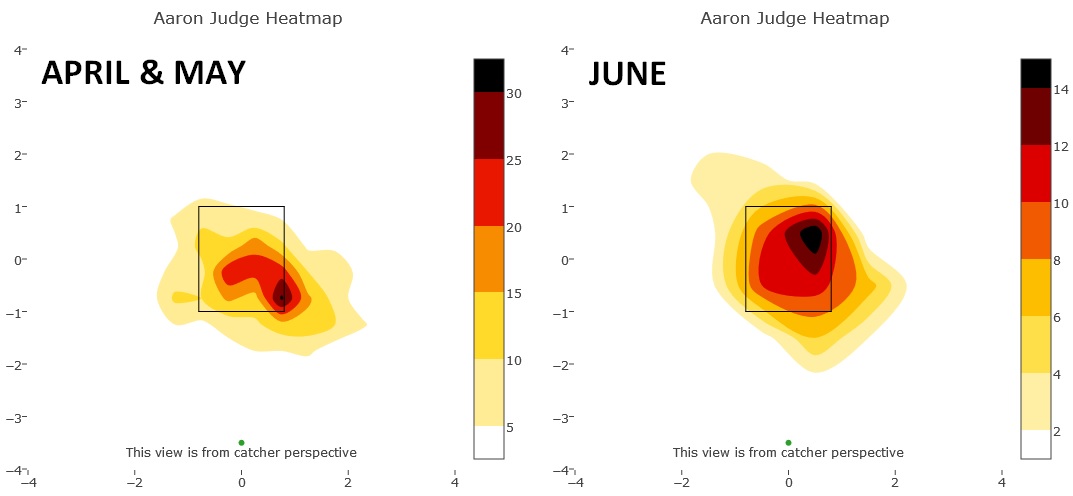 Not surprisingly, pitchers tried to attack Judge down and away earlier this season, even with heaters. He's 6-foot-7 and they wanted him to reach as far as possible for the ball. Judge has shown he can handle that down-and-away pitch so far this season. How many times have we seen him flick that outside pitch to right field? More than a few.
These last two series though, against Toronto and Boston, two division rivals who figure to really dig in and study Judge, Judge has seem many more fastballs upstairs. That's not easy to do! The guy is 6-foot-7. A high fastball to a normal hitter would be at the letters for Judge. You've got to go higher than high against him.
Judge has been getting hosed on low called strikes all season (the numbers confirm it) and now he has to worry about high pitches too. All those high fastballs from the Blue Jays and Red Sox have resulted in a lot of swings and misses from Judge lately. Here are the pitch locations of his swings and misses against fastballs these last six games: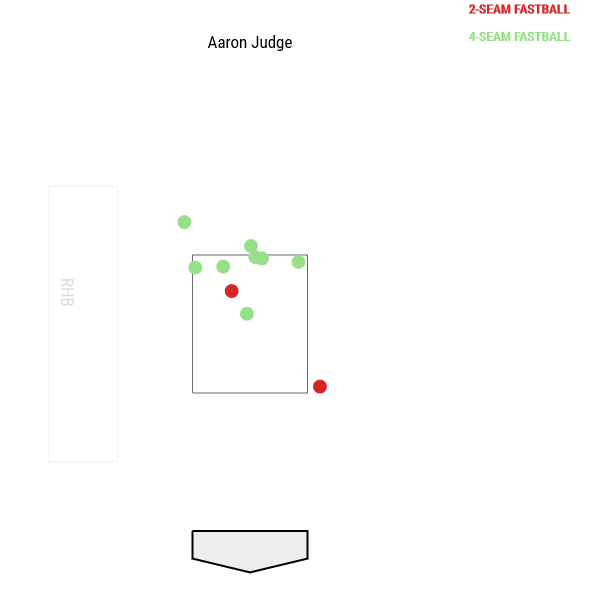 Yep. They're going upstairs against him and Judge has chased. Not to the point where he's been completely neutralized — like I said, he is 6-for-22 with a homer these last six games — but enough to stop him from being the planet-eating monster he was in April and May. They've (mostly) kept him in the park and generated more empty swings. That's a win for them. They'd love to stop Judge. They'll settle for containing him.
This shouldn't be a surprise. Maybe not the high fastballs specifically, but the fact opposing teams have found a way to keep Judge in check. The Blue Jays and Red Sox are going to see an awful lot of Judge going forward. They did their homework and hey, look at that, they both came up with the same plan. (Perhaps the Red Sox are copying the Blue Jays. Who knows.)
The league has started to adjust to Judge and now it's up to Judge to adjust back. That's baseball. And you know what? In his relatively brief big league career, Judge has already shown he can make adjustments. He looks like a completely different hitter now than he was last year. That's not a fluke. That's the result of hard work and baseball smarts. Now Judge will have to work to combat all these high fastballs.
Because he made the adjustment from last year to this year, and has a history of making adjustments in the minors, I am completely confident Judge will figure out how to handle this sudden barrage of high fastballs. Hopefully he can make that adjustment soon, but if it takes some time, then it takes time. Baseball is hard. The Blue Jays and Red Sox have come up with a bit of a blueprint though. Want to slow Judge down? Go upstairs. It's only a matter of time until other teams start doing it too.