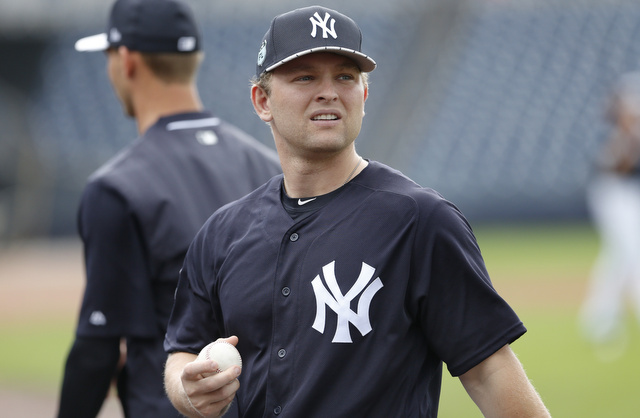 Fifty-six games into the 2017 season, the Yankees are one of three teams to use only five starting pitchers this year. The Yankees, the Cardinals, and the Braves. That's the list. And soon it'll be only the Yankees and Cardinals. The Braves put Bartolo Colon on the disabled list two days ago and will call up top pitching prospect Sean Newcomb to start in his place this weekend.
At some point this year, possibly sooner rather than later, the Yankees will use a sixth starting pitcher. It's inevitable in baseball these days. The question is whether they will use that sixth starter because they want to use one to give their other starters rest, or because they have to use one due to injury or poor performance. Obviously the former is much more preferable.
Whenever the time for a sixth starter comes, one of the names the Yankees are sure to consider is Chance Adams, arguably their top pitching prospect overall (eh) and inarguably their top pitching prospect at the Triple-A level (duh). Last time out Adams took a no-hitter into the fifth inning. The start before that, he struck out 12 in six innings.
So far this season the 22-year-old Adams has a 1.55 ERA (3.34 FIP) with 26.5% strikeouts and 10.4% walks in eleven starts and 64 innings split between Double-A and Triple-A. Last year he had a 2.33 ERA (2.96 FIP) with 29.1% strikeouts and 7.9% walks in 24 starts and 127.1 innings. To call the reliever-to-starter conversion a success would be a pretty big understatement. Adams has been great since joining the rotation.
While the overall numbers look nice, Adams is not a finished product sitting in Triple-A. He's still working to improve his changeup to combat left-handers, and his walk rate is a wee bit too high, which pitching coach Larry Rothschild recently chalked up to subpar fastball command. He's working on it though. Here's what Rothschild told Brendan Kuty:
"I think everybody  — the guys who have been working with him in the minor leagues — I think he's been talked to about that certainly when he was with us (in big league Spring Training). I think it's just a natural maturation process. I think he's perfectly capable of (improving his fastball command). I think at times, just watching the tape of him this year, where he's been good."
Can Adams help the Yankees right now? I think so, though I'll admit I'm less confident in his ability to step right into a big league rotation and be consistently solid from the get-go the way Jordan Montgomery did. That's not intended to be a knock on Adams! Montgomery was a really polished prospect who's been a starting pitcher basically his entire life. Going through a lineup three times wasn't that new to him.
Adams has the tools to help the Yankees soon as a starting pitcher, and like most young starters, chances are there will be some bumps along the way. That's baseball. He's got to get his feet wet at some point though, and I think that time is rapidly approaching. Joe Girardi shot down Adams replacing Montgomery in the rotation — "Really? Are you kidding me? Come on now," said Girardi to Bryan Hoch when asked that over the weekend — so that won't happen, nor should it.
On merit, the starting pitcher who most deserves to lose his rotation spot is Masahiro Tanaka, and even though I am in favor of giving him a little time out, I'm not sure it'll happen. I think the odds are pretty good the Yankees will ride it out with him and hope he fixes things on the fly. In that case, pretty much the only way to get Adams' feet wet in the big leagues is as a spot sixth starter. Call him up, make a start to give the guys a rest, then go back down.
There are some roster consequences to doing that, namely:
Someone has to be designated for assignment to clear a 40-man roster spot.
Someone has to be demoted to clear a 25-man roster spot, and they won't be able to come back up for ten days.
Adams would burn one of his three minor league options when he's sent back down.
And maybe those things aren't that big a deal. The Yankees could drop the wholly ineffective Tommy Layne from the roster, which would open both 25-man and 40-man spots, then call up any one of a number of players from Triple-A when Adams goes back down. Gio Gallegos, Luis Cessa, Ben Heller, etc. The Yankees would be tying up a 40-man spot for good though, so they'd lose some flexibility.
The minor league options thing might not be that big of a deal either. Should Adams go up and down these next three years, he'll qualify for a fourth option because he'd burn his original three within his first five pro seasons. Also, if the Yankees need to think about using an option on Adams in 2020, something's gone wrong. He should have established himself as a big leaguer by then. The 40-man is a bigger issue than the minor league options, I think.
The Yankees aren't shy about throwing prospects right into the fire. Luis Severino made his big league debut against the Red Sox. Gary Sanchez was called up for a game last May specifically to face Chris Sale. I suppose the Yankees could call up Adams to make a spot start against the Orioles this Sunday, the day he lines up to pitch, which would allow them push Tanaka back a day so he could face the lowly Angels in Anaheim on Monday. Not the worst idea.
Either way, I get the sense Adams is going to make his big league debut very soon, as in before the end of the month. Hopefully it is on the Yankees' terms (he's ready) and their hand isn't forced (someone is out and they need a starter). The Yankees are going to give Adams every chance to be part of the rotation long-term, and part of the process is allowing him to get his feet wet this summer. His time is coming and soon.