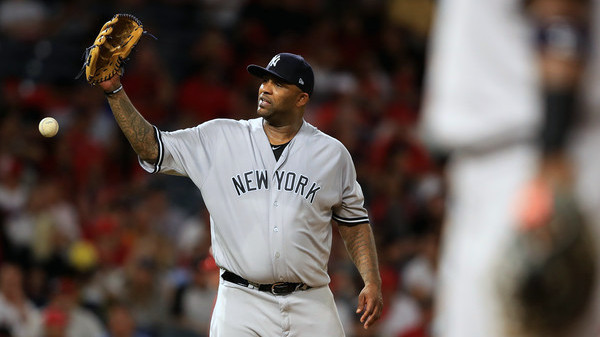 The Yankees lost more than just a game last night. The game is whatever. Losses happen, even frustrating ones. In the grand scheme of things, losing CC Sabathia to a hamstring injury is a much greater concern than one loss in the standings. Sabathia has been rock solid overall this season, and his steadiness is important to the rotation. The Yankees will miss him.
"It is a little sore," said Sabathia to George King after last night's game. "It happened on (my) second to last pitch, I felt it grab. I thought maybe it was a cramp, but when I went to push off, it hurt and didn't feel good … It's sore, hopefully I wake up, and it feels better."
At some point later today we'll learn the severity of Sabathia's hamstring injury, and man, I really hope it's nothing serious. Miss one or two starts, that sort of that thing. That would be ideal. Either way, minor injury or major injury, the Yankees will have to replace Sabathia in the rotation in the short-term in some way. And no, I don't think it will be Chance Adams.
Adams, the organization's top Triple-A pitching prospect, has a 1.78 ERA (3.45 ERA) in 12 starts and 70.2 innings total this season. It feels inevitable that he will make his MLB debut this season. I just don't think it will be right now, as in Sabathia's next rotation turn, which is slated for Sunday. Even if Sabathia's injury is serious, I don't think Adams will get the call to pitch this weekend.
This is what I think will happen. The Yankees will place Sabathia on the disabled list today — Joe Girardi all but confirmed Sabathia is DL bound after the game yesterday — and they'll use that to circumvent the ten-day rule and bring Domingo German back. They'll then let German and Chad Green tag team Sunday's start, with Girardi knowing full well he can empty his bullpen because Monday is an off-day.
Then, after the off-day, the Yankees will go through their regular four starters and reevaluate where they stand before they need to use a fifth starter again on June 24th. Maybe Sabathia will be able to come off the disabled list by then! That would be neat. It is a 10-day DL nowadays, remember. Maybe he'll miss just the one start, and be able to return next week after sitting out a few days. That's the best case scenario.
But, if Sabathia will need to miss more time, the Yankees will determine the next step when June 24th rolls around. That could mean rolling with Green/German again, or maybe turning Adams loose, or giving Luis Cessa a chance, or going with someone else entirely. Having options is cool. The most popular option, the one I think 95% of fans want to see, is Adams. The best and most sensible option is probably Green and German though. At least right now it is. The fact this is even up for debate is a good thing. Depth is wonderful.
Point is, I don't think the Yankees are going to change the development plan of one of their top prospects to address a need at the big league level. I said the same thing about Gleyber Torres and third base. Sabathia being hurt doesn't make Adams more MLB ready. He has some real development goals to accomplish this season, specifically improving his command, and doing that in the big leagues isn't easy. I don't think the Yankees will want to rush him, which leads me to believe it'll be Green again.
Anyway, before the Yankees make any decisions, they have to see what the tests say and find out how long Sabathia will be sidelined. The severity of the injury is absolutely going to be a factor in their roster decisions. I know everyone wants to see Adams, and we very well might thanks to this injury, but my guess is the Yankees will use Green as a stopgap Sunday, then reevaluate things after the off-day.