Some games it seems like you're just not meant to win, and this was one of them. The Yankees had Francisco Liriano on the ropes in the early innings of Friday night's game, but they never capitalized, and the Blue Jays raced to a 7-5 win. Drat. The Yankees are now 12-12 in their last 24 games, which is mildly annoying. At least they're still in first place in the AL East (by 2.5 games) and have the AL's second best run differential (+64).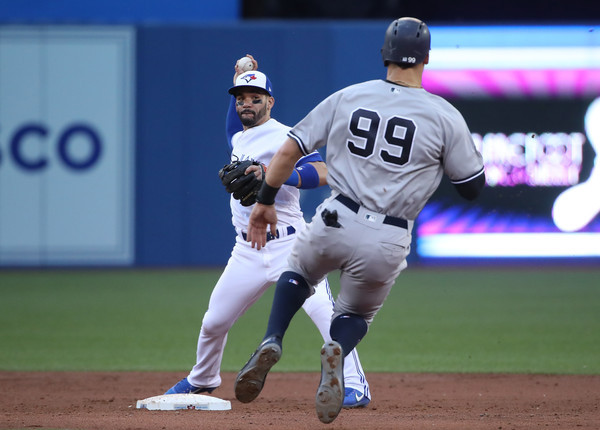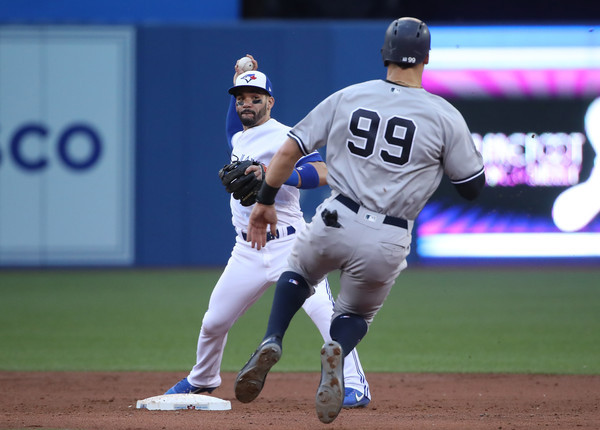 Cursed By The RISP Gods
This game was lost in the first three innings. Well, maybe not entirely, but the Yankees wasted way too many chances. Brett Gardner was stranded at third in the first inning after a leadoff three-base error by Ezequiel Carrera — Carrera dropped a routine fly ball because (I think) he thought he was going to run into Kevin Pillar — and then Aaron Hicks was left standing at second base following a one-out double in the second.
The third inning was when it really started to feel like it just wasn't their night. With the Blue Jays already up 3-0, the Yankees put runners on first and second via a ground rule double (Chris Carter) and a walk (Gardner). Gary Sanchez then hit a 107 mph rocket … right at the second baseman Devon Travis for a line out. After Aaron Judge worked a walk to load the bases with one out, Matt Holliday hit a 109 mph rocket … on the ground and right at Josh Donaldson for an inning-ending 5-4-3 double play. SIGH. Seven hitless at-bats with runners in scoring position in the first three innings. There's yer ballgame.
Big Mike's Big Dud
I suppose Michael Pineda was due for a stinker. After allowing no more than three earned runs in any of his previous nine starts, Pineda gave up three runs in the first inning Friday night, and they came on two very loud home runs. He hung the hell out of a slider to Donaldson, who smacked it over the left field wall for a solo home run. Three batters later Pineda split the plate in half with a fastball to Justin Smoak, who cranked it off the luxury box windows for a two-run shot. The pitch locations: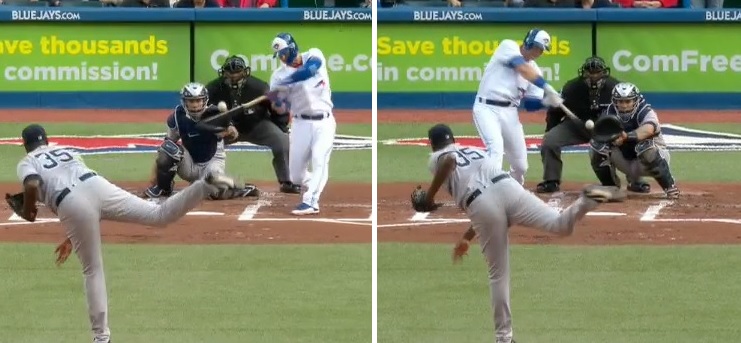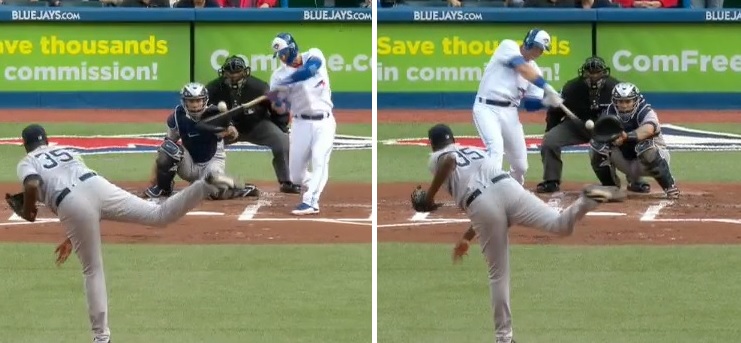 Yeah. Not great. Pineda also hung a slider that inning to Jose Bautista, who just got under it and flew out. Giving up a solo homer to Donaldson is whatever. It happens. The Smoak homer was the killer. The two-out walk to Kendrys Morales that preceded it was the accomplice. Pineda has allowed 13 home runs in eleven starts so far this season, and only twice in those eleven starts was he able to keep the other team in the ballpark. As good as he's been overall this year, the long ball has been an issue.
The Blue Jays tacked on two more runs against Pineda with a third inning sacrifice fly and fourth inning wild pitch. Like I said, it was just one of those nights. After the home runs, there were a lot of ground balls with eyes and bloops that dunked in. Less exit velocity is more, I guess. Pineda gave up a hit to Luke Maile, a career .178/.208/.297 big league hitter, in an 0-2 count with a pitch up at shoulder level. What can you do? Some nights things don't go well.
The most telling number about Pineda's night: one. That's how many strikeouts he had. And he didn't get that strikeout until the fifth inning, against the 27th and final batter he faced (Maile). Pineda's slider wasn't good at all, so much so that midway through the game he started going to his changeup more than his slider. He never does that. The final tally: 5 IP, 10 H, 5 R, 5 ER, 3 BB, 1 K. Shake it off and come back in five days, Mikey.
Not Enough Fighting Spirit
The offense tried and tried to get back into the game, but the bullpen just wouldn't let it happen. The Yankees struck for four runs in the top the sixth to turn a 5-0 game into a 5-4 game. Judge hit a two-run home run into the second deck in right field — opposite field second deck! — and Starlin Castro hit a laser two-run home run juuust over the right field wall. A Sanchez single and a Holliday made those two-run homers possible.
Alright, one-run game! The Blue Jays answered right back with a run in the bottom of the sixth, unfortunately. Donaldson took Jonathan Holder deep and it wasn't even a bad pitch. Donaldson went down and got a curveball.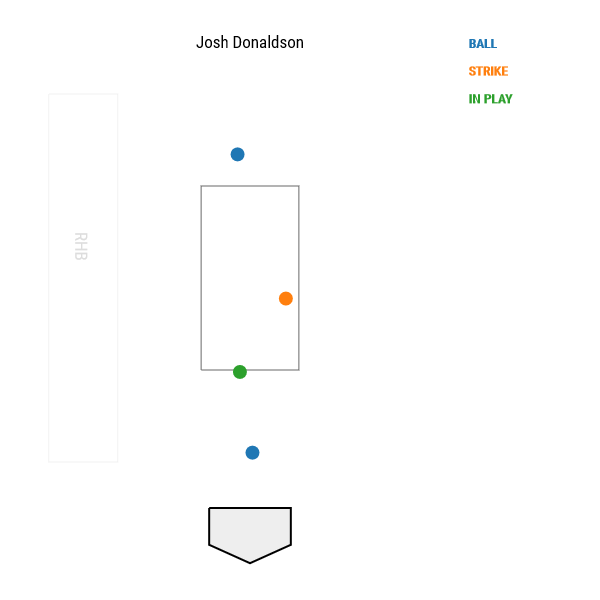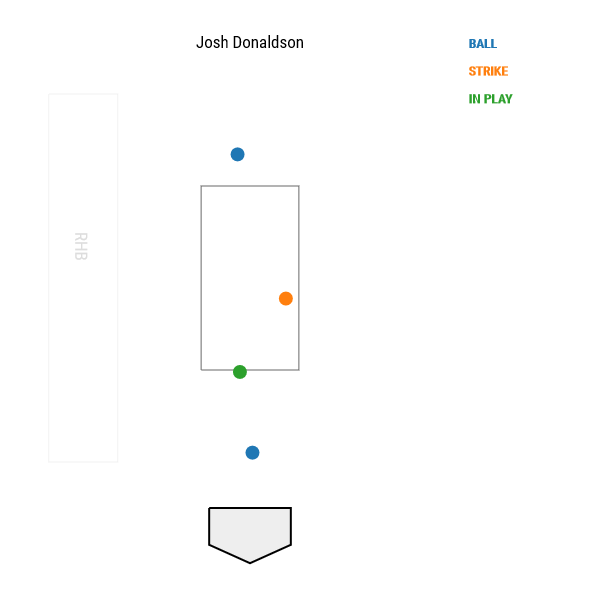 Great hitter does great hitter things. The 5-4 game became a 6-4 game. It became a 6-5 game in the top of the seventh with a quick strike two-out rally. Judge drew a walk and Holliday doubled into the right-center field gap. He has a knack for hitting these opposite field fly balls that just carry and carry and carry. I thought it was a routine fly out off the bat. Next thing you know, Pillar is leaping and unable to make the catch at the warning track.
Okay, great, the Yankees were back within one. That didn't last long though. The Blue Jays scored another insurance run in the bottom of the seventh. The inning started with a Smoak ground ball deep into the shift, which Castro got to and was able to first to first. The problem? Carter gave up on the play, thinking it was a hit. He was late to first base and Smoak beat him. The Yankees challenged the play to see whether Carter's toe touched the bag, but alas. Pretty terrible.
Troy Tulowitzki followed with a loud double to right, and Travis got the run in with a hard-hit sacrifice fly to left. Adam Warren was on the mound that inning. Every time the Yankees scored runs to get to within one, the bullpen gave a run right back. The bats let them down early with the RISPFAIL and the bullpen let them down late with all those tack-on runs. At least they didn't go down quietly.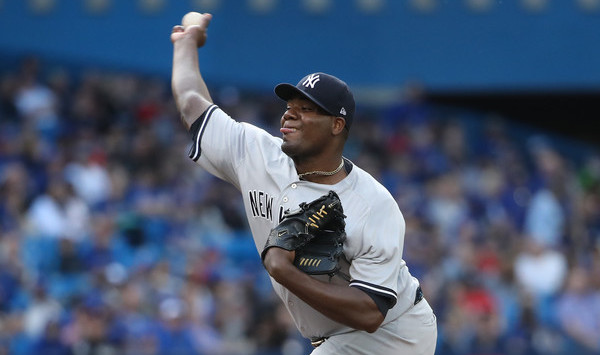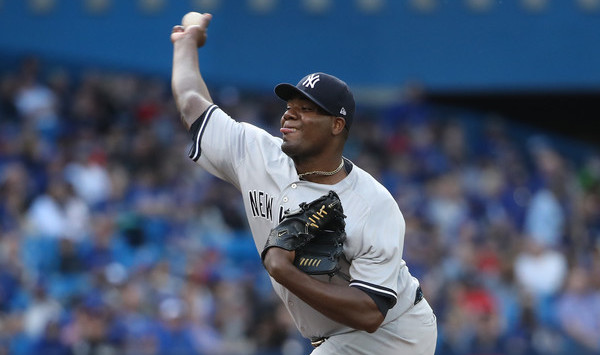 Leftovers
Every starter had a hit except Gardner and Chase Headley. Gardner drew a walk. Headley did nothing. He's down to .232/.306/.356 (80 wRC+) on the season. Remember his great start? It feels like a lifetime ago. The Yankees are going to have to think about making a change at third base in the near future. Maybe that means Ronald Torreyes, maybe it means Gleyber Torres, maybe it means a trade. But this can't go on forever.
Your nightly Aarons update: Judge went 1-for-3 with the homer and two walks while Hicks went 2-for-4. Judge is hitting .326/.431/.691 (198 wRC+). Hicksie is hitting .323/.438/.585 (175 wRC+). Why don't they just make the entire team out of Aarons? Those guys are awesome. I love Sanchez, he's the man, but I wish Hicks was hitting second.
The one reliever who didn't allow a run was Chasen Shreve, who struck out Donaldson and Bautista as part of a perfect ninth inning. I know he gave up that moonshot to (future Yankee?) Mike Moustakas a few weeks ago, but Shreve has been pretty darn good since coming back up.
Box Score, WPA Graph & Standings
ESPN has the box score and updated standings, and MLB.com has the video highlights. Don't miss our Bullpen Workload page. Here's the loss probability graph:

Source: FanGraphs
Up Next
This four-game weekend series continues with the third game Saturday afternoon. That's a regular 1pm ET start. Hooray for that. Jordan Montgomery and reliever-turned-starter Joe Biagini are the scheduled starting pitchers.