Ho-hum. Another night of Aaron Judge heroics for the Yankees. Masahiro Tanaka having a good outing is also something to talk about. Sure, they didn't score eight runs this time — the Yankees beat the Angels 5-3 on Monday — but they won their sixth straight to start off the West Coast trip. Good win nonetheless.
A good sign
Tanaka allowed a homer to Kole Calhoun in the first inning. Uh-oh. It was only the second batter of the inning and the panic was nigh amongst Yankee fans. However, Tanaka settled down and had a great outing, including retiring 13 straight at one point.
Let's get to some positives. 6.2, 4 H, 1 ER, 1 HR, 2 BB, 8 K. That's a pretty dang good pitching line! Tanaka's ERA dropped from 6.55 to 6.07 and he still got a good amount of whiffs (18 total). Brooks Baseball has his fastball topping out at 95.0 mph, which sounds about right. His velocity hasn't really suffered in this brutal stretch. It was more about giving up meatballs up in the zone quite often to allow loud hits.
This is not a data-talk but from the eye test… Tanaka definitely seemed to have a good groove going on. His stuff looked flat in the first inning but from second inning and on, it looked like he got some of the bite back. Location-wise, he definitely avoided the high part of the strike zone. Take a look: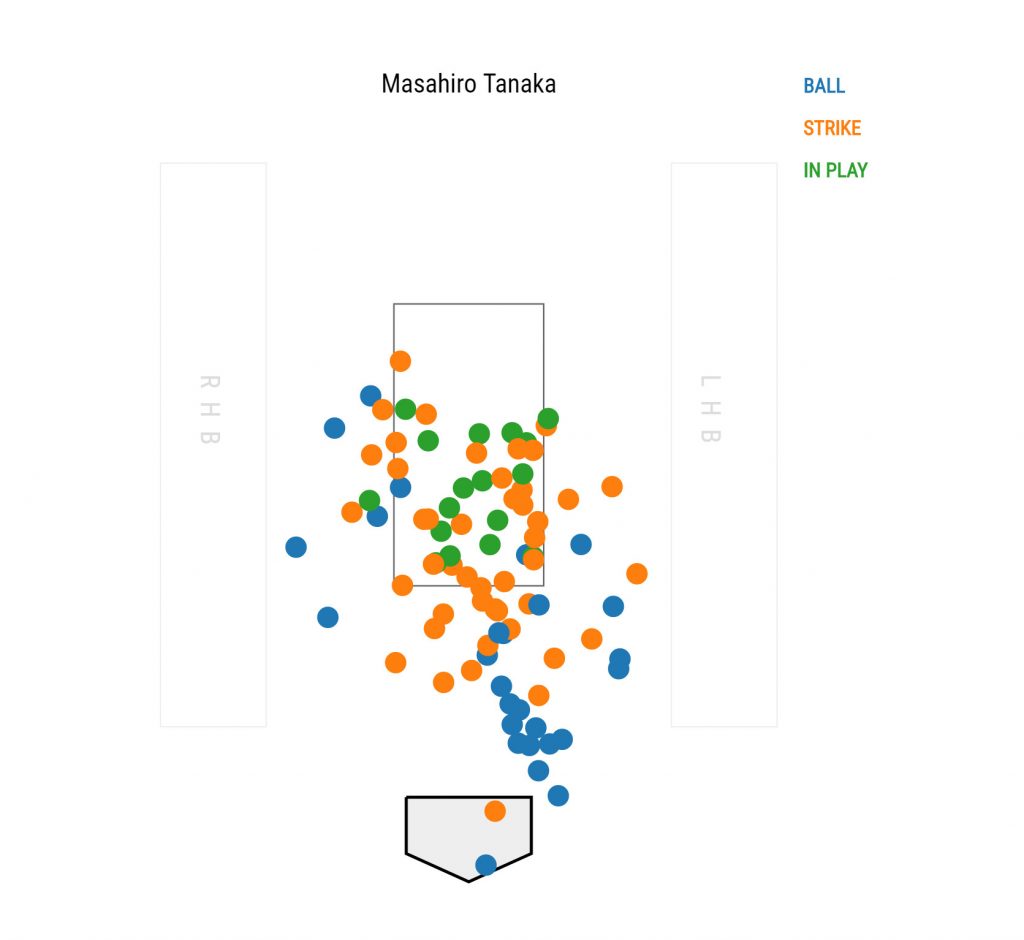 It's a solid game plan for Tanaka – keep it down and low. He probably should've been able to finish the seventh inning. We'll talk about that… right now
Tied up
So that seventh inning was a bit nutty. Tanaka got Andrelton Simmons to fly out to begin the frame but Eric Young Jr. reached on an error by a Chase Headley error. Young hit a squibber towards third and Headley, who was rushing forward, couldn't scoop it and let the ball roll past him. Tanaka struck out Martin Maldonado to make it two outs but Young stole second base to make it a RISP situation. Tanaka faced Danny Espinosa and allowed an RBI single that ended his night. Espinosa could've been kept at first but Judge made a humongous throw that went over Austin Romine's head and that allowed Espinosa to take second base. Joe Girardi decided to pull Tanaka out at 89 pitches and brought in the interim 8th inning guy Tyler Clippard.
Clippard went into an eight-pitch battle against Cameron Maybin that he lost. He put a fastball right down the middle that Maybin hit for an RBI double. Tie game. 3-3. There are some fingers to be pointed at for the Yankees letting them tie it up but sometimes, that's baseball.
Taking back the lead
Right after they gave up the lead, the Yankees took it right back. In the top of the eighth with one out, Aaron Hicks hit a deep double off of Jose Alvarez that just missed being a HR by a several inches. That brought up a RISP situation for Aaron Judge and Mike Scioscia put in Bud Norris to face him. In case you weren't aware, Norris has been enjoying a in his first full season as a reliever (1-2, 2.43 ERA with 38 K's in 29.2 IP). However, I don't think there are a lot of pitchers that want to face the red-hot Aaron Judge right now. I fully expected Norris to give Judge a non-intentional intentional walk.
It seemed like Norris was going to not give Judge anything worth hitting. The first two pitches were cut fastballs way below the strike zone. However, on his third offering, Norris put one up in the strike zone and Judge drove that out of the park for a 438 feet, 2-run, go-ahead bomb. 5-3 Yankees. Sure, the hindsight is 20/20 – but with the first base open, I really don't know why they decided to pitch to Judge. Good thing Judge plays for the Yankees, not the other guys.
Judge cracked into the 4.0 fWAR mark after that HR, by the way. We are just getting to the middle of June and he's already there as a rookie. Pretty insane, eh?
Leftovers
Dellin Betances, who hadn't pitched since June 8, came in with two outs in the eighth for a four-out save and that's exactly what he got. He struck out the side in the ninth – all of them swinging. Betances has allowed only 1 ER in 20 IP this season (0.45 ERA) while striking out hitters in an insane 17.10 K/9 IP clip. I'd buy tickets to see him pitch. That is also the Yankees' first save since May 28, somehow.
How about Didi Gregorius? He drove in the first two Yankee runs and had a 4-for-4 game with an intentional walk. He's hitting .344/.367/.513 this season, which is pretty awesome. I've said it before but his bat seemed to be on a roll this year since the Spring Training and World Baseball Classic. And, of course, we don't need to worry about his defense at all. Good to have a starting shortstop like him.
Box score, standings and WPA graph
Here's tonight's box score, updated standings and WPA graph.

Source: FanGraphs
---
The Yankees will look to make it seventh straight tomorrow. C.C. Sabathia will be on the mound against J.C. Ramirez. It'll be another 10 pm EST start so get your Keurig ready again.