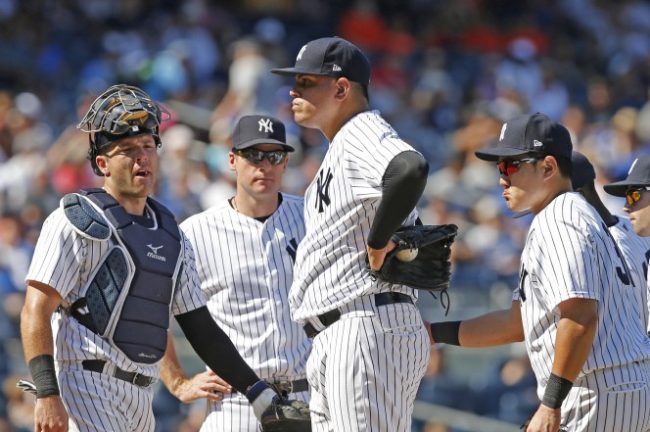 The Yankees' bullpen was supposed to be a strength in 2017 after it helped hold together the 2016 squad. Aroldis Chapman back, Dellin Betances still in middle relief and some intriguing young players.
And it looked like a continuation of 2016 early on. But things have quickly gone off the rails over the last month. Here's a rundown of the top players in the Yankees' pen so far this year.
Dellin Betances
Key Stat: 8.26 walks per nine innings
Betances has never been known for his pinpoint control, but he's barely had an idea where the ball is going in recent weeks. Like many of the guys on the roster, reviewing Betances' season is almost like reviewing two seasons.
Through the end of May, he was the Yankees' best reliever as expected. In 17 1/3 innings, he struck out 32, walked nine, gave up eight hits and just one earned run. That's an ERA of just 0.52. There's a reason he just made his fourth straight All-Star appearance.
But his 11 innings since June began have been troubling. He's walked 17 in 11 innings, allowing nine runs despite giving up just six hits (and still striking out 21). He blew multiple games (Toronto, Houston, Chicago come to mind).
He hasn't looked anything like this since he first came up in 2011. Sure, he's had walk issues (4.3 per nine in 2015), but this has been pretty absurd. 20.6 percent walk rate. He actually still has the same strikeout rate because his stuff is still there. Whether it's been his nasty curve or his fastball, they've betrayed him at times. The Blue Jays game last week jumps to mind.
One issue that could have led to his lack of command has been his usage. From May 9 to May 21, he picked up just two outs. From June 3 to June 12, he pitched in just one game and got just one out. It's nice to see a lesser workload for the big man who's been overused at times in his career, but he needs to get into games more often. Part of his underuse was the injury to Chapman leading to Joe Girardi using Betances as a traditional closer.
Aroldis Chapman
Key Stat: 35 days on the disabled list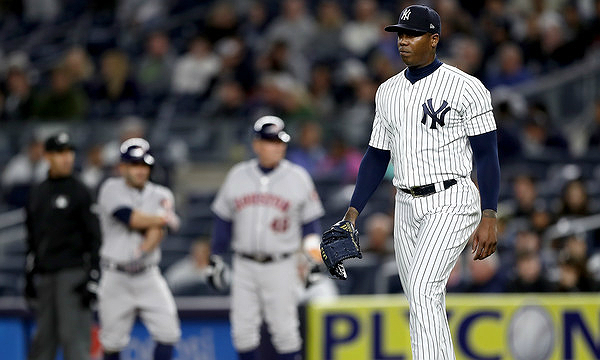 Perhaps the worst nightmare of a team giving a reliever a five-year deal is them spending significant time on the DL with a shoulder injury. That fear was realized when Chapman went down with rotator cuff inflammation in May.
Chapman seemed off at start of the year. His velocity was down, although it wasn't too worrisome at first. The big lefty usually doesn't hit peak velocity until mid-season. Still, seeing him toy with his changeup more and throw *merely* in the high 90s was a caution flag. Beginning with his struggles against Boston on Apr. 26, he looked hittable. It came to a head when he blew a three-run lead during the Yankees' 18-inning win in Chicago. He simply couldn't put guys away, which may have been due to his lower velocity, down one mph across the board so far in 2017.
His stuff has looked good since he returned and his strikeouts are still there. His underlying stats (1.16 FIP, career worst strand rate) indicate that a second-half resurgence is likely. Yet this is certainly not what the Yankees imagined when they signed him to a long-term deal.
Let's get to some of the weird stats. He has allowed zero home runs this year. He has a .426 BABIP but a 27.3 percent infield fly ball rate. His 2.09 GB-to-FB ratio is easily a career high (previous was 1.58 in 2016, never higher than 1.25 since 2011). Surely he'll allow a home run at some point and some of the BABIP spike can be from more groundballs getting through, but it's still a little different than the Chapman we expected.
Tyler Clippard
Key Stat: 12 meltdowns
Welp.
It hasn't been a pretty last two months for Clippard. He started to fall apart right after I wrote that fans should appreciate the homegrown talent. Mike was very much on point saying that his lack of home runs would soon change (although I never thought otherwise), but it was tough to see things going quite this poorly, at least for me.
For two months, he was a seemingly reliable pitcher. There were some rough games, including a blown game against the Orioles in his second appearance. But he struck out batters at a career-best rate through two months and had limited walks and hard contact enough to earn high leverage spots. The red flags of his high strand rate (88.5 percent through May) and zero homers in May made it fairly obvious he wouldn't maintain that level of effectiveness.
Still, it went south worst than expected. Way worse. One could have easily projected he'd give up more homers, but for him to completely fall apart was disheartening. Relievers are fungible and such is life.
From June 4 to July 7, he threw 11 1/3 innings, gave up 16 earned runs, walked 10 and surrendered five homers, culminating fittingly in a grand slam against the Brewers this weekend. That's 7.9 walks and 4.0 homers per nine innings. His K-BB rate was 3.4 percent. Batters hit .298/.414/766 against him in that time. Before that, they hit a paltry .150/.244/.238.
At this point, one has to wonder whether he makes it through the season, let alone the month. His stuff seems to have had a little more life on it in recent games, but the results simply aren't there and trotting him into high leverage situations right now is a costly mistake.
Adam Warren
Key Stat: 18.1 K-BB percentage
Warren has been one of the Yankees' more reliable relievers this season and it's started to earn him some spots ahead of Clippard since he returned from the DL last week. He missed 18 days with right shoulder inflammation, although it didn't seem to be anything too serious. He's jumped right back to form for the most part.
In April, he was mostly a long reliever despite being in short relief to end 2016. In seven appearances to start the year, he had six of at least four outs and four of seven-plus outs. He came in with the team ahead or behind, keeping games within reach or preventing any comebacks.
After Chapman's injury, he moved into short relief as Girardi's 7th-inning game. He had three blown leads but was competent, bringing a 2.23 ERA into his stint on the DL beginning June 16.
What has he had working for him? His strikeout and walk rates are both career bests. He's utilized his slider more (up 12 percent) while decreasing the usage of his other offspeed stuff. While that doesn't necessarily account for his better control, it could be the reason he's struck out more batters.
There is a red flag: His 2.9 percent HR/FB rate. He's bound to let some balls leave the yard in the second half. He has an increased groundball rate and GB/FB ratio, which could help explain part of that.
Since returning to the Yankees last July, he has a 2.59 ERA in 66 innings with batters slashing .191/.260/.298 against him. It's been a nice welcome back.
Chad Green
Key Stat: 34.7 percent strikeout rate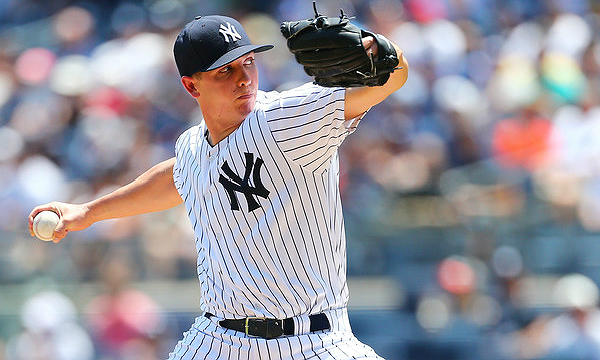 Since coming up for the first time in May, Green has been a revelation in relief. He's mostly filled in with Warren's old role of the multi-inning reliever, throwing 33 innings in 17 games, including one brief start.
Green displayed his potential last year in the rotation and was one of the last cuts in spring training's battle for the fifth starter role. He's struck out batters at every level but his fastball-slider combo seemed best suited for relief (S/O against to Mike, who called it).
Perhaps his biggest flaw in 2016 was his performance against lefties, who posted a 1.014 OPS against the righty. He actually has a slight reverse split in 2017 in a small sample, giving up just four hits in 35 at-bats vs. LHBs. He's introduced his cutter more at times but he's also just relied more on his four-seamer, throwing it over 60 percent of the time the last two months.
His flyball has increased, but HR/FB way down from 25 percent to 9.4, much closer to league average. The 25 percent last year seemed like somewhat an outlier. Even a few more homers won't spoil his 1.91 ERA too much
Overall, he's blowing people away with mid/upper 90s fastball and his top notch slider, sporting a 5.25 K/BB ratio. He looks more and more like a late inning reliever and his ability to throw multiple innings increases his value moving forward.
Jonathan Holder
Key Stat: 5 meltdowns in 32 games
Holder earned a spot in the bullpen this spring after making a brief call-up in September. After pitching mostly in mop-up duty to start the year, he slowly inched his way into a few higher leverage spots, but he never rose too high in the bullpen pecking order. His best outings came in the Cubs series, when he earned a win in the first game before throwing three shutout innings in relief during the 18-inning affair.
As stated above, he had a few meltdowns. He was tossed into a one-run game against the Orioles Apr. 30 and handed the Orioles a 4-2 lead against the heart of the order. He allowed the Royals to blow a game open in May. And he received a blown save and a loss during the cursed West Coast trip.
In the minors, Holder made his name for his high strikeout rate. His 22.9 percent K rate in 2017 isn't bad, but it's not quite what he was doing in the minors. The team still seems high on the 24-year-old and he's been solid this year. Not spectacular, but fine in low-leverage relief.
It's easy to forget because he was sent down for a while and didn't factor into many decisions, but he's thrown the third-most relief innings for the Yankees behind Warren and Clippard. In the second half, he'll surely get another chance to stick in the majors.
—
15 pitchers have seen time in relief for the Yankees this season. Not quite the shuttle of past years, though they've shuffled through multiple guys in recent weeks. Chasen Shreve has seemed to stick as the token lefty with Tommy Layne gone and he's been … pretty average. Better than last year, but not near his dominant summer of 2015. I'm a believer in Bryan Mitchell and Domingo German as potential relievers, but they likely won't see much time in the eight-man pen.
With Clippard's struggles, the Yankees surely will be in the market for a reliever. For now, they'll have to hope for better second halves from Chapman and Betances alongside continued success from Warren and Green.