The slump is getting dangerously close to a full-fledged collapse. The Yankees dropped Wednesday's series finale 7-6 to the Blue Jays and are now 6-16 in their last 22 games. At one point they were 15 games over .500. Now they're five. At one point they were four games up in the AL East. Now they could be a half-game back of the second wildcard spot before their next game depending what the Rays, Twins, and Royals do between now and then. Just fast forward to the All-Star break already.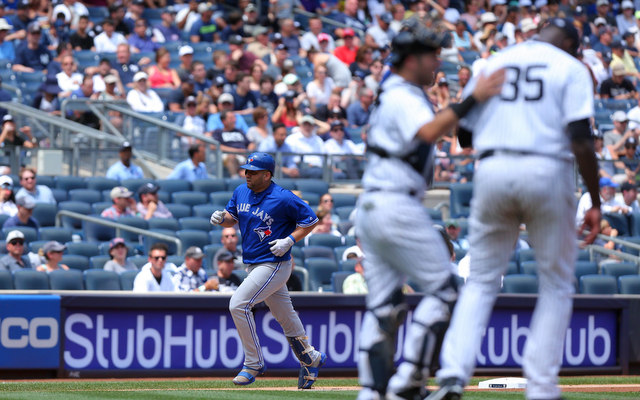 Small Mike
Impressively terrible outing for Michael Pineda, who retired only eight of 18 batters faced, and allowed five runs in three innings plus two batters. He allowed homers to three of the final seven batters he faced, including back-to-back shots by Justin Smoak and Kendrys Morales, and the first opposite field home run of Kevin Pillar's career. Pineda gave up one homer on a fastball (Pillar), one on a slider (Morales), and one on a changeup (Morales). Amazing. His final line: 3 IP, 9 H, 5 R, 5 ER, 1 BB, 1 K and 65 pitches.
At this point, it's crystal clear the Pineda we saw at the start of the season was not in fact a new Pineda. He's still the same old Michael Pineda. Unpredictable, occasionally great, mostly mediocre. He just happened to have one of his "oh man is he turning it around?" streaks at the start of the season, so everyone kinda got their hopes up. April baseball is full of lies, man. In his last seven starts Pineda has allowed 29 runs (25 earned) on 53 hits (nine homers) and nine walks in 36.2 innings. Thanks for coming.
The Comeback
It all started with an Aaron Judge home run. Of course it did. But this home run tied a record. Judge's fourth inning two-run shot was his 29th* homer of the season, tying the franchise's single-season home run record among rookies. Joe DiMaggio hit 29 in 1936. It's July 5th. The Yankees still have 79 games to play, and already Judge has hit as many home runs as any rookie in franchise history. Wild.
(* I still haven't forgotten about that stupid triple. Wednesday's home run should have been Judge's 30th of the season.)
The home run brought the Yankees to within 5-2 and and it gave them some life. That was actually their first hit of the afternoon. The fifth inning is when the offense finally broke out and took the lead. A lot happened that inning, so let's annotate the play-by-play.

(1) Welcome to the Yankees, Ji-Man Choi. Tough to make a better first impression than clobbering a 457-foot dinger in your second at-bat. That was the third longest home run by a Yankee this season and the longest by a Yankees left-handed batter since Statcast became a thing in 2015. No joke. Brian McCann, Mark Teixeira, Carlos Beltran … none of those dudes hit a longer homer from the left side of the plate. Ji-Man is a He-Man, as John Sterling said. That got the Yankees to within one.
(2) To me, the Brett Gardner walk was the "okay, time to take out Marco Estrada" moment. He wasn't locating, his pitch count was sitting at 96, and Judge was about to see him for the third time. With two men on base and after hitting a long home runs his last time up, no less. There should have been warning bells going off, no? That seems like a "time for a new pitcher" moment. But no, John Gibbons stuck with Estrada. And kept sticking with him.
(3) The most amazing part of Judge's season is his batting average. Hitting 29 homers before the All-Star break is remarkable, it really is, but I would have guessed he'd hit 29 homers before the break rather than hit .330-something before the break eight days a week and twice on Sundays. And yet, it's not luck. I mean, sure, there's probably some good luck in that .423 BABIP, but it's not all luck. Judge hits rockets all over the fields. He hit a rocket to right field to load the bases in that fifth inning.
(4) Gary Sanchez against Estrada coming into the game: 4-for-8 with four home runs. And Gibbons still stuck with him. Amazing. He got away with it too, because Sanchez got under a 2-2 changeup and popped up in foul territory behind the third base. Yuck. Sanchez with the bases loaded against a struggling pitcher? Sign me up. Estrada (and Gibbons) got away with it though. Gary did hit a foul ball about 400 feet earlier in the bat. Too bad he couldn't straighten it out.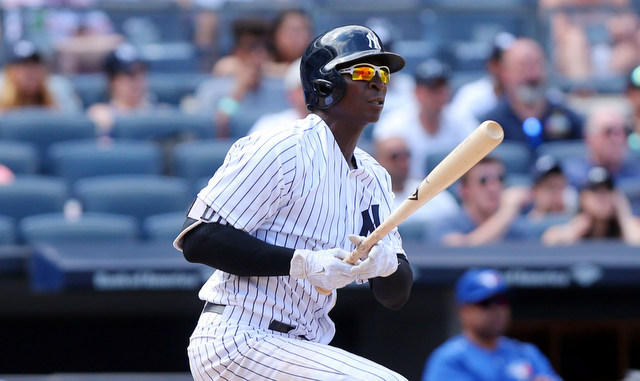 (5) As good as he's been this season, Didi Gregorius has hit a bit of a rough patch lately, coming into the game in a 4-for-21 (.190 skid). Fortunately Gibbons stuck with the struggling Estrada — he was trying to get Estrada through the inning to get him a win, right? had to be — and Estrada's 108th and final pitch was a fastball up in the zone, which Gregorius tomahawked into right field for a two-run go-ahead single. The Yankees put five runs on the board in one full turn through the lineup spanning the fourth and fifth innings.
Also, on that Gregorius single, third base coach Joe Espada was waving Judge home, but Judge recognized the Blue Jays executed a pretty good set of relay throws, so he held up. He would have been toast at the plate. Chase Headley didn't come through with another two-out hit there, but still. At least he had a chance to hit. Judge would have been thrown out by a mile had he not stopped at third.
Death By Bullpen
Asking the bullpen to hold a one-run lead for four innings was a tall order. That one-run lead vanished in the seventh, when Chad Green served up a leadoff home run to Russell Martin. Sigh. Green's been pretty awesome this year so it's tough to complain about him. Given how things have been going though, that home run felt pretty crushing.
The Yankees did get their leadoff man on base in the bottom of the seventh — Tyler Wade drew a walk against Aaron Loup, a funky lefty — then they went into small ball mode for some reason. Gardner bunted Wade to second, the Blue Jays intentionally walked Judge, then Sanchez struck out and Gregorius flew out to end the inning. Two things about that inning:
Why not have Wade steal? He was 24-for-28 in steal attempts in Triple-A. The catcher, Miguel Montero, is 1-for-31 throwing out basestealers this year. 1-for-31! He was literally designated for assignment by the Cubs last week because he is so bad at throwing that he blamed the pitcher.
Why is Gardner bunting anyway? He squared around four times and finally got the bunt down with two strikes. After the game Girardi said he was bunting for a hit, which is so silly I refuse to believe it's true. The element of surprise was long gone. Either Girardi is covering for himself or Gardner. At some point someone in the dugout has to tell Gardner to stop trying to bunt, right? You know they're going to walk Judge if you get the bunt down. Swing away. Geez.
The Yankees played for one run that inning and got none, which is what they deserved. Playing for one run in Yankee Stadium with the middle of the order coming up is pretty ridiculous. Besides, the bullpen has been so bad lately. Did they really think one run would be enough to win? What a terrible, awful, no good inning. Just swing the stupid bat.
Anyway, with the score tied 6-6, Girardi went to Dellin Betances in the eight inning. His inning: walk, walk, walk, strikeout, walk to force in the winning run. At one point Betances threw ten straight balls. It was pretty clear he didn't have it when he fell behind 2-0 to the third batter, and he probably should have been out of the game there. A little proactivity would be cool. Adam Warren came in and escaped the jam to hold the Blue Jays to just the one run, not that it really mattered.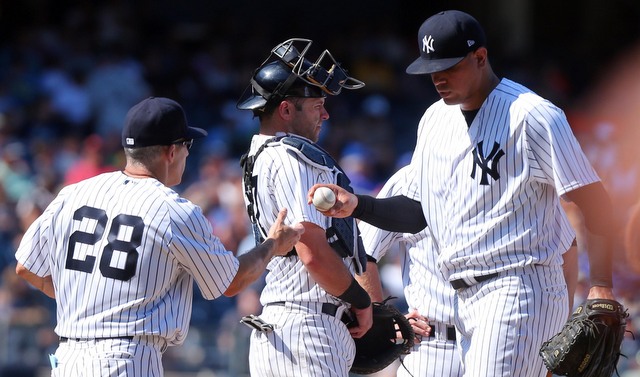 For Dellin, he now has an 8.6 BB/9 and a 21.1% walk rate on the season. He's walked eleven of the last 22 batters he faced and hit another with a pitch. That walk rate is completely and totally unacceptable for a late-inning reliever. The Yankees have to get Betances out of the eighth inning until he's right. Girardi can be loyal to a fault. He sticks with his guys longer than he probably should. That must change. They can't use Dellin in close games when he's pitching like this.
Leftovers
The Yankees only had six hits on the day. Two by Judge and one each by Gardner, Gregorius, Jacoby Ellsbury, and Choi. They did draw six walks though. Two by Gardner, two Austin Romine, and one each by Judge and Wade. Six runs is usually enough. Not when your starter goes three innings and your bullpen is an untrustworthy as it gets.
Not sure what else to add here, so I'll close with this: the Yankees are the first team in MLB history to use two South Korean born position players in a season. Choi joins Rob Refsnyder. (Refsnyder was born in South Korea and adopted by an American family as an infant.)
Box Score, WPA Graph & Standings
Go to ESPN for the box score, MLB.com for the video highlights, then back to ESPN for the updated standings. Don't miss our Bullpen Workload page. Here's the loss probability graph:

Source: FanGraphs
Up Next
An off-day, finally. The Yankees have off Thursday — I think we can all use a little break from this team — and will be back at Friday night, with the first of three against the Brewers. Jordan Montgomery and splitter specialist Junior Guerra will be on the mound for that interleague matchup. There are only three games remaining before the All-Star break. RAB Tickets can get you in the door to any of 'em.