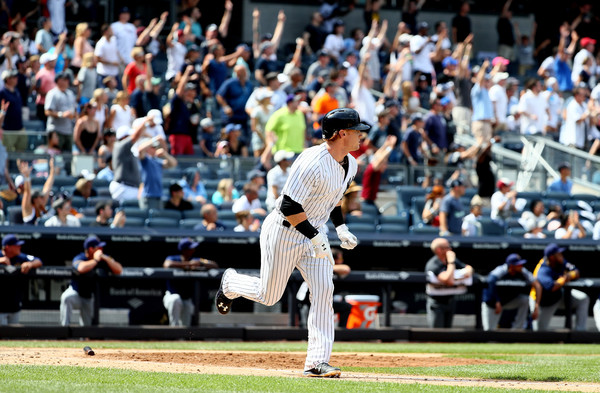 Within a span of thirty seconds yesterday, Clint Frazier made much of the annoyance and consternation of the last four weeks feel, at the very least, a bit less severe. Yes, the Yankees are still 3.5 games out of first; and, yes, one moment does not erase one of the most disappointing stretches in recent memory. However, watching Frazier round the bases as the team crowded home plate reminded us of two things – one, this team is capable of greatness, and, two, the Yankees are still fun.
Let's see more of that today.
The pitching match-up could be described as a battle of aces, with the recently resurgent Masahiro Tanaka squaring-off against Jimmy Nelson. Here's the Brewers lineup that Tanaka will face. The Yankees will trot out:
Brett Gardner, LF
Aaron Judge, RF
Didi Gregorius, SS
Gary Sanchez, C
Jacoby Ellsbury, CF
Chase Headley, 3B
Clint Frazier, DH
Ji-Man Choi, 1B
Tyler Wade, 2B
The first pitch is scheduled for 1:05 PM, and you can catch it on the YES Network.