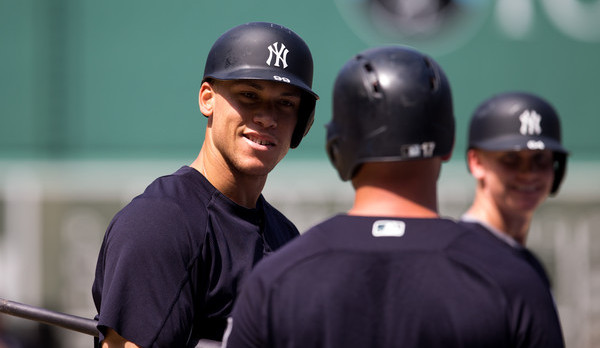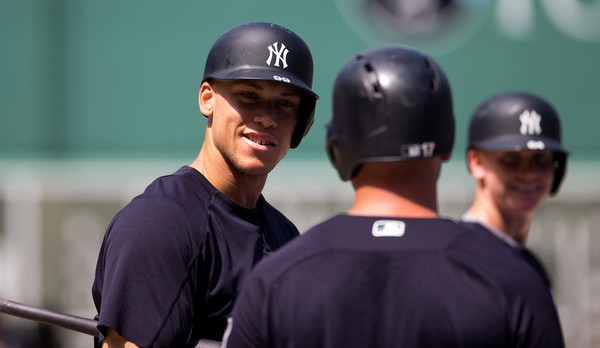 Between yesterday's 16-inning affair and today's doubleheader, the Yankees and Red Sox are going to play (at least) 34 innings of baseball in about 34 hours this weekend. Pretty crazy that the All-Star break ended three days ago and the pitching staff is already overworked. Baseball can be a real jerk like that sometimes.
Anyway, the Yankees are an Aroldis Chapman blown save away from winning the first two games of this series, but that cuts both ways. The Red Sox are a Craig Kimbrel blown save away from winning the first two. As poorly as the Yankees have played these last few weeks, these two teams always seem to be evenly matched when they meet. It's weird but also kinda fun and puke inducing. Here is the Red Sox's lineup and here is the Yankees' lineup for Game One:
CF Brett Gardner
3B Chase Headley
RF Aaron Judge
DH Matt Holliday
SS Didi Gregorius
LF Clint Frazier
C Austin Romine
1B Ji-Man Choi
2B Ronald Torreyes
LHP CC Sabathia
It is a lovely day for two games in Boston. Nice and sunny with temperatures right around 80. Not a bad day to spend 18 innings at the park. This afternoon's game will begin shortly after 1pm ET. You'll be able to watch on YES locally and TBS nationally. Enjoy the game.
Roster Moves: As expected, the Yankees have reinforced the bullpen for today's doubleheader. Bryan Mitchell is up as the 26th man, and both Domingo German and Caleb Smith have been called up as well. Jonathan Holder and Ben Heller have been sent down. Joe Girardi said they might make more moves between games depending how things go. Neither Holder nor Heller deserve to be sent down after last night's performances, but that's the way it goes with young relievers. Michael Pineda (elbow) was transferred to the 60-day DL to clear a 40-man roster spot for Smith, who will be the 12th player to make his MLB debut with the Yankees this season whenever he gets into a game.