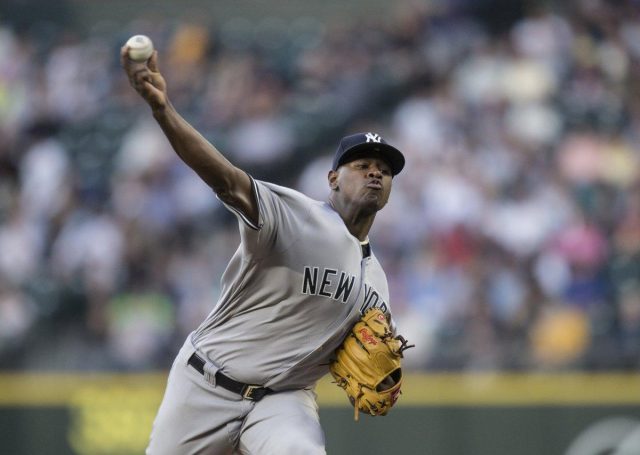 Ace Sevy
Back in Pacfic time zone where their current collapse began more than a month ago, the Yankees took the first step towards pulling out of the tailspin with a 4-1 win over the Mariners on Thursday.
If there is one west coast locale where the Yankees might be able to right the ship, it would be Seattle. They entered this series 49-28 all-time at Safeco Field, the best record by any team in the history of the stadium. The Yankees had won six straight series at the park, their longest active road series win streak against an AL club, and hadn't dropped a series there since 2011.
Luis Severino dazzled in the matchup with Felix Hernandez, outdueling the Mariners longtime ace with seven brilliant shutout innings. It was his seventh start of at least seven innings and no more than one run allowed this season. The only other guys in the majors that matched that number through Thursday were Max Scherzer (7) and Clayton Kershaw (10).
It was also his third scoreless start of at least seven innings, an impressive feat for the 23-year-old pitcher. In the last 50 years, the only other Yankee as young as Severino with three or more scoreless starts of seven-plus innings in a season was Dave Righetti in 1981.
He dominated with a blazing fastball that averaged 98.3 mph, per Statcast, his highest average fastball velocity in any start in his career. Severino also tied his career-high with 10 whiffs on his fastball, and his four-seamer swinging strike rate of 19.6 percent was his highest in any of his 41 major-league starts. As you can see in the chart below, he was bringing the high heat, with all 10 of those swinging fastball strikes coming on pitches above the letters: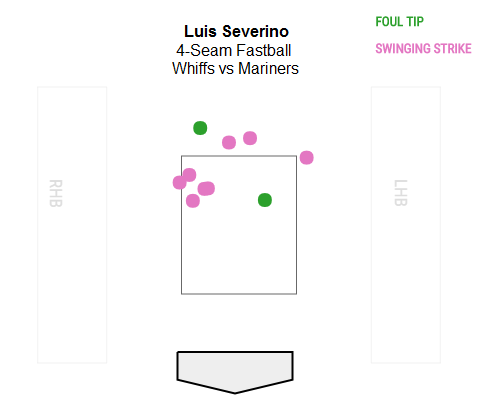 The hitting hero of the night was Brett Gardner, who broke a scoreless tie in the sixth inning with a solo shot to right field. Gardner finished the night 1-for-3 vs. King Felix, and is now hitting .361 against him, the third-highest batting average among the 53 guys that have faced him at least 40 times. The two ahead of Gardner? Mike Trout (.367) and David Ortiz (.410).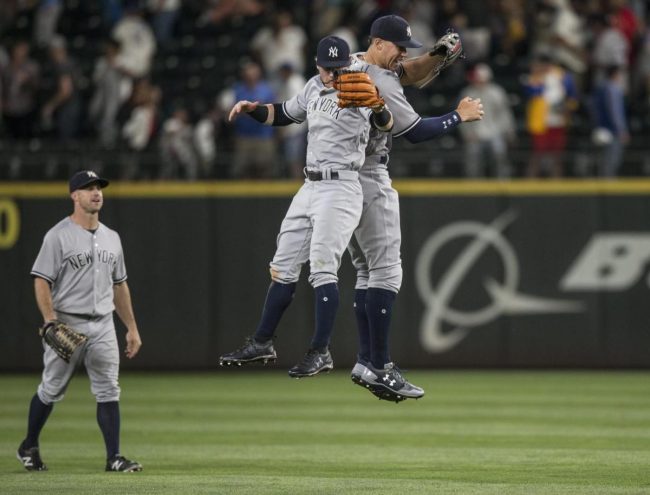 Best birthday present ever
Baseball has its share of small-sample-size statistical quirks and one of the oddest is the fact that CC Sabathia entered Friday's game 0-3 with a 6.99 ERA in five starts on his birthday.
The baseball gods, though, were in Sabathia's favor on Friday night as he finally broke his birthday curse against the Mariners. He was in vintage form, grinding through five innings, allowing seven baserunners but yielding just one run. Let's run through some notable #FunFacts in honor of CC's sweet birthday victory:
first Yankee starter to earn a win on his birthday since Joe Cowley in 1984 against the Mariners
first Yankee starter to allow one run or fewer on his birthday since Ron Guidry in 1981
And, at age 37, Sabathia is the oldest Yankee pitcher to win on his birthday since a 37-year-old Red Ruffing in 1942
Aaron Judge delivered the best birthday present ever to Sabathia in the fifth inning, when he ended in his 10-game homerless drought in style by clobbering a monstrous homer into the last rows of the upper deck in left field.
It was hit so high, so far … that it broke Statcast, literally, as MLB's sophisticated measurement system didn't spit out any numbers for the distance or exit velocity. We do know that the pitch he clobbered was a 76.3 mph curveball, the slowest pitch he's hit for a home run in his career.
So close, yet so far away
It was too good to be true. Riding an actual winning streak and with a chance to clinch a series win on Saturday night, the Yankees got stung with another frustrating loss in Seattle. They rallied twice — erasing 4-1 and 5-4 deficits to tie the game — but never were able to take the lead, and lost 6-5 in heart-breaking fashion on Nelson Cruz's game-winning RBI single in the bottom of the 10th.
Let's dig deeper into this recent stretch of excruciating late-inning close losses:
The Yankees fell to 9-19 in games decided by one run, the second-worst record in the Majors and tied for the second-most losses through Saturday. The only team worse in both stats is the Phillies at 11-26. Fifteen of those 19 losses have come on the road, and an unfathomable 14 of them have been against teams with a .500 record or worse — a number that leads all of MLB after Saturday's slate.
And, of course, the one-run losses have really been piling up over the last two months. They've lost 14 of their last 16 games decided by a run dating back to May 29 — so, after some quick math, they were 7-5 in one-run games for the first two months of the season and are 2-14 over the last two months.
Saturday was their fifth walk-off loss, one more than last year. All five have come since June 13, the most suffered by any team in that span. And three have been on the west coast, one each in Seattle, Anaheim and Oakland. Strange but true: this is just the second time ever they've lost walk-off games to each of them in the same season (it also happened in 2006).
Even in the depressing loss, Aaron Judge was still doing Aaron Judge things. He crushed a 396-foot home run to right field, showing off his ridiculous oppo-field power. Ridiculous is actually an understatement. After Saturday's game, he was slugging 1.140 to the opposite field, easily the highest in baseball among qualified hitters. For reference, the league slugging percentage on balls hit to the opposite field is .474. Holy moly, what a beautiful hit spray chart: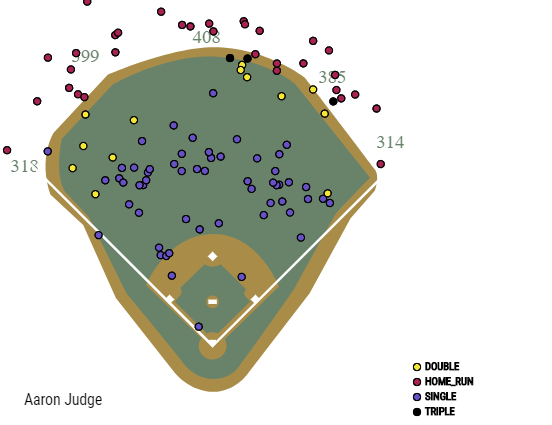 Streaks are meant to be broken
See yaaaaaaa …. The Yankees finally ended their torturous month-plus baseball nightmare and won their first series since June 9-11. They snapped a 10-series winless streak, their longest since August/September 1991, just weeks before Stump Merrill was fired.
And thankfully I don't have to tweet this stat again:
(entering today…)
Yankees Last 10 Games With Chance To Clinch Series Win:
L
L
L
L
L
L
L
L
L
L

— Katie Sharp (@ktsharp) July 23, 2017
Brett Gardner got the offensive fireworks started early with his third leadoff homer of the season, and you could almost smell a victory dance … entering Sunday, the Yankees were 13-0 when Gardy went yardy. Didi Gregorius added two solo dingers for his first career multi-homer game, putting the Yankees up 3-0.
#FunFact alert: Didi is the first Yankee shortstop to hit two or more homers against the Mariners.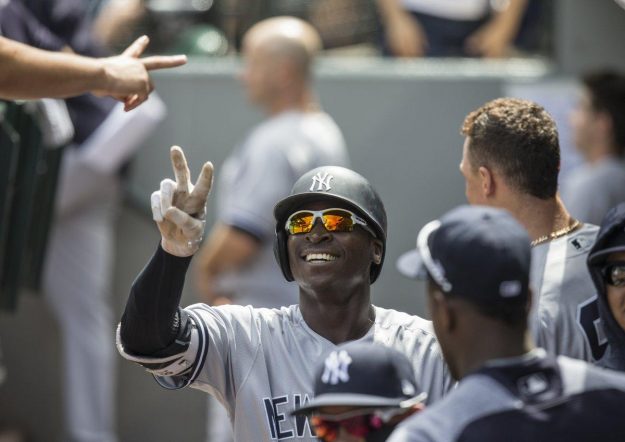 The Mariners soon erased that lead, but the Comeback Kids struck again. Unlike Saturday, this time they were able to complete the rally. Clint Frazier's bases-loaded double in the sixth inning broke a 4-4 tie and made sure the Yankees plane ride back east would be a happy one.
That was Frazier's second go-ahead hit in the sixth inning or later this season, or two more than Jacoby Ellsbury has in 2017. Following Sunday's game, Frazier now has 11 extra-base hits in 61 at-bats this season, or just two fewer than Ellsbury has in 197 at-bats.
Thanks to his game-winning two-base hit, Frazier also earns our Obscure Yankeemetric of the Series: He has a double in three straight games, the youngest Yankee outfielder to do that since Mickey Mantle in 1953.