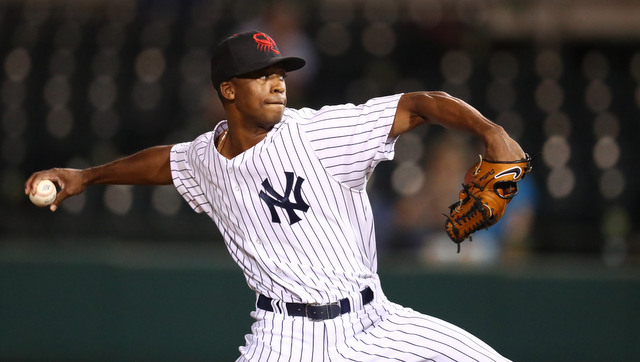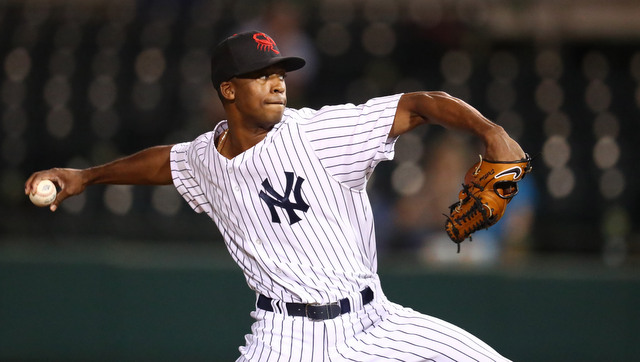 The Arizona Fall League has released their rosters for the 2017 season, and six Yankees prospects are heading to the desert this year: SS Thairo Estrada, OF Estevan Florial, 1B Chris Gittens, SS Kyle Holder, LHP Justus Sheffield, and RHP Dillon Tate. This is the second AzFL assignment for the Tate. Everyone else is a first-timer. Here is the full Scottsdale Scorpions roster. The AzFL season begins October 10th and will wrap up November 18th.
Florial, Sheffield, and Tate are the headliners and three of the ten best prospects in the farm system. The 19-year-old Florial is in the middle of a breakout season, one in which he's hit .294/.371/.469 (142 wRC+) with 12 home runs in 22 steals in 105 games split between Low-A Charleston and High-A Tampa. He represented the Yankees at the Futures Game and popped up on top 100 lists at midseason.
Both Sheffield (oblique) and Tate (shoulder) are going to the desert to make up for time lost to injury this season. The 21-year-old Sheffield threw 90.1 innings (3.09 ERA and 4.54 FIP) with Double-A Trenton before getting hurt. He's pitching in rehab games in rookie ball right now. Tate, 23, has a 2.81 ERA (3.95 FIP) in 83.1 innings with High-A Tampa and Double-A Trenton since making his season debut in June.
Estrada will be Rule 5 Draft eligible this winter and is on the 40-man roster bubble. The Yankees will be able to continue evaluating him during the AzFL season before deciding whether to protect him from the Rule 5 Draft. The 21-year-old is hitting .300/.354/.394 (108 wRC+) in 118 games with Double-A Trenton this year. If the Yankees don't protect Estrada, I think the chances of a team taking a shot on him as a utility infielder are pretty darn high.
The 23-year-old Holder has hit .267/.312/.336 (89 wRC+) in 99 High-A games this season, though he's been much better the last few weeks, hitting .358/.401/.450 (151 wRC+) in 36 games since returning from the disabled list on July 12th. Gittens, 23, is hitting .264/.373/.459 (146 wRC+) with eleven homers in 67 games for High-A Tampa this season. He had huge power, but it comes with a lot of swings and misses.
In addition to the six players heading to the AzFL, the Yankees also have two pitching spots listed as TBA, so two others are going too. I don't think they're going to be significant prospects, however. It's not often teams send top pitching prospects to the AzFL. It's very hitter friendly and most pitchers are bumping up against their innings limits. Sheffield and Tate will be there because they got hurt.
This is just a guess, but LHP James Reeves seems like a possible candidate for one of those final two roster spots. He missed time with an elbow sprain earlier this year and the Yankees like him enough to bring him to camp as a non-roster player this spring. The 24-year-old lefty reliever has a 1.99 ERA (2.22 FIP) with 26.5% strikeouts and 4.8% walks in 45.1 innings with High-A Tampa and Double-A Trenton since coming back from the elbow injury. Maybe he'll get one of the last two roster spots. We'll see.