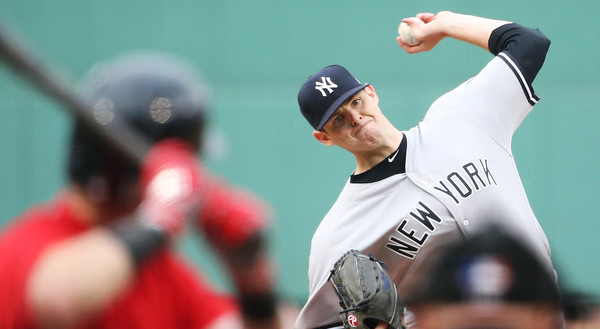 Last week the Yankees sent Jordan Montgomery down to Triple-A for one specific reason: to control his workload. Jon Morosi reported Montgomery would pitch on seven days rest going forward and have his innings capped within his starts. Five innings seems to be the organizational standard. It's easier to manipulate a pitcher's workload like that in Triple-A than MLB.
"We are going to shorten some outings down there just to cut back a little bit," said Joe Girardi to George King last week, after Montgomery was sent down. "We do have somewhat of a concern that if he got over 180 innings, where he would be? There was no innings set, but the number was about 180 and the innings are always more stressful here."
Plans change, of course. The Yankees lost both CC Sabathia and Masahiro Tanaka to injuries last week, so they had to call Montgomery back up to fill out the rotation. The plan to control his workload had to be put on hold because the Yankees are fighting for a postseason spot and their pitchers keep getting hurt. Winning is the priority. Once Tanaka and Sabathia return, the Yankees will be in better position to cut back on Montgomery's innings.
Here's the thing though: how much do the Yankees really need to cut back on Montgomery's workload? Obviously they know him better than we outsiders, so if they believe they need to take it easy on him the last few weeks of the season, I'm not going to doubt them. I'm more or less thinking out loud right now. Here are Montgomery's innings totals over the years:
2014: 107.2 innings (college and minors)
2015: 134.1 innings (minors)
2016: 152 innings (minors)
2017: 126 innings and counting (minors and MLB)
Nice, steady progression. Montgomery is a very big and very durable guy — he's never missed a start, not in high school or college or pro ball — and the Yankees want to keep it that way, so they're not going to put him at risk of injury through overwork this year.
Now, that all said, let's do the math here quick. Montgomery started Sunday night, in the 116th game of the season. If he were to start every fifth game from here on out, he'd make nine starts the rest of the season. If he were to average six innings in those nine starts, he'd finish the season at 180 innings on the nose, which is the cap the Yankees seem to have set for him. Convenient! A few things:
1. 180 innings is not a hard cap. The Yankees did not come out and say Montgomery will be limited to 180 innings this year. Girardi said there is "somewhat of a concern that if he got over 180 innings where he would be," meaning would he be running on fumes and at risk of injury? I'm surprised Girardi threw out that 180 innings number, to be honest. The Yankees have steered clear of revealing workload limits the last few years because there's nothing good that can come from it. Point is, things are going to be touch and go. The Yankees might want to get to Montgomery to 180 innings, but if he hits a wall at 160, he hits a wall at 160.
2. Averaging six innings per start isn't easy. My little back of the envelope calculation has Montgomery getting to 180 innings by averaging six innings per start in his final nine starts of the season. Averaging six innings per start is hard! He's averaging 5.50 innings per start now. Only ten times in 22 starts has Montgomery completed six full innings. The AL average is 5.58 innings per start. Sixty-five pitchers have made at least 20 starts this year and only 28 of them are averaging six innings per start. There's some wiggle room in my little "six innings per start for nine starts" assumption.
3. What about the postseason, dummy? The Yankees have not played well the last few weeks overall, but they are still in postseason position and very much in the race. Heck, they're still in the division race. It might not seem like it, but they are within striking distance (4.5 games back) with seven head-to-head games to go against the Red Sox. It's doable. Unlikely, but doable. The Yankees have a lot to play for these final seven weeks.
Two things about the postseason and Montgomery's workload. One, the Yankees have to actually get to the postseason before this is a problem. Can't put the cart before the horse. If the Yankees need to max out Montgomery's workload to get to the postseason and he's not available for the playoffs, so be it. And two, I think the Yankees would take the reins off in October and let him pitch no matter what, as long as he's still effective. Flags fly forever.
* *
On paper, it seems Montgomery's workload might not be that big of an issue down the stretch. If the target is 180 innings, he figures to have innings to spare even if he starts every fifth game from here on out. The caveat here is that Montgomery might show signs of fatigue (i.e. ineffectiveness) before reaching 180 innings, and he might be completely unavailable for the postseason should the Yankees qualify. The Yankees will deal with that when the time comes.
As much as we and the Yankees are focused on the here and now, this is all about the future. Montgomery looks like a keeper and the Yankees want to keep him healthy and productive. Young mid-rotation starters are awfully valuable. Guys with Montgomery's numbers will cost you about $15M a year in free agency. His health and workload will have to be monitored as we approach the end of the season, though right now, it's entirely possible any restrictions might now be much of a factor after all.