Remember back in April and May when the Yankees scored like six runs a night? That was fun. The offense remains completely dormant — at least they faced a legitimate ace Thursday night, unlike the last two days — and the Yankees lost the series opener 5-1 to the Indians. The Yankees have lost three straight and four of their last five. That happened quick.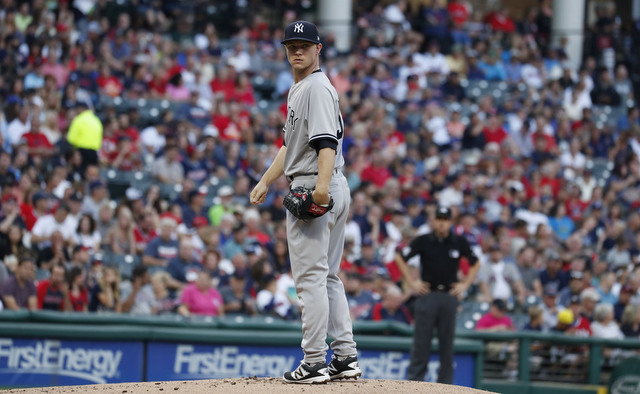 Welcome to New York
Me at 9:30am: "The Yankees are a substantially better defensive team than the Athletics." The Yankees at 7:00pm: Three errors within the first four batters of the game. Good job, guys. Way to make me look smart. The Yankees made Sonny Gray feel right at home with an A's caliber defensive inning in the first. It should have been a 1-2-3 inning with three weak ground balls on seven pitches. It ended up being a two-run inning on 22 pitches. Those extra outs, man.
The first batter of the game, Bradley Zimmer, hit a routine ground ball to Chase Headley at first base. He bobbled it. Twice, actually. He had enough time to recover after the first bobble, but the second bobble allowed Zimmer to beat it out. The next batter, Francisco Lindor, hit a weak ground ball to second that Tyler Wade fielded cleanly and threw to first for the out. Hooray for that. The ball was hit too slowly and Zimmer is too fast to turn two, so just the one out.
Michael Brantley, the third batter of the inning, hit another weak ground ball to Wade, except this time Wade booted it. Gray started the game with three weak ground balls hit directly at infielders, and he was rewarded with runners on the corners and one out. Jose Ramirez then singled to right field to score Zimmer, and because Clint Frazier was trying to do way too much against his former team, he airmailed the throw into the dugout. Embedded Indian? Embedded Indian.
The airmailed throw allowed Brantley to score and Ramirez to advance to third base with one out. Three errors and one legitimate hit led to two runs and a runner on third with one out. Sigh. Fortunately Gray escaped that jam with a strikeout and a fly out, limiting the damage to two unearned runs. He settled down until the Indians put together a two-out rally in the sixth. Walk, single, double on a hanging slider. Womp womp.
Gray's final line: 6 IP, 4 H, 4 R, 2 R, 3 BB, 6 K. He looked better than that. Fastballs in and out, sliders and curveballs for swing and misses, and a much better changeup than I expected. That two-out rally in the sixth stunk, though Gray showed some real nice poise and competitiveness by pitching out of jams in the first and fourth. Not sure what more you could've wanted to see from him. Hanging curves like the one in the sixth happen. Everything else was pretty damn good.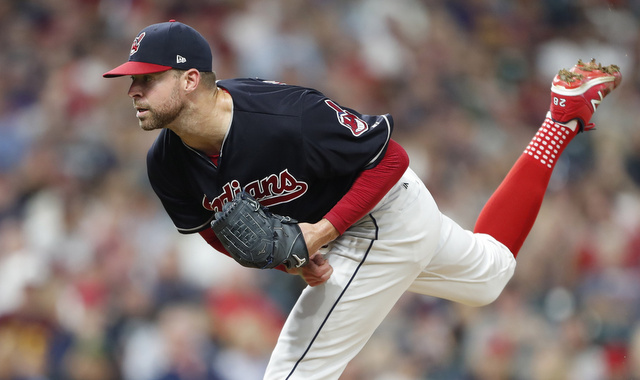 One Run, Just To Remember What It Feels Like
Well, so much for the idea of this being a trap game. The Yankees got shut down by the reanimated corpses of Anibal Sanchez and Jordan Zimmermann the last two nights, though there would be no inexplicable offensive explosion against Corey Kluber. What can charitably be described as the "C" lineup managed one run on three hits and one walk against Cleveland's ace during his complete game win. He struck out eleven.
By my subjective count, the Yankees hit five balls hard against Kluber. Two were hits. Frazier doubled into the right field corner in the fourth inning — that was New York's first hit of the night — and Gary Sanchez hit a solo home run over the high wall just to the left field side of center field in the seventh. By then it was too little, too late, of course. And of course Frazier was stranded after that leadoff double. Sanchez struck out with him at third and Jacoby Ellsbury grounded out.
The Sanchez solo home run ended a 16-inning scoreless streak for the offense. The Yankees never once had as many two baserunners in an inning against Kluber, and aside from the Frazier double and Sanchez homer, no runner advanced as far as second base. Kluber is excellent, obviously. He can shut any team down at any time. But when it happens after getting dominated by Anibal and Zimmermann, it's still annoying. The Yankees need another bat and they need it soon. The AL East race won't wait for Aaron Hicks and Starlin Castro to return.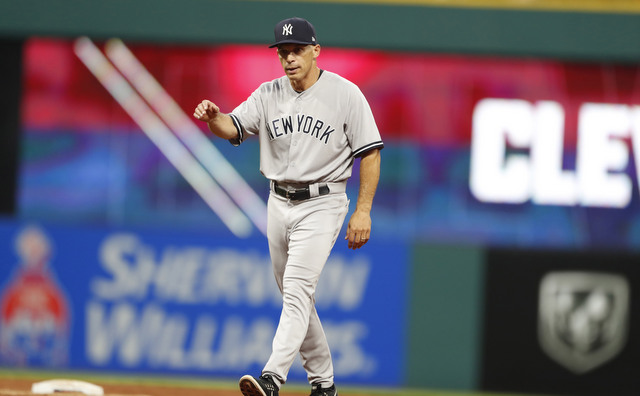 Leftovers
Shout out to Chasen Shreve for soaking up two innings out of the bullpen. He immediately negated the Sanchez solo home run by allowing a solo home run to Francisco Lindor the very next half-inning. In an 0-2 count, no less. I love love love Lindor, so I choose to attribute that home run to him being awesome rather than Shreve being bad. Shreve retired the other six batters he faced anyway.
Brett Gardner went 0-for-4 with two strikeouts to end his 14-game hitting streak. He had probably the best at-bats against Kluber. Gardner saw 19 total pitches in his four at-bats. No one else saw more than 14. In fact, here are the pitches seen for the game:
Brett Gardner: 19
Clint Frazier: 14
Didi Gregorius: 8
Gary Sanchez: 13
Jacoby Ellsbury: 14
Chase Headley: 11
Ronald Torreyes: 8
Austin Romine: 12
Tyler Wade: 7
I know it's Corey Kluber, but geez. Work the count a little guys. Been a little too much free swinging these last few days.
Gregorius went 0-for-4 but it was a loud 0-for-4. He had a gap shot run down by Zimmer, a line drive snared by Carlos Santana at first, and a hard-hit grounder reeled in by Ramirez at third. Remember when I said the Yankees hit five balls hard against Kluber? Gregorius had three of them. The Frazier double and Sanchez homer were the others.
And finally, the three-error first inning was the Yankees' first three-error inning since Game 161 in 2010. Lance Berkman, A.J. Burnett, and Francisco Cervelli did the honors in the fourth that night. Berkman and Burnett managed to make their errors on the same play.
Box Score, WPA Graph & Standings
For the box score and updated standings, go to ESPN. For the video highlights, go to MLB.com. If you're interested in postseason odds, go to FanGraphs. Here's our Bullpen Workload page and here's the loss probability graph:

Source: FanGraphs
Up Next
This four-game series is just getting started. Jaime Garcia will make his Yankees debut Friday night, in the second game of the series. He'll be opposed by Trevor Bauer. Perhaps the Yankees will score more than one run.