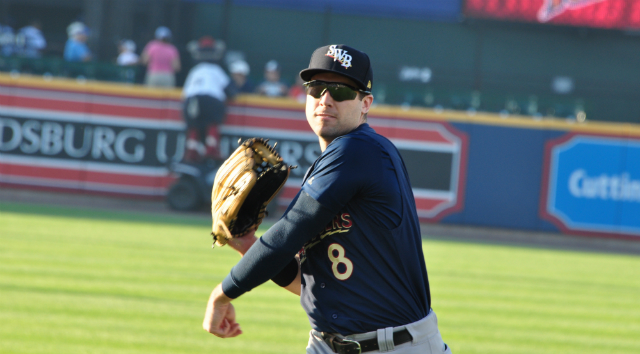 While the Yankees are undeniably improved from their deadline moves, the underrated part of Brian Cashman's trades are the 40-man roster spots it opens for this upcoming year. With Yefry Ramirez, Dietrich Enns, Jorge Mateo, Zack Littell, Ian Clarkin, Tito Polo and Dustin Fowler all gone, that helps lessen the 40-man roster crunch the Yankees were going to deal with after the season. Plenty of players would have been lost for no return, so Cashman acted.
One player who could directly benefit is Jake Cave. Cave, 24, was left off the 40-man this past year because he was expendable and seemed like he may be on his way out of the organization. After all, he'd hit .261/.323/.401 in his first extended taste of Triple-A and the acquisition of outfield depth made Cave the odd man out. However, the other 29 teams passed on him as a second-time Rule 5 pick and he remained a Yankee for the time being.
But this year has been different. Splitting his time between Trenton and Scranton, he's done nothing but hit. In 171 PAs in Scranton, he's batted .376/.427/.682 while hitting 12 home runs, more than he had posted in any entire season until now. In total, he's hit .326/.377/.607 with 42 extra-base hits. That's just one fewer XBH than last season in 159 fewer PAs. His strikeout rate remains about the same with a slight uptick in his walk rate while his home run per fly ball rate has skyrocketed. Maybe some of the power is a mirage, but he's increased his flyball and line drive rates as well. Seeing him in person last week vs. a year ago around this time, he appears to have better command of the strike zone.
If you're going to have a player repeat a level, you need them to show improvement and he's clearly taken a step forward. He can play all three outfield positions well and now has shown the hit tool necessary to receive a look.
Where he benefits from this year's deadline is the lessening of the Yankees' outfield depth. Mateo, Fowler, Polo are no longer obstacles. Neither are Rob Refsnyder or Mason Williams, the latter who is still in the system but off the 40-man. The organization has five full-time OFs on the 40-man roster (Gardner, Ellsbury, Hicks, Judge and Frazier) and Tyler Wade as a utility man. At least one of the veterans, likely Ellsbury, could be gone this offseason, leaving room for a backup outfielder, or at least someone waiting in the wings in Scranton.
Billy McKinney complicates things. Acquired in last year's Aroldis Chapman deal, McKinney is nearly two full years younger, comes with a higher pedigree (former top 100 prospect and first round pick) and has more power potential. Also a lefty, McKinney has hit nearly as well as Cave in his small sample with Scranton, hitting seven home runs and batting an impressive .343/.385/.676 in 110 PAs. Not bad for someone three weeks shy of turning 23. Cave's calling card over McKinney is his ability to play center more often.
But there could be room for both on the 40-man, one in the majors and one in the minors, whereas both were borderline roster candidates at best prior to this deadline. The Yankees could utilize Gardner, Hicks, Judge and Frazier in the three OF spots and the DH role, leaving Wade and one of McKinney or Cave to back them up.
Cave went unprotected last season for good reason and there's reason to believe the team didn't see a future in the organization for the 2011 6th round pick. He's a minor league free agent after this season, so adding him to the 40-man is the only way to keep him under team control. But that could now be in the cards, both with his performance and thanks to factors outside his control. As improbable as it may have seemed even a month ago, there may just be a role for Cave to play for the Yankees.