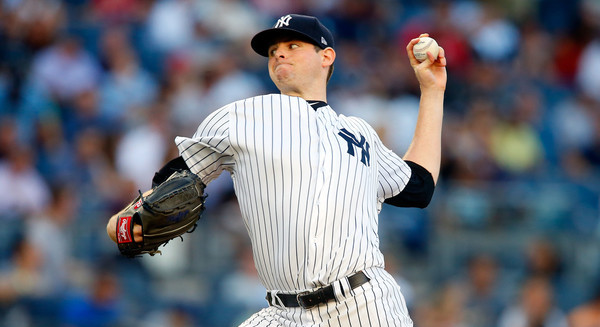 4:16pm ET: The Yankees announced that Montgomery was evaluated and cleared to start tomorrow's game. Phew. That was scary.
3:44pm ET: Ken Rosenthal hears from a Yankees official that "it appears" Montgomery will be okay. Good news. The Yankees have not yet announced an official update on Montgomery or their pitching plan for tomorrow's game.
3:34pm ET: According to multiple reports, Jordan Montgomery was hit in the right side of the head by a line drive while signing autographs during batting practice this afternoon. He was helped off the field and reportedly held a towel up to his head in the dugout for a few minutes before exiting back into the clubhouse.
The Yankees have not yet released an update on Montgomery, so stay tuned. I imagine he'll go through MLB's concussion protocol, and also go for an x-rays and other tests. A line drive to the head is no joke. Hopefully Montgomery comes out of it with a bruise and nothing more. Head injuries are scary stuff.
Montgomery is currently scheduled to start tomorrow night's game, though the Yankees might have to call an audible. Bryan Mitchell, who threw 67 pitches in relief Tuesday, could get the ball instead. Caleb Smith is scheduled to start for Triple-A Scranton tomorrow and could be another option. We'll see.
The Yankees placed Masahiro Tanaka on the 10-day DL with shoulder inflammation earlier today. They're also without CC Sabathia (knee) and Michael Pineda (Tommy John surgery). Montgomery was recalled yesterday to take Sabathia's spot in the rotation.