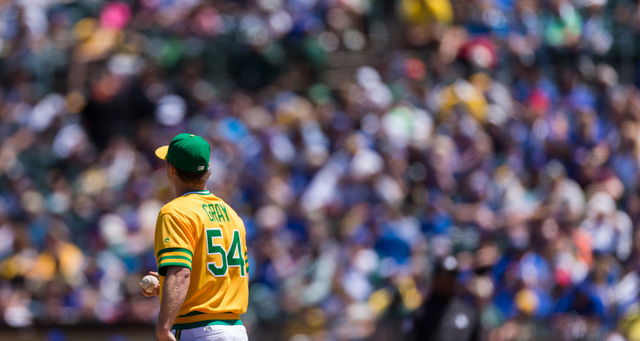 For the first time in a long time, the Yankees were big buyers at the trade deadline this year. They traded several top prospects in deals that very clearly qualify as win now moves, and yet, they didn't mortgage their future either. All told the Yankees added seven players (Garrett Cooper, Todd Frazier, Jaime Garcia, Sonny Gray, Tommy Kahnle, Ryan McBroom, David Robertson) and subtracted eleven players (Ian Clarkin, Tyler Clippard, Dietrich Enns, Dustin Fowler, James Kaprielian, Zack Littell, Jorge Mateo, Tito Polo, Rob Refsnyder, Blake Rutherford, Tyler Webb) in five separate trades. I have thoughts on all this, so let's get to 'em.
1. We have to look at the trade deadline activity two ways: short-term and long-term. In the short-term, the Yankees added five veteran players to their big league roster these last few weeks (Frazier, Garcia, Gray, Kahnle, Robertson) and subtracted one (Clippard). Those guys represent huge upgrades. Frazier hasn't been great by any means, but he is effectively replacing the revolving door at first base, and those guys were so bad. So, so bad. (Chase Headley has been far and away their best first baseman this year, so yeah.) The Yankees were able to hang around the postseason race even while getting nothing from first base and having a leaky bullpen. Now they've added a few wins worth of players for the second half. How many wins? That's up for debate. Depends how you value relievers. I think these moves have a chance to add as many as five or six wins to the ledger the rest of the way, and given where the Yankees sit on the almighty win curve, adding five wins will have an enormous impact. Going from, say, 80 wins to 85 wins is no big deal. You're not really in the postseason mix with 85 wins. Making the jump from 88 to 93 wins though? That's huge. That pushes you from wild card contender to possible division winner. That's where the Yankees are right now. There's no way to look at these trades as anything other than massive upgrades in the short-term, for the 2017 Yankees.
2. As for the long-term outlook, the Yankees added one year of Robertson, two years of Gray, and three years of Kahnle beyond 2017. (Garcia and Frazier are rentals.) They managed to do that without compromising their big league core and without trading their very best prospects, most notably Gleyber Torres and Clint Frazier, plus also Chance Adams and Justus Sheffield. (How was Estevan Florial not in this trade?) Out of all the prospects the Yankees traded, Fowler was the only one with a chance to have real staying power for the Yankees next season, and even that would have depended on his recovery from knee surgery. Kaprielian, Mateo, and Rutherford all would have needed more time in the minors. Mateo's really the only one of those three who had even a chance to help the Yankees in 2018. Kaprielian has lost too much development time the last two years to fast track at this point. Others like Enns, Webb, and Polo aren't really impact pieces. Last year the running gag was the Yankees didn't sell, they bought for the future. And that's true! This year they really bought for the future by adding big league players with years of team control. That they were able to do that without trading anyone off their big league roster or any of their top MLB ready or near MLB ready prospects is pretty awesome.
3. Both teams took on a lot of risk with this trade. Gray has had some injury problems over the last 18 months or so and he's the only player the Yankees acquired. If his arm gives out, they're left with nothing. The A's picked up two prospects coming back from major injuries (Kaprielian and Fowler) and another who didn't hit for basically a year and a half in High-A (Mateo). And I totally get it for the Athletics. They landed two high-end up-the-middle players and a pitcher who showed ace-caliber upside when healthy. Oakland can't afford talent like that in free agency. The only way they get players like that is through the draft, through international free agency, and through trades. They shot for the moon with upside and took on the some increased risk to get players like this, because you know what? If Fowler and Kaprielian were healthy, the Athletics weren't getting them in a trade. This trade has serious boom or bust potential for both teams. It's going to take a while to judge this trade and boy, it has the potential to look real lopsided for someone.
4. I mentioned this after the White Sox trade and it bears repeating: the front office just sent a very loud and clear message through the clubhouse. We believe you're good enough to win and we're going to get you the help you need. That has to feel good. The Michael Pineda injury left a gaping hole in the rotation — I like Caleb Smith and Luis Cessa and Bryan Mitchell, but getting sub-five-inning starts every fifth day couldn't last — so the Yankees went out and got two starting pitchers. They needed bullpen help so they got two relievers. They needed a first baseman so they got, well, a third baseman and moved their third baseman to first. That's pretty great. Last year the Yankees sold and that let everyone in that clubhouse know the front office did not think they're good enough to win. This year is the complete opposite. I'm sure the guys who were with the team last year especially appreciate it. Things turned around in a hurry.
5. The Yankees have six starters for five spots right now and Joe Girardi declined to reveal what they're going to do with the rotation yesterday. The general belief seems to be that Jordan Montgomery's rough July will earn him a demotion to Triple-A. That's probably what'll happen. Putting Garcia in the bullpen is another option. Whatever happens, six viable starters for five spots is a luxury and I'm glad the Yankees brought in both Gray and Garcia. You know the Yankees are going to need all these guys to make starts at some point. All these guys and then some. We haven't seen the last of Smith or Cessa or Mitchell. That's baseball. The sport has a way of making pitching depth disappear. Also, keep in mind Montgomery and Luis Severino have some sort of innings limit this year. Brian Cashman confirmed it yesterday. He told Bryan Hoch we "can look at" their workloads and assume the team will have to back off at some point. Having six starters for five spots makes it easier for the Yankees to skip a Montgomery or Severino start now and then, or stash Montgomery in Triple-A for a few weeks and ease up on him that. (Severino's not going down.) Three days ago the Yankees had four starters for five spots. Now they have six and it's awesome. Managing Severino's and Montgomery's workloads will be much easier now. Those innings will now go to no-doubt big league caliber arms.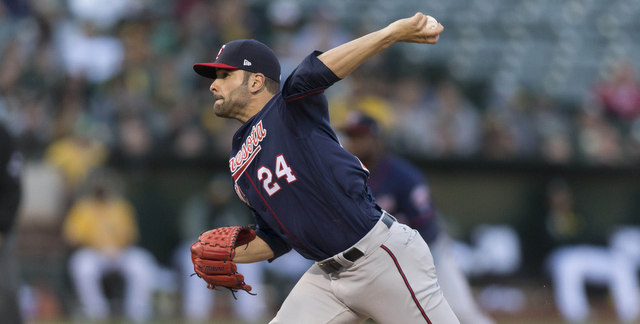 6. The Yankees haven't made a meaningful August trade in a very long time — the last came back in 2009, when they picked up Chad Gaudin from the Padres (for cash) to take over as the fifth starter — though I get the feeling that may change this year. They could really use another bat. I know Starlin Castro and Aaron Hicks are on the mend, but I'm talking about another bat even beyond them. Matt Holliday seems to be going full Travis Hafner (never go full Travis Hafner) and the elder Frazier hasn't exactly torn the cover off the ball either. And how long do you want to rely on Headley staying red hot or Brett Gardner coming through with walk-offs? I was really hoping the Yankees would add a bat at the deadline and since they didn't, I get the feeling they're going to wish they did pretty soon. I could totally see a waiver trade going down at some point. A lefty hitter who can play a little first base would be ideal. Yonder Alonso and Jay Bruce immediately jump to mind, though others like John Jaso and Matt Adams could be options too. Alonso, Bruce, and Jaso might be pure salary dumps. Just take they money and who cares, we don't need a prospect back. Point is, I think the Yankees will find themselves in the market for another hitter at some point soon even with Castro and Hicks inching closer to a return. They're all-in already. Their recent trades confirmed it. So if they believe they need a bat, they're going to go get one. They won't rest on their laurels.
7. Let's not overlook the $1.5M in international bonus money coming from the Athletics in the trade. That's the third trade the Yankees have made for international money in recent weeks. They also picked up undisclosed sums from the Orioles in separate deals involving minor league righties Matt Wotherspoon and Yefry Ramirez. Jesse Sanchez says the Yankees now have $3.5M in international bonus money to play with, and as I mentioned in my recent July 2nd write-up, the Yankees have been connected to some of the best available prospects. Odds are they have deals lined up for this money. They didn't acquire it just because. We're going to hear about more international signings soon. The Yankees traded away three really talented players in the Gray trade, though the $1.5M in bonus money will go toward replenishing the system.
7a. I suppose there's also a chance that $1.5M in bonus money — or the $3.5M that Sanchez says the Yankees still have to spend — could go to Shohei Otani after the season, though I'm still not convinced Otani is coming over to MLB. Too many teams have maxed out their bonus pools already. Maybe he really doesn't care about the money and is willing to come over for a fraction of his actual worth. I'll believe it when I see it. My guess is the $3.5M in bonus money the Yankees still have to spend is going to the available Latin American amateurs they've been connected to the last few weeks. We'll see.
8. Yesterday's moves, meaning the Gray trade and the Yefry trade, opened up one 40-man spot total. Gray essentially slides into Mateo's spot. Fowler was also on the 40-man, though he's hurt and on the 60-day disabled list, so he wasn't actually counting against the 40-man. Ramirez was on the 40-man and now he's gone, so that's the open spot. The Yankees aren't going to use that spot until they need it, though the larger point here is the Yankees are opening up 40-man spots for the offseason. Clarkin, Littell, and Polo all would have been Rule 5 Draft eligible after the season and I'm not sure they were going to be protected. Finding space wasn't going to be easy. Others like Yefry, Enns, Refsnyder, and Webb were at risk of losing their 40-man spots to other players. Rather than potentially losing those guys for nothing, the Yankees traded them for an actual return. With a trade as significant as the Sonny Gray deal, the 40-man roster isn't a huge consideration. You go out and get that dude even if means having to designate someone else for assignment. With smaller deals with Jaime Garcia and international bonus money and all that, the 40-man roster absolutely is a consideration. Forty-man roster management is important and the Yankees unclogged things a bit at the trade deadline. That's not nothing.
9. I'm not normally one to toot my own horn, but I'm going to do it now. As part of my half-baked offseason plan, I suggested the Yankees trade for … Sonny Gray and Jaime Garcia. How about that? For Garcia, I suggested sending Gardner to the Cardinals. Good one, idiot. The Gray trade though? I was sending Severino, Mateo, Fowler, and Refsnyder to the A's. The Severino part sounds silly now given what he's become, and it is, but he was pretty terrible last year and his stock was unquestionably down. My proposal had stock down Severino and the real trade had injured Kaprielian. How far apart are stock down Severino and injured Kaprelian in value? Not too much, I don't think. That's the long way of me saying my silly trade proposal was in the ballpark! See? Every so often I come up with an idea that isn't completely ridiculous. I feel validated.
10. One final point: the Yankees are in first place right now and were in position to buy at the trade deadline because of their young players. The veterans have helped along the way, no doubt, but the Yankees had three homegrown All-Stars age 25 or younger this year in Severino, Aaron Judge, and Gary Sanchez. They didn't trade for those dudes. Homegrown all the way. The Yankees have won seven of their last eight games and nine of their last eleven games, and have you noticed the batting order?
2. Clint Frazier
3. Aaron Judge
4. Gary Sanchez
The future is now. The Yankees went from sellers at the trade deadline last year to buyers at the trade deadline this year because their young players have stepped up and had an impact early in their careers. Right now, this is Judge's and Sanchez's and Severino's team. Frazier's working his way into that conversation and pretty soon others like Torres, Adams, Sheffield, Miguel Andujar, and Tyler Wade are going to get similar chances as well. The Yankees traded away nine prospects in these various deals and still have Torres, Andujar, Adams, and Sheffield in the minors. Pretty cool. When the Yankees decided to sell last year, I thought it was a necessary step, and I figured it would take maybe two or three years for them to reap the rewards. Instead, 12 months later, the Yankees are in first place and have even more really good and really fun young players set to arrive within before next year's trade deadline. What an exciting time to be a Yankees fan.