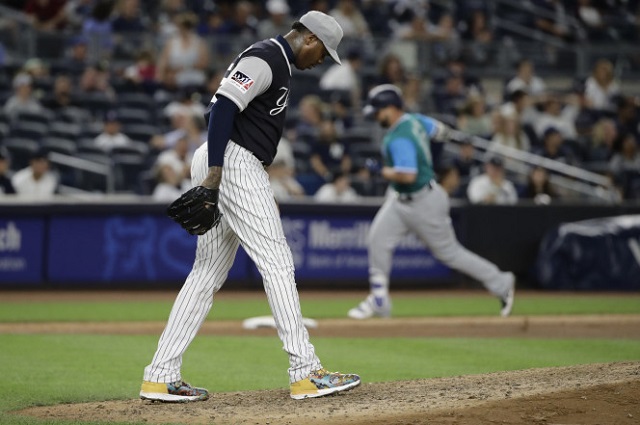 Extra awful loss
The uniforms might have looked different, but the result was a familiar one for Yankee fans in the Bronx on Friday night – a frustrating and gut-wrenching 11-inning, 2-1 loss. While another late meltdown by the bullpen was the trigger point, the lack of clutch hitting and numerous wasted scoring opportunities gave the Yankees virtually no chance to win the game.
Let's recap the ugliness:
It was their 22nd one-run loss of the season, the most in the American League through Friday, and 10(!) more than they had all of last season.
It was also their sixth extra-inning loss, twice as many as they suffered in 2016.
And it was the 22nd time the bullpen was charged with a loss, the third-highest total in the AL through Friday, behind the Rays and Rangers.
Aroldis Chapman's miserable season continued as he coughed up the game-winning homer to Yonder Alonso in the top of the 11th inning. Chapman wore the goat horns, and also gets stung with our Obscure Yankeemetric of the Series:
He is the second Yankee ever to give up an extra-inning go-ahead homer at Yankee Stadium against the Mariners. The other one happened on June 14, 1978 when Leon Roberts took Sparky Lyle deep in the top of the 10th, a shot that was rendered meaningless when the Yankees rallied in the bottom of the frame to win the game.
Alonso is also the second left-handed batter this month to homer off the Cuban Missile. That is a mind-blogging fact considering Chapman had surrendered only one home run to a lefty in his career before Rafael Devers took him deep two weeks ago (Luke Scott was the other on June 26, 2011).
To sum it up: he allowed one homer to the first 418 lefty batters he faced in the majors, and since has allowed two homers to the last 12 lefty batters he's faced in the majors.
With Alonso hammering a 100.1 mph pitch from Chapman into Monument Park, it's becoming more and more likely that his blazing fastball is no longer a weapon of intimidation in the pitcher-hitter duel. Batters are squaring up on his triple-digit heater more often than ever. Look at these numbers for the 100-plus mph pitches he has thrown in this career.
| Year | Pitches | Slug pct | Home runs | Whiff rate |
| --- | --- | --- | --- | --- |
| 2017 | 253 | .324 | 2 | 15% |
| 2010-16 | 2,330 | .150 | 3 | 22% |
The Yankees wasted a gem from CC Sabathia, who was brilliant in his second start since coming off the DL, going seven innings and allowing just one run. Sabathia's late-career resurgence is reminiscent of another Yankee legend who had a couple strong seasons after reaching the midpoint of his 30s, Mike Mussina. And so it was fitting that the two pitchers had a cool statistical convergence on Friday night:
When Sabathia took the mound at the start of the game, it was his 249th start as a Yankee, breaking a tie with Mussina for sole possession of 11th place on the franchise's all-time games started list. And when Sabathia struck out Kyle Seager in the sixth inning, it was his 2,814th strikeout, passing Mussina for 19th place on the Major-League all-time strikeout list.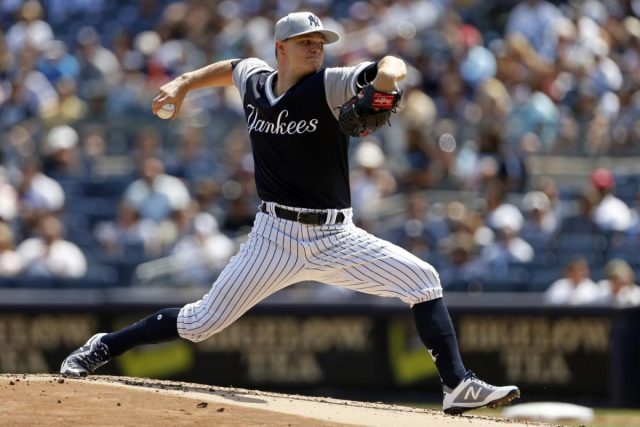 Sonny skies all day
The crushing losses have been piling up, but the resiliency of this team hasn't waned. That toughness was on display again this weekend when the Yankees bounced back from Friday's devastating loss to beat the Mariners 6-3 on Saturday. They've now won seven of their last 10 games following a one-run loss, dating back to the last week of June.
Sonny Gray delivered his finest performance as Yankee, striking out nine and allowing just one run in seven stellar innings. He's pitched at least five innings and allowed no more than two earned runs in each of his first five starts with the Bombers, becoming the first pitcher to begin his Yankee tenure with a streak like that since Tommy John in 1979.
This excellent stretch extends even further back to his final month in Oakland too; Saturday was his 11th consecutive start giving up fewer than three earned runs, the longest streak by any pitcher in the majors this season. In that span – since June 25 – he's compiled an ERA of 1.95, the lowest by any American League pitcher (min. 30 IP) over the last two months.
Gray dominated with his two breaking pitches, as the Mariners swung at 18 curves/sliders and whiffed on 11 of them, including five for strike three. But perhaps more impressive was how he repeatedly froze batters with his two-seamer. He got a career-best 15 called strikes among the 54 two-seam fastballs he threw, and most of those takes were in the heart of the zone (orange dots below):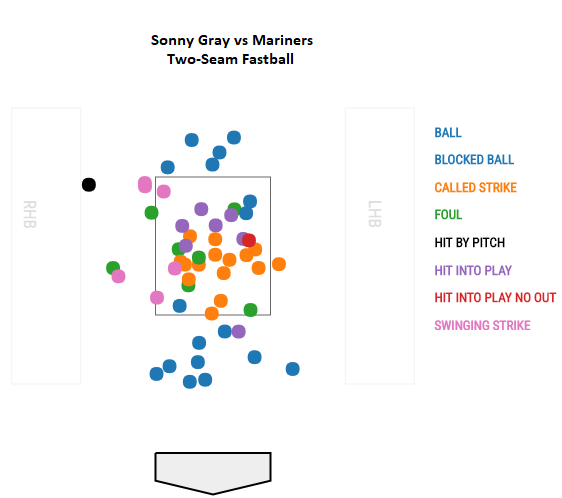 While Gray shined on the mound, Jacoby Ellsbury had a rare starring role as the offensive spark plug, with an RBI single and a tie-breaking three-run dinger. Ellsbury's blast was a Yankee Stadium special, just barely clearing the short porch in right field. According to ESPN's Hit Tracker (and based on calculations if the ball had been hit in ideal weather conditions of 70 degrees and no wind), Yankee Stadium is the only ballpark it would have been a home run.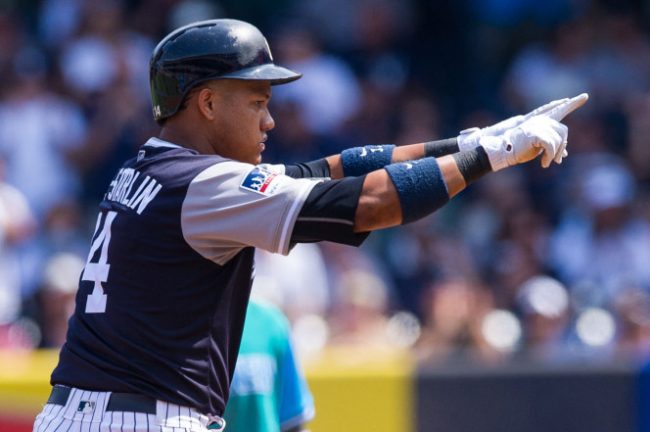 Sloppy Seattle, Magnificent Masa
The Yankees' inability to close out series had become a recurring nightmare … until the Bad News Mariners showed up to Yankee Stadium. Entering this weekend, the Yankees had dropped their previous 11 rubber games — a streak that reached back to early June — and were 5-14 in rubber games overall this season, easily the worst record and most losses of any team. On Sunday afternoon the Yankees took advantage of a historically sloppy Seattle defense to snap that inexplicable streak, en route to a 10-1 victory.
They raced out to an early 6-1 lead thanks to five Mariners errors in the first inning, the most errors committed by one team in a single inning since the Cubs on July 2, 1977 against the Cardinals. If you're curious, the modern record (since 1900) for the most errors committed in one inning is seven, by the Cleveland Naps against the Chicago White Sox on September 20, 1905.
Thanks to all those free outs, a cavalcade of hits, and some timely at-bats (6 hits with runners in scoring position), the Yankees were able to win without the benefit a homer — an extremely rare win for this power-happy team. It was just their fourth win this season in a game they didn't go deep, which is now tied with the Tigers for the fewest such wins in the majors.
Masahiro Tanaka made sure the Yankees offensive outburst wouldn't be wasted as he shut down the Mariners lineup after a shaky first inning. He struck out 10 in seven innings, allowed one run, and has now quietly posted a 2.92 ERA over his last 11 outings. This was also his 100th career start, and with those 10 strikeouts, Tanaka became the first pitcher in franchise history to reach 600 strikeouts in his first 100 major-league games.