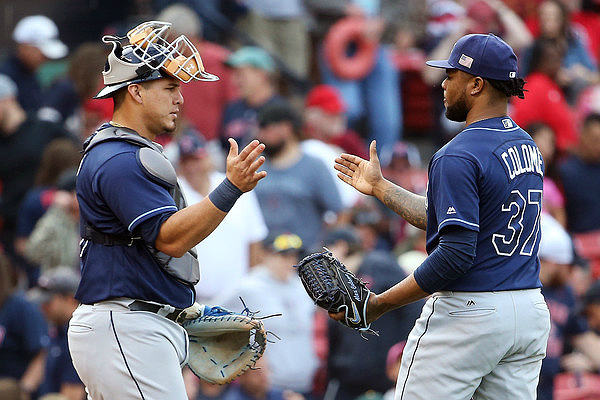 After taking four of six from wild-card contenders during their six game road trip, the Yankees return to New York for what is technically a road series against the Tampa Bay Rays. With Hurricane Irma touching down in western Florida, Tropicana Field was unavailable. That forced the Rays to play the three-game home series at Citi Field.
The Last Time They Met
From July 27 through July 30, the Yankees took three of four from the Rays at Yankee Stadium, taking a six-game winning streak in the series finale. It was part of a stretch where the Bombers won 9 of 11 to briefly regain the AL East lead going into August.
It was a walk-off weekend for Brett Gardner. After a Gary Sanchez single (and poor Rays fielding) scored him to tie up the opener in the ninth inning, Gardner lined a home run to lead off the 11th for the win. He'd single with the bases loaded and no outs two days later for another walk-off.
Masahiro Tanaka had one of his best outings of the year in Game 2. He had a perfect game until Adeiny Hechevarria singled with two outs in the sixth. He went 8 IP, allowing just two hits while striking out 14.
Aroldis Chapman looked like his old self, striking out five in three dominant innings while picking up the win during both of Gardner's walk-offs.
Sanchez and Gardner each homered twice in the series, but so did new Rays first baseman Lucas Duda, who made an immediate impact by reaching in 7 of 12 PAs during his first series with Tampa.
For more information, check out Katie's Yankeemetrics post.
Injury Report
The Rays are relatively healthy, but rookie starter Jacob Faria (abdominal strain) made a rehab start against Staten Island on Sunday. He could be back vs. Boston this week.
INF Matt Duffy (heel) won't play this season and had just 80 PAs as a Ray. LHP Xavier Cedeno (forearm) and former Yankee Nathan Eovaldi (elbow) both began rehab appearances but are on the 60-day DL and their returns this season are in doubt.
Their Story So Far
The Rays are 71-73, leaving them 3.5 games out of the second wild card. Not only are they four games back in the loss column, they would have to surpass six teams to get the spot. Their lineup has been very middle of the road (.245/.318/.426, 97 wRC+) but they've also had the second worst strikeout rate in all of baseball. As Tanaka did in July, pitchers can rack up Ks against them. Their pitching staff has been solid with the 9th best team ERA (4.07) in baseball.
They have had similarly bad one-run luck to Yankees with an 18-22 record in those games. One thing that has held them back is the AL East as they are 27-33 in the division.
They've had a productive outfield with Dickerson/Kiermaier/Souza while Lucas Duda has been a major help since coming over at the deadline. The infield has been another story with Duffy out, Brad Miller struggling and Evan Longoria being merely an average (98 wRC+) hitter despite hitting .319/.411/.553 with three of his 18 HR against the Yankees.
Lineup We Might See
Kevin Cash mixes up his lineups depending on matchups, so you're unlikely to see the same lineup twice. Trevor Plouffe, Peter Bourjos and Cesar Puello could all move into the lineup vs. LHPs while Mallex Smith's glove often gets him into the starting nine. Here's a possible lineup you'll see this week.
1. CF Kevin Kiermaier (.278/.341/.447)
2. 1B Lucas Duda (.232/.337/.536)
3. 3B Evan Longoria (.265/.320/.433)
4. DH Logan Morrison (.248/.355/.529)
5. RF Steven Souza Jr. (.246/.351/.477)
6. LF Corey Dickerson (.280/.325/.499)
7. SS Adeiny Hechavarria (.245/.273/.366)
8. 2B Brad Miller (.195/.333/.322)
9. C Wilson Ramos (.238/.271/.387)
The Starting Pitchers We Will See
Monday (7:10 PM EST): LHP CC Sabathia vs. RHP Jake Odorizzi
Odorizzi has been plagued by a case of way too many home runs this year. He's allowed at least one homer in all but three outings this year and he's allowed 28, one fewer than he allowed last season in 64 fewer innings. His career low groundball rate has been paired with fewer strikeouts and more walks, part of which may be explained by a loss of .75 mph off his pitches.
He has only 3 quality starts in last 11 outings, though his last start was one of his best all season. He held the Twins to just two baserunners in 6 2/3 innings.
Last Outing (vs. MIN on Sept. 5) – 6.2 IP, 1 H, 0 R, 1 BB, 6 K
Tuesday (7:10 PM EST): RHP Sonny Gray vs. LHP Blake Snell
Snell has essentially had two seasons. Up until August, he continued to have the same issue as in his rookie 2016 season: Walks. He dished out 5.1 walks per nine innings and had a 4.98 ERA, all while barely getting through five innings a start.
Since getting recalled on Aug. 8 from his second demotion of the year, he's been a whole new pitcher. He's cut the walks to 2.2 per nine and held opponents to a .222/.271/.385 line. While he has a 3.16 ERA in that span, he did have a poor outing his last time out, getting battered around by the Twins, who launched two home runs off the southpaw.
Last Outing (vs. MIN on Sept. 6) – 4.0 IP, 7 H, 6 R, 0 BB, 7 K
Wednesday (1:10 PM EST): LHP Jaime Garcia vs. RHP Chris Archer
You surely know Archer by now. Hard fastball, top-notch slider. The Rays' No. 1 has still struggled this season, posting a 4.00 ERA. Like Odorizzi, he's surrendered a few too many homers (25) but he's still posted career-best strikeout and walk rates. Two outings ago, he left with forearm tightness after just two batters. He came back on turn and was beat up by the Red Sox over three innings. The good news is that his velocity was back after his disastrous two-batter start in Chicago.
Last Outing (at BOS on Sept. 8) – 3.0 IP, 9 H, 8 R, 1 BB, 5 K
The Bullpen
The Rays have the fourth best bullpen ERA (3.28) since the All-Star break, only behind the Indians, Orioles and Yankees. Their closer, Alex Colome, leads baseball with 43 saves this year, but he's been fallible, accumulating eight meltdowns.
Setting up Colome has been Tommy Hunter with Steve Cishek, Sergio Romo and Dan Jennings all spotting up in middle relief. While Jennings is one of just two lefties in the pen, he's more than just a lefty specialist. Austin Pruitt is their main long man and former closer Brad Boxberger typically pitches low leverage innings. Since it's September, you'll see plenty of other pitchers with 12 relievers on the active roster.
Yankees Connection
Both Chaz Roe and Chase Whitley are former Yankee pitchers currently in middle/long relief for the Rays. Eovaldi won 23 games in pinstripes over the last two seasons before having Tommy John surgery. Of course, Cash had a brief 10-game stint with the 2009 Yankees, earning himself a World Series ring in the process.
Who (Or What) to Watch?
For this one, the crowd is weirdly a must-watch. This will be a unique environment. It'll surely be mostly, if not exclusively, Yankees fans, but will it be nearly empty? Will the apple in center rise when the Rays hit a home run? And how will the Rays handle being on the road for perhaps the rest of the season? Hopefully, they'll be back at Tropicana Field soon.
As for the games themselves, the Yankees come in having won three straight series. If this was in Tampa, they'd feel destined to lose two of three. Take two of three and you don't have to worry too much about what everyone else does.