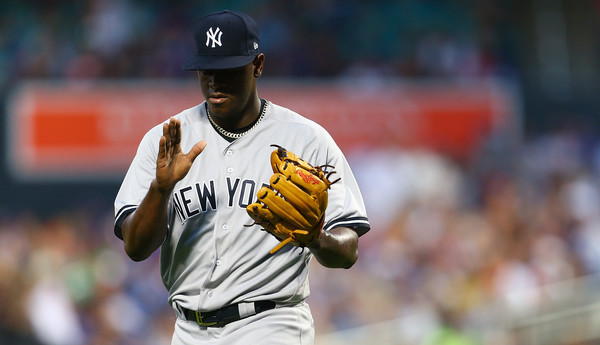 Even though it is only September 3rd, the Yankees and Red Sox will meet for the final time tonight. Final time in the regular season, that is. They could always meet in the postseason. The Yankees have won two of the first three games of this four-game series, and that's good, but they can't really afford a split if they want to win the AL East. A loss tonight puts them right back where they were at the start of the series, 5.5 games back.
Tonight's pitching matchup is a dandy: Luis Severino vs. Chris Sale. If the season ended today, I'm pretty sure Sale would win the Cy Young and Severino would finish in the top three of the voting. Definitely in the top five. As good as Sale is, the Yankees have won three of the four games he's started against them this year, and in the one loss, they had a lead in the ninth inning. Sale's been great against the Yankees (2.12 ERA in 29.2 innings), but he can be beat. Here is the Red Sox's lineup and here is the Yankees' lineup:
LF Brett Gardner
1B Chase Headley
C Gary Sanchez
2B Starlin Castro
RF Aaron Judge
SS Didi Gregorius
DH Matt Holliday
3B Todd Frazier
CF Jacoby Ellsbury
RHP Luis Severino
Not the best baseball weather in New York today. It's cloudy and chilly, and it was raining on-and-off for a bit. There's no rain in the forecast tonight. At least nothing heavy. Tonight's game will begin at 7:35pm ET and ESPN will have the broadcast. Enjoy the game.
Injury Updates: Aaron Hicks (left oblique strain) was placed on the 10-day DL, the Yankees announced. The injury is not as severe as his previous oblique strain and the hope is he can start swinging a bat within ten days. The Yankees used the DL stint to bring Caleb Smith back before his ten days in the minors were up, so there are eleven guys in the bullpen right now. I'm guessing another outfielder will be up soon too … Clint Frazier (oblique) will begin a minor league rehab assignment with Double-A Trenton on Wednesday.
Rotation Update: Jordan Montgomery, CC Sabathia, and Sonny Gray will start the next three games in that order. Joe Girardi said they're essentially slipping Jaime Garcia this time around, though he will rejoin the rotation at some point.