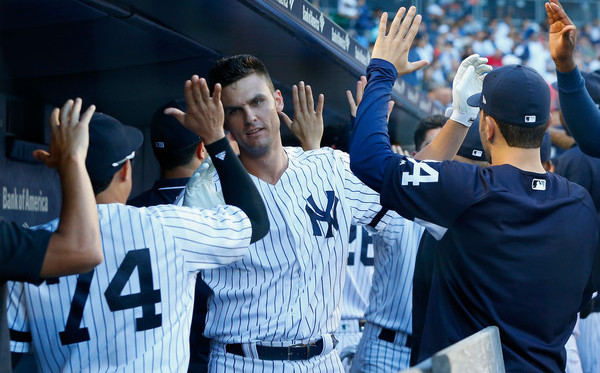 Following yesterday's game the Yankees shuffled their rotation to ensure CC Sabathia and his balky knee will not start on the turf in Toronto next week, which means Sonny Gray gets the start this afternoon. Gray has made eight starts as a Yankees, and in those eight starts, the Yankees have scored 24 total runs. Nine of the 24 came in one game. They've scored four runs in his five losses. Get that man some runs!
The good news is the Yankees are facing the Orioles at home today, and gosh, they've destroyed the O's in Yankee Stadium all season. They're 7-1 with a +57 run differential against the Orioles at home. Overall, the Yankees have scored 150 runs in 18 games — 150 runs in 18 games! — against the O's this season. No team has scored more runs against any other team since baseball expanded in 1961. Crazy. How about another blowout today? Here is the Orioles' lineup and here is the Yankees' lineup:
CF Brett Gardner
RF Aaron Judge
C Gary Sanchez
SS Didi Gregorius
2B Starlin Castro
DH Matt Holliday
1B Greg Bird
3B Todd Frazier
LF Clint Frazier
RHP Sonny Gray
Another cloudy and humid but not crazy hot day in New York. There's also a little rain in the forecast. Not much. Probably not enough to interrupt the game. This afternoon's series finale — it really is a shame this series has to end, isn't it? — will begin a little after 1pm ET, and YES will have the broadcast. Enjoy the game.
Injury Updates: Adam Warren (back) played catch again today and everything feels good. He's still on track to get in a few games before the end of the regular season … Caleb Smith was placed on the 10-day DL with a viral infection, the Yankees announced. That might end his season. Only two weeks left.
Roster Move: Domingo German was called up from Triple-A Scranton, the Yankees announced. He essentially replaces Smith as the extra long man. The Yankees did not need to place Smith on the disabled list to call up German. German had been down for much more than ten days.