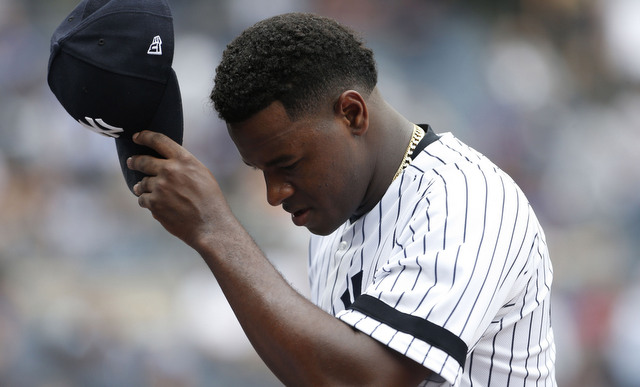 Tonight, Luis Severino will make his final start in what has been an overwhelmingly successful season. He's been one of the top starters in baseball and he'll appear on plenty of Cy Young ballots. Severino's final start of the regular season tonight. His next start will be either a Game 163 tiebreaker to decide the AL East, or the AL Wild Card Game next week (or Game One of the ALDS, I suppose). The pressure will ratchet up a notch or three.
Because of that, I wouldn't be surprised if Joe Girardi and the Yankees approach this as a tune-up start for Severino. Five innings or 75 pitches, whatever comes first. That sort of thing. Enough work to stay sharp but not so much that it could carry over and have some sort of effect on his next start. We'll see. The Yankees are still alive in the AL East race, so get another win and continue to make the Red Sox sweat. Here is the Rays' lineup and here is the Yankees' lineup:
LF Brett Gardner
DH Aaron Judge
C Gary Sanchez
SS Didi Gregorius
2B Starlin Castro
1B Greg Bird
3B Chase Headley
CF Jacoby Ellsbury
RF Aaron Hicks
RHP Luis Severino
It was uncomfortably hot most of the afternoon in New York. It has cooled down a bit since then, mostly because there's a little rain in the forecast. Nothing heavy and hopefully nothing that will delay the game. Tonight's game will begin a little after 7pm ET and WPIX will have the broadcast. Last WPIX game of the season! Enjoy the game.