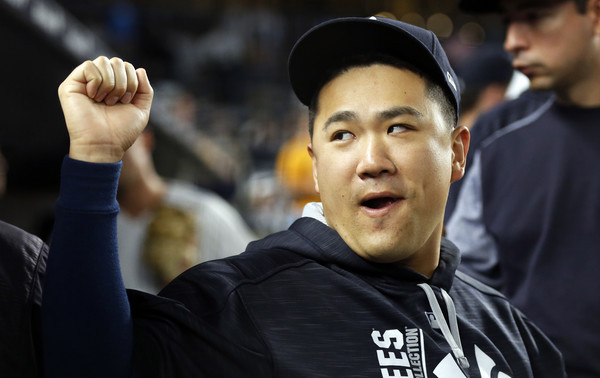 Given the one-and-done nature of the Wild Card Game and his looming opt-out, Masahiro Tanaka may very well be making his final start as a Yankee this afternoon. CC Sabathia may have already made his, which is kind of a bummer. It's a good thing Luis Severino and Jordan Montgomery emerged this year, and the Sonny Gray trade went down, because the 2018 and beyond rotation was looking pretty sketchy as recently as six months ago.
Anyway, the Yankees begin their final series of the regular season today, and they are still alive in the AL East. They have to win out and the Red Sox have to lose out to force a Game 163 tiebreaker. That's the only path to the division title right now. Unlikely? Very. Impossible? No! Get the 90th win of the season today and make the Red Sox sweat a little bit. Don't give them the division title with a loss. Here is the Blue Jays' lineup and here is the Yankees' lineup:
LF Aaron Hicks
CF Jacoby Ellsbury
RF Aaron Judge
SS Didi Gregorius
2B Starlin Castro
1B Greg Bird
DH Chase Headley
3B Todd Frazier
C Austin Romine
RHP Masahiro Tanaka
I'm kinda surprised more regulars aren't out of the lineup. Day game after a night game and the AL East title is a long shot. Whatever. The weather is amazing in New York. Great afternoon to spend at the park. Today's game will begin a little after 1pm ET and you'll be able to watch on YES locally and MLB Network out of market. Enjoy the game.
Roster Move: Welcome back, Adam Warren. He has been activated off the disabled list, the Yankees announced. I imagine he'll pitch today regardless of score, then once again at some point this weekend.