The following is a guest post from Adam Moss, who goes by Roadgeek Adam in the comments. He's previously written guest posts on Tim McClelland, Frankie Crosetti, the No. 26, Casey Stengel, Leo Durocher, Miller Huggins, Jerry Kenney, the Copacabana incident, Mark Koenig, Earle Combs, Urban Shocker, and Michael Milosevich.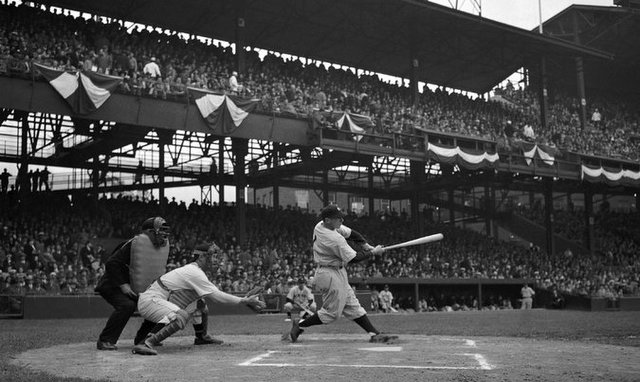 Residents of the Jersey Shore must have thought it was just another day on September 15, 1958. The weather provided a wonderful, clear mid-September morning for those boarding Central Railroad of New Jersey train #3314 out of Bay Head at 8:28 am. Destined for Communipaw Terminal on the west shore of the Hudson River, hundreds would transfer to a ferry so they could reach jobs in Manhattan. The people on 3314 that morning read of a who's who of people who would make such a commute. On board was a mayor of a town on the Jersey Shore, a secret courier for the United States Army, an artist, chemical director, a law firm partner, even a four-month-old baby. The train was supposed to make several stops, including Red Bank, New Jersey, where a 39-year old foreign freight agent nearly missed his train for a luncheon in the city.
After passing the Elizabethport station in Elizabeth, New Jersey, train 3314 sped up to approach the drawbridge over Newark Bay. In the blink of an eye, the two front locomotives and two of the coaches in the front of the train spilled off the tracks and into the waters below. Precariously, a third car dangled on the side of the bridge with numerous lives hanging in the balance. No one knew of the foreign freight agent, who had come down with the train into the waters below. This is a story about that 39-year old foreign freight agent.
Destined to be a Yankee
George Henry Stirnweiss was born on October 26, 1918 in Manhattan as the son of Officer Andrew P. Stirnweiss (b. 1899) and Sophie C. Stirnweiss (Daly; b. ~1898). They were also natives of New York City. George Stirnweiss was raised at 865 Van Nest Avenue in the Morris Park section of the Bronx. When he was five, his parents gave birth to a second son, Andrew Stirnweiss, Jr. (1924-2006). Andrew Stirnweiss, Jr. ended up joining the Navy and serving for 28 years as a pilot. Stirnweiss ended up going to the Fordham Prep School (441 East Fordham Road) and was an All-City Athlete for the varsity football team in 1934 and 1935. During this time period, he was a three-sport athlete, showing success in baseball (where he led the team to the city championship) and basketball (where the team went the Bronx-Westchester CHSAA title).
#Yankees speedster, the late George "Snuffy" Stirnweiss from his days as a Tar Heel @UNC. (The Times, Munster Indiana, April 26, 1943) pic.twitter.com/Ur4vp82ju3

— Adam Seth Moss, M.A. (@LFNJSinner) September 10, 2017
While he attended Fordham Prep, George Stirnweiss ended up applying and going to the University of North Carolina at Chapel Hill. Receiving an athletic scholarship, Stirnweiss was the starting quarterback for three years. At UNC, Stirnweiss was the "terror of the grid" known as "Old 92." According to an article in the St. Louis Sporting News from 1942, Stirnweiss averaged 6.2 yards carrying and in 1942 was the sixth-best punter in the entire nation. His punting statistics average 40.6 yards across the field. He was also playing baseball during this time period and earned the honor of being the captain for the football and baseball teams. (No other Tar Heel had ever done such a thing.) His time in football was so good; the Chicago Cardinals drafted him in the second round of the 1940 draft. They were going to offer him $6,500 to play football. However, Stirnweiss declined this, figuring that his career would go longer if he played baseball, in which he hit .391 in a 16-5 record for the Heels. On a hunch, a scout from the New York Yankees signed Stirnweiss on the day of his graduation so he could play for his favorite team.
His minor league career started higher than many others. The Yankees front office immediately assigned him to the Norfolk Tars of the Class-B Piedmont League. The aforementioned Sporting News article noted that it was at this level of baseball that players took note of Stirnweiss' insane use of chewing tobacco and "big black cigars." There he received the nickname that would stick with him, "Snuffy the Bear" (or just "Snuffy"). At Norfolk in 1940, Stirnweiss hit .307 and slugged .510 in 86 games, with 12 homers and 17 doubles.
However, it was the tool of his speed that kept Stirnweiss a popular piece. Early scouting reports put Stirnweiss' speed as comparable to Joe Gordon (who would be a teammate in a few years).  Many people felt that it was possible that Stirnweiss would end up replacing Gordon on the squad in a few years and that it was inevitable. His playing at Norfolk got him a promotion to AAA Newark to play for the Bears in the International League.
In 1941, Stirnweiss did not knock the socks off the International League. His manager, the Detroit first baseman Johnny Neun, seemed to be the weak point for his .264/.341/.688 batting line in 100 games. He had only managed 21 steals with 5 home runs and 9 doubles in 96 hits. However, his season was cut short when he came down with stomach ulcers on August 15. At that point, the 21-year old Stirnweiss went straight to the hospital and have them removed. It was believed that a collision at the plate with Ed Parsons of the Buffalo Bisons aggravated the problem, which the Bears never knew about. As a result of the ulcers, he had to reduce his use of cigars, but kept his insane chewing tobacco habit. Health issues involving his tobacco habit will come back later to haunt the infielder.
The idea of "destined to be a Yankee" tells you how close he came to never being one. In July 1942, during a season in which he would bat .270/.340/.397 in 144 games for the Bears, Ed Barrow almost traded the infielder to the Brooklyn Dodgers. Thankfully, Barrow and Larry McPhail got into a massive feud during this time and the deal was nixed. During that 1942 season, Stirnweiss demolished the league in several offensive categories, having 66 steals by July and having 103 runs scored and 105 runs batted in by August! Scouts noted though that Stirnweiss would need to be successful to make the majors as his 5-foot-8 inch frame was not going to help him. Stirnweiss would end the 1942 season, stealing 73 bases for Newark.
A Product of His Time
In December 1942, the Yankees decided to promote 8 members of the Newark Bears to bring some new blood into the team. The 1942 team had a lot of aging and retiring stars. Bill Dickey failed to catch 100 games for the first time since 1928. Lefty Gomez and Red Ruffing, the aces of the Yankees during the 1930s were about to retire. On top of that, Frank Crosetti was required to serve a 30-day suspension for a run-in with umpires during the 1942 World Series. Red Rolfe retired to coach baseball at Yale University. On top of that, Phil Rizutto and Buddy Hassett were in the military.
As part of the eight-man group called up, the Yankees promoted Stirnweiss, Tommy Byrne, Hank Majeski (a hitting prodigy for the Bears), Bill Johnson, Bud Metheny and Russ Derry to hit for the team. On top of that, the Yankees promoted a new battery, with Milo Candini and Aaron Robinson being promoted as well.  George Weiss made a joke to the media that he may have to play himself given the lack of players.
The 1943 season around baseball had a hell of a crop of rookies that season, not just in New York. The Altoona Tribune noted that there were many new young stars that fans would look forward to. Aside of Stirnweiss and Johnson, the Red Sox had Eddie Lake (not really a rookie, but a good acquisition from the Cardinals to replace Johnny Pesky) along with Louis Lucier, a pitcher under the eye of Herb Pennock; the Tigers had Dick Wakefield; the Indians had future Yankee ace Allie "Superchief" Reynolds; finally, the Philadelphia Athletics and Connie Mack had a brand new infield of Eddie Mayo, Irwin Hall and Frank Skaff. It was one hell of a crop that year.
After a good Spring Training, Joe McCarthy named Stirnweiss the starting shortstop with the Scooter in the Navy. Stirnweiss would also take Rizutto's place in the lineup, batting 1st as a leadoff speedster for the Yankees. McCarthy loved his speed, but felt he had the hitting ability to take the job. At the same time, Stirnweiss was to come up for the draft in late April and early May. Draft or no draft, Stirnweiss wasted no time proving Joe McCarthy's comments correct. By April 28, when Stirnweiss was to leave for Hartford, Connecticut about his draft status, he raised his average to .455 in the first month. Just six days prior, Snuffy got his first MLB hit in his debut against Early Wynn and the Washington Senators.
During the early 1943 season, Stirnweiss married his sweetheart, Jayne Powers, a diehard baseball fan. Stirnweiss met Powers during his days in the minors and when he was promoted to the majors in the spring, they tied the knot. Stirnweiss himself was considered a shy man, and Kevin Cook notes in his book Electric October: Seven World Series Games, Six Lives, Five Minutes of Fame That Lasted Forever, that Stirnweiss handed the bat boy at Newark the following note for Jayne:
"Please don't think of me too forward or rude. If you do please tear this up, but seeing you today I'd enjoy nothing more than meeting you. Again please don't think me forward if you find it convenient I'd like to call you. George Stirnweiss #2."
Stirnweiss tried the winter prior to enlist as a naval aviation cadet to serve his country. However, the stomach ulcers his smoking caused in 1941 caused the military to decline him originally. Despite that, Stirnweiss still departed the team on April 28 to take an examination to see if he was eligible. Thanks to some confusion in his status, they moved the place of his testing from Virginia to Hartford, and club officials noted there was doubt Stirnweiss would be accepted this time around. That ended up being the result as Stirnweiss was sent back to the Yankees instead of being drafted.
That said, the 1943 season was one Stirnweiss would rather have forgotten. Despite the early hot hitting, Stirnweiss finished the season with a .219/.333/.288 batting line as the backup to Crosetti and Joe Gordon. A year after stealing 73 bags for the Newark Bears, Snuffy took 11 bags in 20 attempts. He hit only 1 home run and 60 hits in 83 games. He had 47 walks and 25 RBI. At the end of the season, Weiss noted to the media that Stirnweiss likely would stay in a Yankee uniform if Joe Gordon was sent to the military. At the same time, several teams reached out to Weiss for Stirnweiss' services.
Similar to his early April performance, Stirnweiss did an excellent job making the front office look smart. 1944 came and Joe Gordon was unable to report to the Yankees in Spring Training at Atlantic City. On the other hand, Snuffy lost 10 pounds in the offseason and managed to start playing second base for the MIA Gordon. His United States military 4-F status (unfit for duty), gave him the opportunity to become a star. A star he became. Replacing Joe Gordon at second base and working with Crosetti, he appeared in a career high 154 games. The speed Stirnweiss was known for in Newark returned. In the famous three-team baseball game for charity on June 26, Stirnweiss outclassed the Dodgers and Giants during the exhibition events, such as a 180ft sprint event, where he outraced Johnny Rucker to home plate in just 7.8 seconds.
Snuffy Stirnweiss comic about his bag stealing prowess. (Lincoln (NE) Evening Journal, June 8, 1944) #Yankees pic.twitter.com/CwoMUH9iY2

— Adam Seth Moss, M.A. (@LFNJSinner) September 10, 2017
In a piece to Joe James Custer of the UPI, Stirnweiss stated that he studied every movement of the pitchers helping to his stealing. By July of 1944, he stormed to 21 steals, five ahead of George Case of the Senators. While he was really hush hush about ever beating Ty Cobb's 1915 record of 96 steals in a season, his speed became a nuisance to many pitchers. An American League pitcher, aggravated about Stirnweiss stealing second and third on back to back pitches, told the infielder: "Okay, Kid, now go ahead and steal home and get the hell off the field, will you please?!" Strangely, there is no record in Retrosheet of where this exactly occurred, because all of his two stolen base games until that point were not consecutive pitches.
Aside of his super legs, that led to a career high (and major league high) 55 steals in 1944, Stirnweiss led the team and the majors in hits, triples and runs scored. The 154 games during the 1944 season gave Stirnweiss the chance to get 205 hits, 16 triples, 35 doubles and a strangely low 43 RBI. He also scored 125 runs for the Yankees. Those numbers were enough to give him third place in the AL batting title race (behind Lou Boudreau and Bob Johnson) in a season where the best players were overseas fighting for their country. Stirnweiss also appeared in all 154 games that season, playing a career high 1,390.1 innings and making only 17 errors, while turning 117 double plays. No Joe Gordon? No problem. That 1944 team ended up finishing six games behind the Browns, but contained the batting champion and the home run champion as Nick Etten hit 22 home runs that season.
Snuffy's Season
1945 would have to be considered the Year of the Stirnweiss. The year the estate of Col. Jacob Ruppert sold the Yankees to Larry MacPhail, Dan Topping and Del Webb for $8 million, Stirnweiss came in as a part of the group. When the team was sold, newspapers noted his name next to those of Joe DiMaggio, Joe Gordon, Spud Chandler, Phil Rizzuto and Charlie Keller. His day had finally come.
1945 wasted no time throwing curveballs at Stirnweiss and his manager Joe McCarthy. After Nick Etten was reclassified by the military as a 1-A draft status, meaning eligible to serve, Stirnweiss was called once again for a physical examination. Along with Etten and Stirnweiss, Oscar Grimes, Tuck Stainback and Johnny Lindell were also called. If Stirnweiss was drafted, McCarthy would replace Stirnweiss with Joe Buzas. Etten and Stirnweiss managed to avoid losing their service duty, but the Yankees lost Lindell to the military.
Military status removed, the Yankees benefited from a second straight successful season from Stirnweiss. Stirnweiss played in 152 games that season, setting a career record in triples with 22 (this also led the league), with a career high of 10 home runs and a league-high 33 stolen bases. While the numbers for Stirnweiss were not as grand as 1944, he was just as useful for a team that finished 81-71, 6.5 games behind the AL winning Tigers. His final line was .309/.385/.476 (a .476 slugging led the majors). Interestingly, Stirnweiss led the majors in total bases and stolen bases in 1945, a feat only accomplished by those with last names of Wagner, Cobb and Klein.
The last game of 1945, Stirnweiss collected 3 hits to knock Tony Cuccinello of the Chicago White Sox to make sure it belonged to him. (Cuccinello finished with a .308). This was the lowest average for a batting title since 1905, when Elmer Flick of the Cleveland Naps hit .306. As a result, the Yankees offered a "George Stirnweiss Day" at Yankee Stadium. There, they presented Stirnweiss with a new automobile, and Joe McCarthy called him "without a doubt, the best player in baseball today." However, he would finish third in MVP, which ended up going to Eddie Mayo.
The Post-War Years
World War II ended on September 2, 1945. One might argue, so did the prime career of Snuffy Stirnweiss. Stirnweiss did not help his cause entering the 1946 season either. He decided to conduct a holdout for a raise he felt entitled to. As the previous season batting champion, there stood to be a good reason for a raise. Until then, he stayed up north to workout, being spotted at the New York Athletic Club on February 16. The media began to question his future with the Yankees, but Joe McCarthy killed any idea of that on February 26 when the skipper stated that a trade proposed with the Philadelphia Athletics was unlikely to happen. At that point, Phil Rizzuto had returned, severely underweight for baseball purposes. Stirnweiss ended his holdout a couple days later (February 28) and hit the Silver Meteor bound for Florida. Stirnweiss noted that he would sign a 2 year contract for $40,000 once he got to Florida. While details were not announced, his salary of $16,000 in 1945 turned into $20,000 for 1946 and 1947.
Now without a guaranteed starting job at second base, the Yankees had to move Snuffy Stirnweiss to a third position during his time in the majors. Rizzuto returned to play shortstop despite his poor weight, and Joe Gordon also returned to take his position at second base. Instead of demoting Stirnweiss back to a utility role such as he was in 1943, Crosetti and Oscar Grimes were put back in that position. Unfortunately, the decline of the Stirnweiss was on in 1946. Appearing 129 games that season, he only hit .251/.340/.318, a massive drop over his 1944 and 1945 seasons. His speed vanished; just 18 steals in 24 tries (remember Stirnweiss was only 27 at this point).
Despite the great McCarthy resigning in May 1946 and the team being rather lackluster for one that had a winning record, Stirnweiss' quality moment was appearing as a reserve in his first ever MLB All-Star Game. The Sporting News noted that Stirnweiss probably would have made the 1945 game as a starting player had the game occurred. Teammate Charlie Keller went deep that day along with Teddy Ballgame in a 12-0 blowout over the National League.
However, the man destined to be a Yankee got another chance in 1947. Dissuaded by the resignation of McCarthy and poor results, Joe Gordon was trade bait for Larry MacPhail. At that point, MacPhail talked to Joe DiMaggio about trading Gordon for one of the members of the Cleveland Indians' pitching staff. After Joe D. agreed, MacPhail traded the second baseman to the Indians for the future ace, Allie "Superchief" Reynolds. This trade opened up second base for Stirnweiss once again.
Now labeled by some in the media as a "War Product", Stirnweiss took the chance to become a star once again in 1947. However, the magic could not return as Stirnweiss' numbers continued to collapse. Snuffy played in 148 games as only a second baseman. However, he only got 146 hits and stole all of 5 bases in a .256/.358/.342 batting line. However, the Bucky Harris-led team managed to reach the World Series after three years of mediocrity. Stirnweiss took home his second ring with a .259/.429/.333 batting line in 27 at bats. He played in all 7 games. This would be his most post-season experience. He only played in 1 game and got 1 appearance in the 1943 World Series.
1948 was not much of an improvement for Stirnweiss. That season, the sapped speedster participated in 141 games as the second baseman for Bucky Harris. He replicated most of the 1947 stats except in one area, which for a time was a record. His defense never fell down and working with Phil Rizzuto turned a lot of double plays. Stirnweiss managed to set records for the best fielding percentage for a second-baseman (.9930) and the fewest errors at second base (5). These records held until 1964 and 1988 and were probably the last thing that the great War Man ever did. Rizzuto finished the 1948 season with a .252/.360/.336 batting line, in line with his averages post-1945. His speed was still MIA (with only 5 steals in 9 attempts after 5 in 8 the previous season). It was a fall from grace from the man who had won a batting title three years before. To add insult to injury, Stirnweiss hurt himself on October 22 in North Dakota, pulling a leg tendon during a Birdie Tebbett's Baseball All-Stars appearance.
Coming into the 1949 season, baseball writers were baffled to what happened to Stirnweiss. They were wondering what contributed to a bad 1948 season, and it seemed to lean on Rizzuto and Stirnweiss having awful numbers. General belief is that Stirnweiss came into the 1948 season severely overweight (if you call 188 pounds overweight). He lost weight coming into Spring Training of 1949 and the hope was that he would get back to his speedy self. Injuries also got to Stirnweiss in 1949. Stirnweiss was named the starter at second base for the third straight season post-Joe Gordon's trade. However, on Opening Day, he was spiked in the hand, and the position was handed to a rookie, Jerry Coleman. Reduced to an utility infielder, Stirnweiss' game was further reduced, slashing a .261/.380/.338 line in 70 games. The stolen base total dropped to 3 and signaled the end of any hope for his speed to return. He did get his third ring as he barely appeared in the 1949 World Series at all.
The End
Snuffy Stirnweiss in the Rochester Democrat & Chronicle bagging a 175lb spikehorn buck in December 1949. #Yankees pic.twitter.com/pwnT6OgXvf

— Adam Seth Moss, M.A. (@LFNJSinner) September 12, 2017
Humorously, before the 1950 season began, Stirnweiss was photographed by the media catching and bagging a 175-pound spikehorn buck at the Crocker Turn Camps up in Maine. In January, he was spotted giving young fans advice at a charity event in the Spring Lake, New Jersey American Legion post. That night, the boys, all of which suffered from polio got to meet Stirnweiss personally and he signed many items for them.
At the same time, the media did ask Stirnweiss what he felt about being the subject of numerous trade talks during the 1949-1950 offseason. He felt like he was going to be a Yankee through 1950, but knew that being traded was possible. Stirnweiss spent his time as a Yankee in 1950 as a pine-rider, appearing in 7 games and getting 2 at bats. No hits, no stolen bases, no nothing for a man who had won the batting title just five seasons prior. On June 15, the trade deadline at the time, speculation became reality. The Yankees traded Stirnweiss to the St. Louis Browns for 35-year old Mike Ferrick along with pitchers Sid Schacht, Joe Ostrowski and infielder Leo Thomas. The Browns also acquired outfielder Jim Delsing along with pitchers Don Johnson and Duane Pillette. Coleman and a kid known as Billy Martin made Stirnweiss expendable.
Zack Taylor, the manager of the Browns stated that Stirnweiss would go from second base to third base immediately. With rookie Owen Friend installed at second base in his age 23 season, there was no reason to keep Stirnweiss at the position. Going to St. Louis jump-started Stirnweiss's bat a little during the 1950 season, but the numbers only came out to a .218/.324/.288 pace. The speed was still missing, as he stole three bases in six opportunities for the Brownies. In typical baseball justice, Stirnweiss got a game-winning hit in July against his old team, beating them 3-2, scoring Sherman Lollar.
The next April, the Browns decided Stirnweiss himself was expendable, sending him to the Cleveland Indians in a deal in April 1951. Like in New York, they felt a kid would accomplish more than Stirnweiss, replacing the veteran with Bob Young. Al Lopez, the manager of the Indians felt that Stirnweiss should be nothing more than an injury replacement, feeling Ray Boone was more than capable of performing over the legless Stirnweiss. That season, Stirnweiss appeared in 50 games for the Indians, notching one steal in one try, hitting .216/.363/.261 as a utility infielder.
Ironically, as the 1952 season began, Tony Cuccinello and Snuffy Stirnweiss became teammates on the Indians. The man Stirnweiss beat for the 1945 batting title was now his teammate. While the media made hype of this, there never was a future repeat. The Indians let Stirnweiss appear in one game and released him. He finished the season at Indianapolis in the American Association, batting .238/.390/.375 in 97 games. He stole all of three bases in Indy and was released by the organization after 1952.
After taking 1953 off, the Phillies hired Stirnweiss to manage the Schenectady Blue Jays, their Eastern League affiliate. Despite being manager, he did play in seven games that season as a player/manager. However, by then, his playing days were over. The Phillies reassigned him to a roving batting instructor during the 1954 season. In 1955, the Yankees offered him a position as the manager of the Triples, the Binghamton affiliate. After one season, he left and hoped to become the manager of the Richmond Virginians. However, the spot went to the former Yankee ace Eddie Lopat. After that, Stirnweiss decided leaving baseball was best.
The Champ is Gone
With an ever growing family of six, George Stirnweiss felt after losing out of the 1956 Virginians job that things would be better if he stayed home with Jayne and kids. He got a position as the manager of the sandlot baseball program for the New York Journal-American, a job that he retained the rest of his life after accepting in April 1956. Later that year, Stirnweiss became the solicitor of new accounts at the Federation Bank and Trust Company of New York based in Columbus Circle.
However, the years of chewing tobacco and cigar smoking caught up to the 38-year-old Stirnweiss. On June 24, 1957, the former infielder ended up in Roosevelt Hospital in Manhattan with what appeared to be a heart attack. While Stirnweiss denied this, the doctors told the NYPD that it was one. He was noted in satisfactory condition and eventually released. However, afterwards, he departed the banking company and became a "foreign freight agent" for Caldwell and Company, also based in Manhattan.
Now working at 50 Broad Street in Manhattan, Stirnweiss was a regular commuter by train from his home in Red Bank, New Jersey. On the morning of Monday, September 15, 1958, Stirnweiss had a luncheon with executives in Manhattan to make. Feeling like it was important to leave early, Stirnweiss left to catch the 9:16 am train out of Red Bank station on the CNJ New York and Long Branch Railroad line (today's North Jersey Coast Line). In a form of unfortunate justice, Stirnweiss almost missed the train when rushing for the station from his house on 140 Maple Street.
Sitting in one of the front cars of the train, Stirnweiss joined Mayor of Shrewsbury Township John Hawkins, also a stockbroker (who had $250,000 in negotiable securities on his person at the time); Howard Huntington (age 54) of Neptune, a statistician for The New York Times' financial news department; Elton Clark (age 72) of Mantoloking, a director for Allied Dye and Chemical Company; James Clark (age 30) of Red Bank, an art director for a New York studio and John J. McDonnell (age 38), an attorney from Spring Lake among others on a train heading for Communipaw Terminal on the side of the Hudson River.
The train, run by diesel engines and with at the time, five modern passenger cars, left Elizabethport station as scheduled at 9:57 am on its way to cross Newark Bay for the 8th Street station in Bayonne at 10:03. However, when Lloyd Wilburn (age 63), the engineer, had a heart attack mid-commute, the train blew threw three stop signals because of a drawbridge opening. At 10:02, the locomotive fell off the tracks into the waters of Newark Bay alone, taking the front two cars with it, holding Stirnweiss and the aforementioned people. A third passenger car hung perilously from the bridge, in a picture seen forever in newspapers and newsreels around the country. It also eventually fell into the waters below. Cranes were called in to raise the sunken locomotive and its coaches. It was discovered later that the locomotive did not contain a dead-man's switch, which would prevent such an incident.
It was a long night for Jayne Stirnweiss, who was in a panic when she did not hear from her husband that night. She called his two jobs: Caldwell and Company and the sandlot program, and was unable to get a hold of him. Jayne waited and waited for her husband to walk through the door or call her back. He never did. Panic that he was gone came when he never made the luncheon of which he was scheduled to make. With every passing minute, it seemed likely that Stirnweiss died in the waters of Newark Bay. Jane Stirnweiss tried the best she could to explain to the couple's six children that their father was going to come home. However, his body was pulled up with 13 others in one of the cars on Monday night and identified. George H. Stirnweiss was dead at the age of 39. The last person to see him alive was the Red Bank station agent, who saw him board a front car.
On September 19, a funeral was held in Red Bank for the former Yankee. St. James Catholic Church was overflowed with grieving family, friends and fans. Major Joseph F. Sheehan, the chaplain at Fort Slocum in New York sung a requiem high mass. Sheehan and Stirnweiss were good friends before his death. Joe Collins, Phil Rizzuto, Jerry Coleman, Hank Borowy, Buddy Hassett, Allie Clark and Babe Young were the honorary pallbearers for Stirnweiss' casket. Also attending the funeral was Jack Farrell of the New York Yankee front office and a former teammate at Fordham Prep, Alex Wojciechowicz. More Yankees, including current members, wanted to attend, but could not due to baseball.
Stirnweiss was buried at Mount Olivet Cemetery in Middletown, New Jersey. 35 years after the passing of her husband, Jayne Powers Stirnweiss, the diehard baseball fan who Stirnweiss fell in love with in Newark, died at the age of 71.
The Orphan
Gerard Stirnweiss, adopting his late adopted father's name in 1968 with the widow Stirnweiss in Monmouth County Probate Court. #Yankees pic.twitter.com/w3NkaJ21Wd

— Adam Seth Moss, M.A. (@LFNJSinner) September 12, 2017
It would not be fair to end this piece on a heartbreaking note. Thankfully, the Stirnweiss story has an epilogue. In 1947, the Yankees infielder visited the St. Michael's Orphanage in Hopewell, New Jersey. He exchanged stories and questions with the kids at the orphanage. That afternoon, a seven-year old kid, Gerard Peter Gonforone, was really inspired by Stirnweiss. In the orphanage since age four, Gonforone became an immediate friend to the Stirnweisses. Living in Lincroft, New Jersey at the time, George and Jayne let Gerard and another girl come visit them on a regular basis.
While having lived in different locations since 1947, from Red Bank to Shrewsbury, young Gerard became a constant presence in the Stirnweiss home. Jayne Stirnweiss noted that he would watch her cook and always was quiet when visiting, an experience he could never have at the orphanage. When the kid was 12, he was fascinated in how Mrs. Stirnweiss would put ice cubes in a glass of Coca-Cola. While his visits from the orphanage dropped as the Stirnweiss family grew, his connection never died. Every Christmas, despite being older than his own boys, Gerard would get Christmas gifts every year. Before Snuffy's death, the patriarch had begun legal adoption papers to bring young Gerard Gonforone into his family for good. Unfortunately, those plans fell into Newark Bay with Snuffy.
At age 18, Gerard Gonforone severed ties with St. Michael's Orphanage, the place he called home since age 4. In 1968 at the age of 28, Gonforone and the widow Stirnweiss, having since married Thomas Athans of Lakewood went to the Monmouth County Probate Court and had the adoption made semi-official under the changing of his last name to Stirnweiss. Gerard Stirnweiss was now a post office worker, living on his own in Sea Bright, but Jayne noted that he would be part of the family forever and that "George would be proud of what he's done." Gerard Stirnweiss is still alive as of this writing, along with an adopted brother, Edward.
Snuffy Stirnweiss may have been the forgotten champion. He won a batting title in 1945 that everyone has forgotten about because it was "The War Years." However, his impact on fans around the New York City area was entrenched forever. His charitable events, numbered in the dozens, made him someone to be considered a hero. Gerard Stirnweiss saw him as a hero and took on his adopted father's name.