Nothing like facing Orioles pitching to raise morale. The Yankees hammered the Orioles on Thursday night, in the first game of their four-game series. The final score was 13-5, and it was only that close because some September call-up relievers made a mess of things late.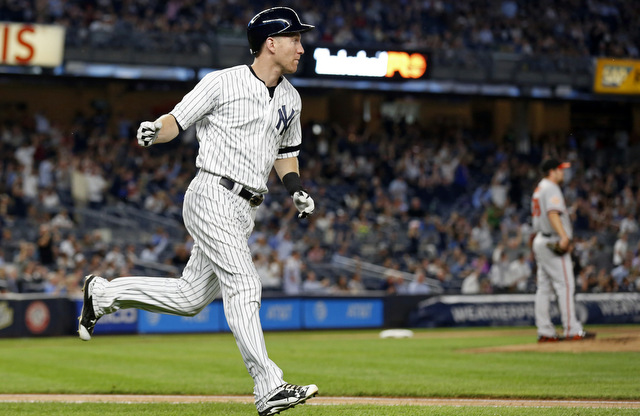 Six Runs In The First
Going into Thursday's game, the Yankees had scored 120 runs in 15 games against the Orioles this season. No team in baseball had scored more runs against any other team. Nineteen pitches into the game, O's lefty Made Wiley had to be pulled and the Yankees were sitting on a 6-0 lead. It was the shortest start of Miley's seven-year career. Six hits, six runs, one out. Yeesh.
The Yankees scored their first run real quick. Third pitch single by Jacoby Ellsbury, first pitch single by Aaron Judge, second pitch double into the left field corner by Gary Sanchez. Three hits and a run within six pitches. Matt Holliday plated another run with a fielder's choice and Chase Headley lined a single the other way to drive in yet another run. Four hits and three runs within 12 pitches. Pretty great.
The big blow of that first inning was Todd Frazier's three-run home run to dead center field, which ended Miley's start and gave the Yankees a 6-0 lead. I love those home runs to cap off a big inning. Stringing together four hits (and a fielder's choice) to score three runs surely frustrated the hell out of Miley and the O's. But man, those home runs that turn a good inning into a great inning are just the best. The entire bench gave Frazier a thumbs down …
… because that's a thing the Yankees do now. You can thank that guy who gave Frazier a thumbs down following his three-run home run at Citi Field the other day. The entire team is doing it now. The point into the dugout has been replaced by a thumbs down. I approve. Anyway, Frazier's homer broke the inning open. Remember, home runs don't kill rallies. They create an opportunity to start new rallies.
Seven Strong From Tanaka
Kind of a weird ho hum start from Masahiro Tanaka. He needed only seven pitches to retire the side in the first inning, and never again did he take the mound with anything less than a five-run lead. Tanaka mostly did what a veteran pitcher does with a big lead, which is throw strikes, and that led to some hits. It also led to two solo homers, though I'm not going to sweat two solo homers in a blowout win.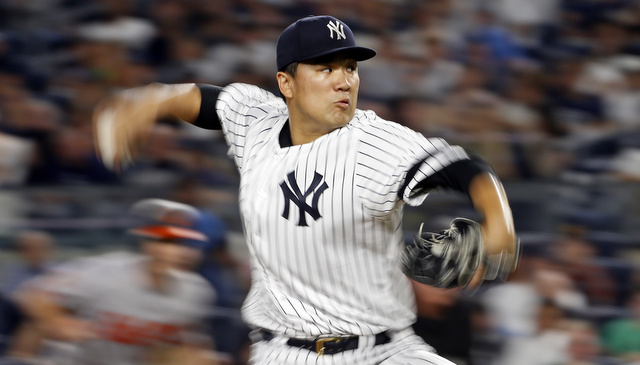 Tanaka's final line: 7 IP, 8 H, 2 R, 2 ER, 2 BB, 8 K on 102 pitches. His biggest jam — if you can even call it a jam considering the Yankees led 13-2 at the time — came in the seventh inning, when the Orioles put runners on second and third with one out. Tanaka escaped by striking out September call-ups Anthony Santander and Austin Hays. He generated a ridiculous 27 swinging strikes in this game. Here is this year's single-game swing-and-miss leaderboard:
Yu Darvish: 29 vs. Rays on July 21st
Max Scherzer: 28 vs. Marlins on June 21st
Masahiro Tanaka: 27 vs. Orioles on September 14th
Jacob deGrom: 27 vs. Nats on April 27th
Ervin Santana: 26 vs. Padres on August 2nd
Tanaka got roughed up by the Rangers last time out, and based on Thursday's performance, that game against Texas was an outlier. Just a dud. Happens to everyone at some point. Tanaka now owns a 3.34 ERA (3.58 FIP) in his last 14 starts and 89 innings. Go Masahiro.
Insurance Runs From The Baby Bombers
Scoring six runs in the first inning is a wonderful thing. But with nine innings to go and the home run happy Orioles in the other dugout, tacking on insurance runs is never a bad idea. Judge provided three insurance runs with one swing in the fourth inning. He hit a missile out to right-center field that cleared the bullpen and landed in the first row of the bleachers. That's five homers in the last ten games for Judge.
Two innings later, Judge provided three more insurance runs with another three-run home run. This one landed in the second deck in left field. You don't see too many balls hit there. Statcast had that one at 448 feet. Judge went 3-for-4 in the game and is now 25-for-53 (.472) with eleven home runs in 16 games against the O's this season. His second homer felt like a formality. Richard Rodriguez knew Judge had to hit a homer and Judge knew he had to hit a homer, so Rodriguez grooved him a first pitch fastball and Judge took an easy batting practice swing.
That home run was seething with obligation. Everyone was expecting it. Rodriguez had to allow a homer and Judge had to hit a homer. It's just the way it had to be, so it was done. That's now six homers in the last ten games for our large adult baseball son. The two three-run home runs gave the Yankees a 12-2 lead. Sanchez made it 13-2 with a solo home run to center fielder because hey, he's pretty awesome too. Get used to seeing Judge and Gary going back-to-back. Won't be the last time.
Leftovers
Thirteen runs on 14 hits and six walks for the Yankees, who struck out only six times. The 1-2-3 hitters went a combined 6-for-10 with a double, three home runs, and three walks. They scored eight runs and drove in eight as well. Every starter had a hit except Ronald Torreyes, who managed to go 0-for-4 in the blowout. Clint Frazier went 2-for-3 with a walk and looked real good. Ripped a double off the right-center field wall.
Tanaka allowed two runs in seven innings. Bryan Mitchell and Gio Gallegos allowed three runs in two innings. They kinda stink. Or at least they did Thursday. The good news is all the top relievers got a night off. They've all worked quite a bit of late. Erik Kratz came off the bench with a single, so he is hitting 1.000/1.000/1.500 in two at-bats as a Yankee. Greg Bird flew out in his pinch-hit at-bat. It was his first game action since Sunday.
And finally, it sure looked like Buck Showalter had home plate umpire Brian O'Nora check whether Tanaka was doctoring the ball in the first inning, after he struck out Tim Beckham. The O's dugout got O'Nora's attention, O'Nora called for the ball, he looked at it, then threw it back to Tanaka and gave the O's dugout a nod. Hmmm. Buck has been needling the Yankees with nonsense like that for years. I assume that was more of the same.
Box Score, WPA Graph & Standings
Go to ESPN for the box score and updated standings, and MLB.com for the video highlights. FanGraphs has postseason odds and we have a Bullpen Workload page. Here's the blowout probability graph:

Source: FanGraphs
Up Next
This four-game series is just getting started. The Yankees and Orioles will play the second game of this four-game set at Yankee Stadium on Friday night. Luis Severino and Gabriel Ynoa are the scheduled starting pitchers.