Got a dozen questions in the mailbag this week. Send your questions to RABmailbag (at) gmail (dot) com and I'll get to as many as I can each week.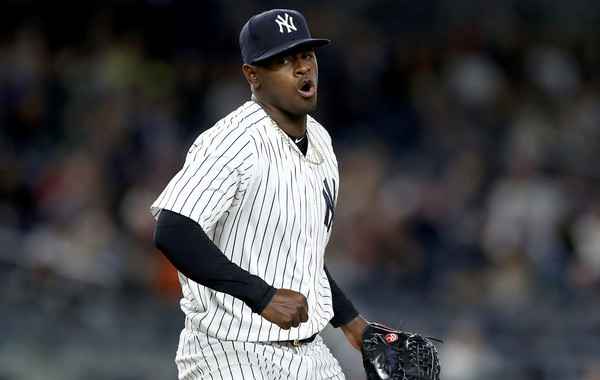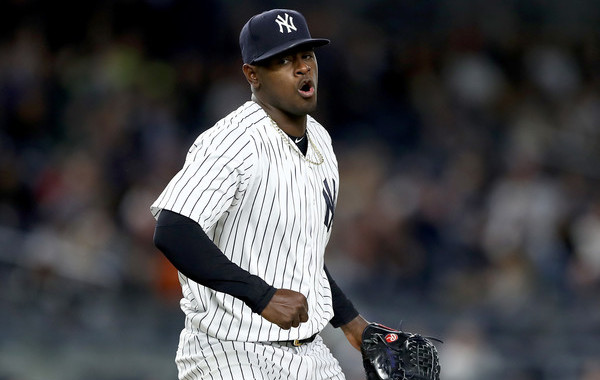 Bill asks: Say game 162 the yanks have clinched a spot in the WC game but haven't cliched home field and can't win the division. Your option is Severino in 162 and then Gray/Tanaka in the WC or Monty in 162 and Sevy in WC game which would the Yanks do?
Man, that's tough. The Yankees are a better team at home than on the road, but are they so much better that it makes up for the difference between Luis Severino and either Sonny Gray or Masahiro Tanaka? Gray and Tanaka are awesome! But they're not Severino right now. Here are the home-road splits heading into last night's game:
| | W-L | Run. Diff | Runs Scored per Game | Runs Allowed per Game |
| --- | --- | --- | --- | --- |
| at Home | 40-27 | +87 | 5.42 | 4.12 |
| on Road | 38-39 | +68 | 5.10 | 4.22 |
Ignore the win-loss record for a second. The difference between the Yankees at home and the Yankees on the road is basically one extra run scored every three games. That's the big picture way of looking at things. In an individual game, one fly ball into the short porch can change everything. The Yankees are built for Yankee Stadium — their starters get ground balls, their relievers miss bats, and their hitters sock dingers — and you'd like to have that advantage in the Wild Card Game.
At the same time, you have to put your best foot forward in that Wild Card Game, and Severino gives you the best chance to win. And hey, who's to say the Yankees wouldn't win Game 162 behind Jordan Montgomery? They're playing the Blue Jays that day and the Blue Jays stink. They figure to have one foot in the batter's box and one foot on the plane home for the offseason that afternoon.
Also, shouldn't the wildcard opponent matter to some degree? If the Angels leap over the Twins in the standings, does anyone want the Yankees traveling all the way out to Anaheim for the wildcard game? That would bite. A trip to Minnesota wouldn't be too bad. And there's also the home gate factor to consider. Playing a postseason game at home equals millions in revenue. There's no guarantee Severino will win the Wild Card Game, but playing that game at home guarantees straight cash, homey.
I'm not sure there's a right answer here. There's a good argument for both sides. I think I'd roll with Montgomery in Game 162 and make sure Severino is lined up for the winner-take-all Wild Card Game. I wouldn't be uncomfortable with Gray or Tanaka in the Wild Card Game, but Severino gives you a better chance to win, and that game is a must-win. I think the Yankees would start Severino in Game 162 and go with Gray or Tanaka in the wildcard game though. I think they'd much rather be at home for that game.
Many asked: Why did the Yankees put Adam Warren on the 10-day DL? What's the benefit with rosters expanded in September?
There is no benefit other than allowing the Yankees to bring a player back from the minors before his ten days are up, though they didn't do that in Warren's case. The Yankees put Mark Teixeira on the disabled list in September 2015 and didn't call anyone up, before they knew his bone bruise was a season-ending fracture, and Brian Cashman said at the time it was essentially an administrative move. It logs it as an official injury with the league office and that's about it. It's a nothing move, assuming you know for the sure player won't be back in fewer than ten days. In Warren's case, he's going to be shut down for at least two weeks, so that's no problem.
Lou asks: What are your thoughts of some Monument Park honor for Gene Michael? As a builder of the 1990s dynasty, he is as much deserving as some of the recent additions and retired numbers.
Yes, absolutely, and it probably should've happened already. I think Stick is absolutely deserving of a plaque given everything he's done with the Yankees. His front office accomplishments obviously headline things, though he also played and coached and managed. And scouted too. Michael was not the general manager when the Yankees won all those World Series in the late-1990s, though he helped build the core of the roster, and when you build a dynasty, you deserve to be recognized. Stick should've had a plaque a while ago, I believe.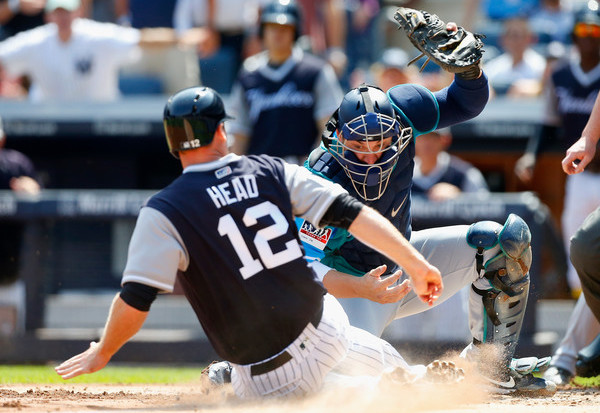 Dan asks: Looking at next year, is it better to keep Headley as a 3B/1B option or trade him while his value is high?
Eh, as good as Chase Headley has been the last three months or so, I'm not sure his trade value is all that high. He's a corner bat with limited power and a pricey (though not outrageously so) contract. Even if the Yankees pay it down so that Headley is, say, an $8M player next year, I don't know how many bites they'll get. Teams are probably going to look for someone better in the offseason. I think the Yankees would unload Headley in the heartbeat this winter if the opportunity presented itself. Keeping him wouldn't be the end of the world. He'd be insurance for the kids (Gleyber Torres, Miguel Andujar) at third and insurance for Greg Bird at first base.
Salvatore asks: Hello, 2 part question here. First part, do you think the Yankees chose to use Betances to close over Robertson as a way to increase value to possibly trade him during the offseason, by considering him a closer to jack up the price? Part 2, what do you think of possibly trading Dellin to a team in need of a closer (ex. Nationals, maybe Rangers) for multiple top prospects and in turn flipping those prospects with Yankees prospects for an Ace (Carlos Martinez, Chris Archer)
The first answer: No. I think Joe Girardi used Dellin Betances to close because at times like this, he's always moved his relievers up one spot in the pecking order. Betances was the eighth inning guy, so he moved up to the ninth inning. That's pretty much all there is to it. These days teams know better than to evaluate relievers through saves. At least the smart teams. I don't think a handful of saves will change anything regarding trade value.
The second answer: I'm not opposed to trading anyone for the right package, whether it's prospects or MLB players. I'm not sure how realistic getting Martinez (pretty much untouchable) or Archer (intra-division trade) is, but someone like that would obviously be a fine addition. The emergence of Chad Green and the return of David Robertson makes it easier to part with Betances, though I don't think the Yankees would've have any trouble trading him even without those two guys. As long as they got quality pieces in return. The same is true now.
Douglas asks (short version): Is it just me or is Alex Avila potentially a good fit for next year's roster? He's a lefty swinger in a line-up that looks to be loaded with righties (Judge, Sanchez, Andujar, Torres, Castro), gets on-base at a decent clip (.389 OBP combined between Detroit and the Cubs this season, .351 for his career), potentially could fill in at first if Bird goes down for an extended period again.
The upcoming free agent class is pretty thin on catchers — when isn't it? — so Avila is probably the best available backstop. Either him or Jonathan Lucroy, if you believe Lucroy can go back to being good at some point. (He's been brutal this season.) Avila went into last night's game hitting .270/.387/.464 (127 wRC+) with 14 home runs this season, making it by far his best offensive effort since his breakout 2011 season. He was one of those fly ball revolution guys earlier this year, though his fly ball rate has tailed off as the season has progressed: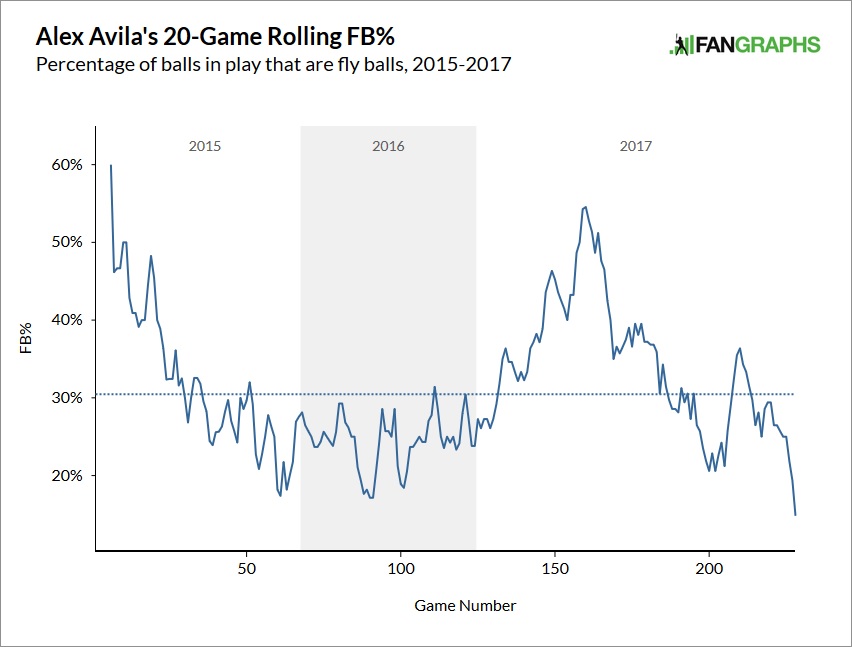 Defensively, Avila grades out as an average thrower and blocker, and below-average pitch-framer. Even if you think he'll revert back to the hitter he was from 2013-16 (95 wRC+), an average-ish all-around catcher makes for a good backup. Austin Romine seems like a good dude, but I have no idea what he brings to the table. Doesn't hit, can't throw, pitch-framing stats don't like him. There's more to life than blocking balls in the dirt.
The problem with Avila, and I think the problem the Yankees might have looking for a backup catcher the next ten years, is that he's probably not going to want to sit behind Gary Sanchez. Who would? You're not going to get much playing time as Sanchez's backup. Avila's been plenty good enough this season that he figures to find a starting job, or at least a platoon job somewhere this offseason. Yes, it makes sense to go after him, but this seems like an "Avila is a good fit for the Yankees but the Yankees are not a good fit for Avila" situation.
Paul asks: Chad Green and Dellin are both on pace for 100k from the bullpen. Has that ever been done before from 1 team?
Going into last night's game Green had 99 strikeouts (42.1 K%) and Betances had 97 strikeouts (40.1 K%), so they should clear the century mark by the end of the Orioles series. Tommy Kahnle (86 strikeouts) and Robertson (84 strikeouts) both have a chance to get to 100 strikeouts as well, though most of theirs came with the White Sox. Anyway, here's the full list of teams with two 100+ strikeout relievers:
2015 Yankees: Betances (131) and Andrew Miller (100)
2004 Angels: Francisco Rodriguez (123) and Scot Shields (109)
1997 Orioles: Armando Benitez (106) and Arthur Rhodes (102)
1989 Blue Jays: Duane Ward (122) and Tom Henke (116)
1986 Blue Jays: Mark Eichhorn (166) and Henke (118)
Those two Blue Jays teams were back when relievers threw way more innings than they do now. Eichhorn threw 157 innings in 1986! Ward threw 114.2 innings in 1989. They don't make relievers like that anymore. Aside from the Yankees, the Indians have the best shot at two 100+ strikeout relievers this season with Cody Allen (80) and Miller (79), and they're probably too far away at this point. Doesn't look like any other team will get there.
Rex asks: Do you think Judge took the same media relations college course as Jeter — in that he says a lot but reveals nothing much. I'm not being overly critical here but at times he's seemingly almost goofing w the media by answering all questions by complimenting his teammates. Come on Judge, let us in!
The Yankees put their players through media training every year. Every team has media training, though the Yankees really kick it up a notch because of the whole New York thing. They essentially train players to not say anything controversial. Be respectful and say a lot of words without saying anything of substance, basically. Aaron Judge is unfailingly polite and always defers to his teammates. Judge goes 2-for-3 with two homers and a walk? Great team win. Really proud of the guys for battling. Every single time. On one hand, that's a good attitude and it comes off well. On the other hand, it's okay to have some personality! Judge definitely has the same "boring as hell publicly" trait as Derek Jeter. Nothing wrong with bat flipping a monster dinger now and then.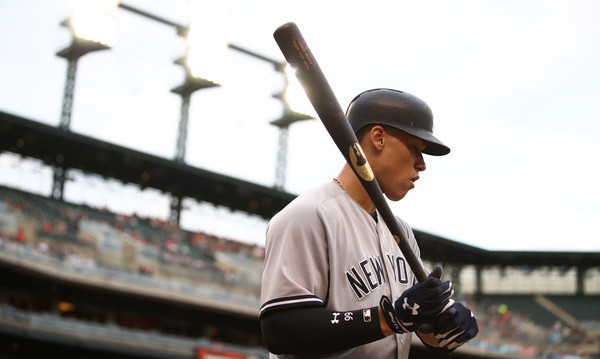 Tony asks: Maybe I am too apologetic to Gary (love those dingers!), but could part of his struggles with blocking balls in the dirt be related to the high-spin rate the Yankees value in their pitchers? It seems like we're hearing that he's in decent position but the ball still bounces away a few times. That, coupled with his willingness to continue to call breaking balls in the dirt with runners on, means that a flaw he needs to work on has become a cause for people to try to move him from behind the plate (not that I want that).
Oh, absolutely. The Yankees don't have an easy pitching staff to catch. A few weeks ago Sanchez was charged with a passed ball when Aroldis Chapman missed on the other side of the plate with a 102 mph fastball in the dirt. I mean, come on. Catching all those Robertson breaking balls in the dirt can't be easy. Catching Betances in general can't be easy. Catching all those Tanaka splitters in the dirt can't be easy. What about Gray, who varies the break on all his pitches and they look like they were thrown in a video game? This isn't to excuse Sanchez, because his blocking absolutely needs to improve. But it's important to have context. This isn't the easiest pitching staff to catch overall.
Julian asks: If Judge finishes the season on the pace he had in the first half, does he go back to being the MVP front runner? Or is his struggles too much to overcome?
It's too late to win MVP, I think. Judge is still third in the AL in both versions of WAR — he's behind Jose Altuve and Mike Trout in fWAR, and Altuve and Andrelton Simmons in bWAR — though MVP is generally a performance-plus-narrative award, and the narrative is Judge has come up small down the stretch, when the Yankees needed him most. The fact the Yankees wouldn't be anywhere near the postseason without his first half is the kind of thing that tends to get overlooked in these cases. Judge will almost certainly finish in the top ten of the MVP voting. Maybe even top five. Or even top three! I don't think he's going to win though. He'll have to settle for being the Rookie of the Year, possibly unanimously (should be unanimous, anyway).
Michael asks (short version): Loved the Hosmer piece, I have a question regarding Greg Bird though. Unless he comes back from his back issue and goes on a 2015-esque hot streak, how can the Yankees possibly depend on him to be the full time 1st baseman next year?
I guess the same way they did this year, after he missed all of last season following shoulder surgery. They'll absolutely have to bring in some kind of first base insurance. Or maybe Headley is that insurance now that he's shown he can play the position? Either way, some sort of fallback plan needs to be in place, preferably someone better than Chris Carter. A fallback plan and a fallback plan for the fallback plan, ideally. I think the Yankees will — and should — give Bird next season to show whether he can stay healthy and produce. If he doesn't, it's probably time to move on. You can only wait so long after three straight years of injury and/or poor performance.
Michael asks: Whose season has surprised you more this year, Severino or Green?
Severino for sure. A good but not great starting pitcher prospect turning into a monster in relief isn't all that surprising anymore. Happens a few times around the league each year. Archie Bradley did it this season for the Diamondbacks. The signs were there that Green could be a pretty good reliever. On the other hand, a young starter going from getting smacked around in MLB and spending time in Triple-A one year to being one of the top three starters in the league the next is pretty damn rare. I'm not sure even the most optimistic Severino fans saw this season coming. This is the best case scenario.