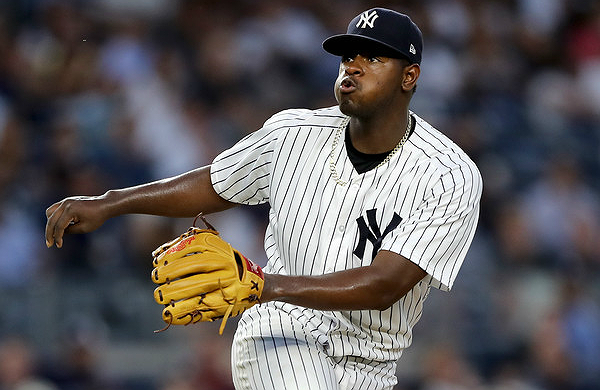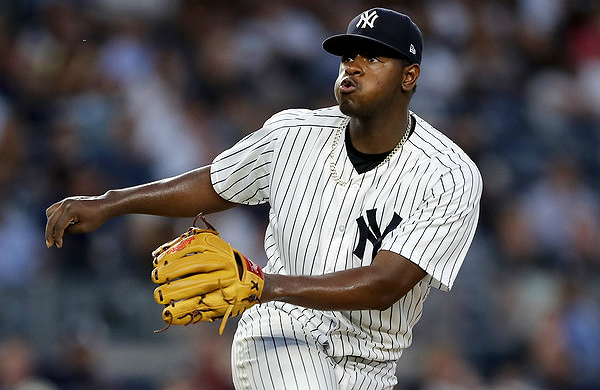 With less than seven days to go, the Yankees will almost certainly be playing in the American League Wild Card Game against the Minnesota Twins.
And things could go really wrong.
You can picture it. Luis Severino gives up a quick home run to Brian Dozier and the Twins strike early. The Yankees go down 1-2-3 in the bottom of the first and then Byron Buxton and co. draw out Severino's pitch count while adding a few more runs.
All of a sudden, the Yankees find themselves down four or more runs just a few innings into the game and Severino is out. Your offense isn't even on the second time through the lineup and you're already desperate for runs. At this point, you begin thinking about the unfairness of the Wild Card Game while realizing that 2018 could be a much better team.
Most teams can't survive this scenario. The Twins and their patchwork bullpen can't survive this scenario. But the Yankees aren't the Twins and they aren't most teams. They have all the tools to win even if the first few innings go haywire on Tuesday.
There are plenty of examples as to how the Yankees still win in this case but the epitome was when they did almost this exact thing last week. Facing the Twins, Severino threw 70 taxing pitches and allowed three runs in three innings. The Yankees were left knowing they needed to make up a 3-0 deficit while getting six innings out of their bullpen.
Four batters later, it was 3-3 and the Bombers blasted Minnesota for 11 unanswered runs en route to victory.
There are two primary ways that the Yankees are perfectly tailored to win this type of ballgame. The first way? Offense. There's tremendous power throughout the lineup. They'll be able to trot out a lineup with six 20-home run hitters, not to mention players like Matt Holliday, Starlin Castro and Greg Bird, who've each shown the ability to pop balls out of Yankee Stadium. It sometimes takes only one or two long balls to get back into a game and they can do that.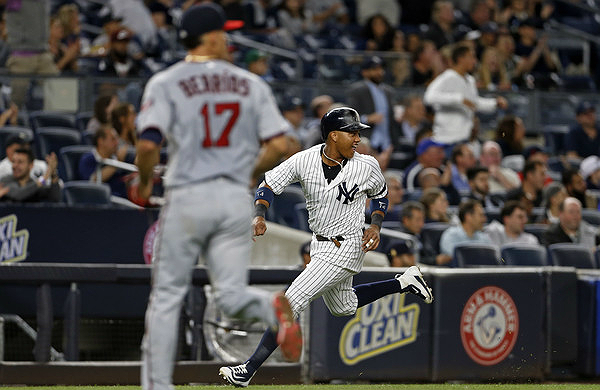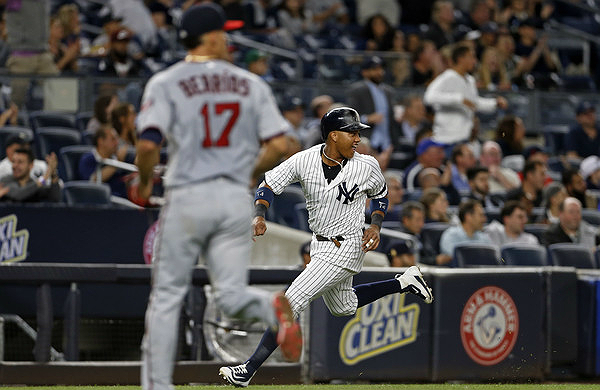 But it's more than just power. It's how this lineup grinds starters. They take pitches, draw walks and rack up baserunners, forcing stressful pitches by the handful even when they're not converting with runners in scoring position. Let's note some examples of opposing starters out before the end of the fifth inning this month.
Sept. 3: Chris Sale, 109 pitches over 4.1 IP
Sept. 4: Dylan Bundy, 98 pitches over 4+ IP
Sept. 5: Jeremy Hellickson, 64 pitches over 2.1 IP
Sept. 7: Kevin Gausman, 79 pitches over 3 IP
Sept. 10: A.J. Griffin, 59 pitches over 3+ IP
Sept. 11: Jake Odorizzi, 94 pitches over 3.2 IP
Sept. 13: Chris Archer, 92 pitches over 4+ IP
Sept. 16: Hellickson, 68 pitches over 3+ IP
Sept. 19: Jose Berrios, 90 pitches over 3.1 IP
Sept. 26: Blake Snell, 49 pitches over 1+ IP
There are a lot of Orioles on that list, but also some solid pitchers, notably Chris Sale and Jose Berrios. That doesn't even include Wade Miley's two-out, six-run disaster from two weeks ago.
In all, only eight of the 24 starters the Yankees have faced this month have gotten outs in the sixth inning. Only three completed the sixth. That's a lot of outs for any bullpen to get, particularly one as weak as the Twins. There aren't any arms out there that the Yankees should fear.
While the offense can grind pitchers into oblivion, the Yankees' stellar bullpen will go to work. If Severino doesn't make it through five, let alone three, on Tuesday, then Chad Green is likely the first arm out of the bullpen. It's not hard to see him throwing three near-perfect innings and keeping the Twins off the board, riding his fastball and slider to plenty of strikeouts.
After him, you can get innings out of David Robertson and Aroldis Chapman, who have each been lights out this month. That's before you get to Tommy Kahnle, who's also been strong this month, or Dellin Betances, who's in the midst of a slump. Heck, you could use Sonny Gray, CC Sabathia or Masahiro Tanaka out of the pen if needed.
Most teams don't have more than one or two weapons like that. Normal playoff teams might have three-plus. The Twins might not have any outside of whomever they start on Tuesday (Ervin Santana?). The Yankees' crew can keep the team in the game and wait for their potent offense to strike.
And this is before you even get to the bench. While the team hasn't had much of a bench at times this year, they do now. One of Headley, Bird, Holliday and Todd Frazier will be on the bench and two of Hicks, Ellsbury and Clint Frazier will be too. You'll have Tyler Wade available to pinch run if they need to go that route. That's plenty of solid OBP and pop guys to produce should Joe Girardi want to push a few buttons.
The point to all of this is simple. The Wild Card Game is a crapshoot. Even though the Yankees will go in as the superior team, things rarely shake out as planned over nine innings and Girardi may need to call a few audibles. But even if the Twins get off to a hot start, the Yankees are built to come back and make their lives hell in the process. In other words, the Yankees can easily remind Minnesota that it ain't over 'til it's over.