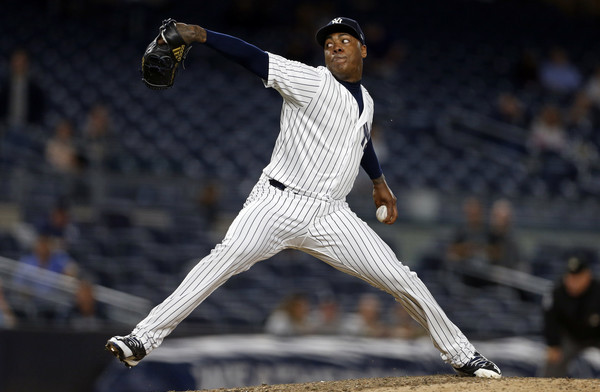 The Yankees, as we all know, are chasing the AL East division title and, as much as they'd hate to admit it, solidifying their status as the top AL Wild Card team. The Red Sox look like clear AL East winners and the Yankees seem to be gearing up for the AL Wild Card game (most likely at home). Anyways, here are some thoughts I've got.
1. The Dellin Betances-Aroldis Chapman duo was ballyhooed all offseason to be a cream of the crop eighth-ninth inning bullpen duo. Both of them are not having bad seasons, but the performance has not reached the expectations. As of now, Dellin Betances has a 3.02 ERA in 56.2 IP. While he's still striking out hitters at an exorbitant rate (15.53 K/9 IP), his walk rate has almost doubled from last year (3.45 to 6.83 BB/9 IP, yeesh). Chapman? This is his worst season as a big leaguer since 2012. He has a 3.50 ERA and a 2.68 FIP – both of them higher than marks from 2012-16 seasons. Both relievers have been inconsistent all season, Jekyll and Hyde-mode. What is interesting, however, is the pattern of how they did it. Take a look at their monthly stats:
April
Betances: 8.0 IP, 4 H, 1 ER, 5 BB, 14 K, 1.13 ERA
Chapman: 9.1 IP, 6 H, 1 ER, 4 BB, 15 K,  0.96 ERA
May
Betances: 9.1 IP, 4 H, 0 ER, 4 BB, 18 K, 0.00 ERA
Chapman: 3.1 IP, 6 H, 4 ER, 2 BB, 6 K, 10.80 ERA
June
Betances: 8.0 IP, 5 H, 4 ER, 9 BB, 15 K, 4.50 ERA
Chapman: 4.2 IP, 3 H, 1 ER, 0 BB, 7 K, 1.93 ERA
July
Betances: 12.1 IP, 8 H, 6 ER, 13 BB, 21 K, 4.26 ERA
Chapman: 13.0 IP, 11 H, 4 ER, 6 BB, 16 K, 2.77 ERA
August
Betances: 12.0 IP, 2 H, 2 ER, 6 BB, 17 K, 1.50 ERA
Chapman: 8.0 IP, 8 H, 8 ER, 6 BB, 8 K, 9.00 ERA
September
Betances: 7.2 IP, 5 H, 6 ER, 6 BB, 14 K, 7.04 ERA
Chapman: 9.0 IP, 3 H, 0 ER, 2 BB, 13 K, 0.00 ERA
As you see, they've been pretty much see-sawing it after April. If the Yankees want to go deep into the postseason, they can't afford to have one of them be off again. Imagine if they were dominant together for one or two more months of the season. Given that the Yankees have lost a lot of one-run games this season, we could be talking about the AL East division-leading team. What's giving me hope for Chapman is that he seems to have found the root of his problems and fixed it. Betances? It'll take a few good outings in a row for Yankee fans to feel comfortable seeing him on mound in cutthroat October situations.
2. The last time the Yankees made the postseason was 2015. It's kind of staggering to think how different the team was only two seasons ago. For instance, they had guys like A-Rod and Mark Teixeira playing vital roles most of the season. We had no idea what was coming with guys like Gary Sanchez, Luis Severino and Aaron Judge. Also unlike that top AL Wild Card team, this likely-top AL Wild Card team seems to have a much brighter forecast in October. While momentum in September does not necessarily correlate with how the team fares in playoffs, the 2015 team did not have a lot of good things going for them towards the AL Wild Card game. Teixeira was declared out for rest of the season after a painful bone bruise. In September/October 2015, the Yankees were 14-17 and got swept by the Orioles in a three-game series to end the regular season. Two years later, at this moment of the season, the Yankees are on upswing of things. They are 16-6 so far in September and, barring a late-season losing streak at home, they'll head to the AL Wild Card (assuming that's what they'll end up doing) in quite a positive vibe.
3. I'm wondering if Todd Frazier's in the Yankees' plans for 2018. Dude's had a fine September (went into yesterday's hitting .207/.390/.569 for a .959 OPS) and has commented that he wants to be back. He's certainly a productive player. He gets on base, can hit for power and displays really nice third base defense. Those aspects alone should give the team some thoughts on offering him a contract before free agency season hits. However, I don't know if they would offer him anything more than a one or two-year deal. Maybe Frazier could take a one-year deal and try to re-build his value to what it was back when he was a Home Run Derby-winning, top-tier slugger. *If* he can do that, that would be a win-win for both the player and the team – Yankees would get solid production before letting Gleyber Torres take over full-time and Frazier could make a good amount of money from some other team after 2018. However, it's too bold to assume that kind of theory to come to life. Him, Chase Headley, Didi Gregorius, etc. could very well play the role of mentor to Torres when the top prospect comes up to the bigs next season. Another aspect that he could be valuable is what him and Headley have been able to do in 2017 – alternating positions and filling in hole at the first base if (or when) Greg Bird becomes unavailable. I would personally very much welcome it if Frazier were to sign a short-term contract. If it will be something like three years, hopefully it won't be backloaded. There's always risks and careful calculations when making decisions like this. Whatever the Yankees decide to do with Frazier, they will give it some deep thought looking at a big picture, I'm sure.
For what it's worth, Frazier has provided above-average run production with a good glove for the past few seasons. He's also walked quite more this season than he had in his entire career. Next year will be his age-32 season so he's presumably got few more years of keeping up current level of performance. So far with the Yankees, Frazier's had a .803 OPS. That figure would be the highest by a non-A-Rod Yankee third baseman since… 2002 Robin Ventura (.826 OPS). Boy, that's awhile ago.
4. Joe Girardi was recently asked about kneeling during the national anthem, Donald Trump's comments on the NFL players, and whether he would visit the White House if the Yankees were to win the World Series. If you don't live under the rock, you know the deal. Randy Miller of NJ.com wrote an article about it and Girardi, I think, played it as safe as he can.
"It's not something that I would choose to do," Girardi said Sunday before the Yankees' game with the Toronto Blue Jays. "It's my opinion. I'm entitled to my opinion and others are entitled to their own opinion. There's going to be a lot of things in this world that you may not agree with. I think it's a player's right. That's the country we live in. It's a player's right. You don't necessarily have to agree with it, but it's what people do."
Girardi never really struck me as a hugely political guy and he probably was instructed by the front office to "say the right things." That could mean a lot of different things. But from what I can decipher, it seems like he worded his statement in a way that would not incite loud reactions from the both sides. It just sounded like a "let's get this question over with and talk about baseball" kind of thing. This quote, in particular, really struck me as one that reflected his tone: "Those are my personal reflections and I'm not going to necessarily dive into it because that just opens up a huge can of worms and allows you to write stories for weeks."
I personally stand on the side of the players protesting. That being said, I would be disappointed if the Yankees choose to visit the White House if they win the 2017 World Series. I know CC Sabathia himself has said that he won't go at all and it's possible that he's not alone in the Yankees on that side. However, it is easy to assume that the baseball locker room culture is not as racially diverse as the NFL teams, where team-wide protests took place Sunday. Chris Archer of the Rays has spoken out that he would not be comfortable voicing his opinion within his own clubhouse, which is a damn shame. Only 7.7 percent of all MLB players are African-Americans and, the odds are that they share the locker room with many players with conservative backgrounds. Gotta understand where Archer is coming from. That makes what Bruce Maxwell did much more gutsy and impressive.
Anyways, didn't mean to get too political here. Politics have been a big part of my life since I first moved to U.S. so it's hard not to think about societal + sports concerns. And, as you could tell from this past NFL Sunday, these two subjects really do go hand-on-hand, whether you like it or not.
5. Alright, something lighter here. You can make a case for AL MVP for any of these five guys right now: Aaron Judge, Jose Altuve, Chris Sale, Mike Trout and Jose Ramirez. Besides Trout, all of them play for a playoff-bound team and have been playing some of the best baseball of their lives. From what I can gather though, it looks like it could come down to a Altuve-Judge match. Trout, the best player of this generation, is posting career-high peripherals but that missed time from thumb injury is really going to hurt his case. Ramirez is putting up stupendous numbers but his basic stats aren't strong as Judge or Altuve's. Chris Sale is the current fWAR leader in all of the baseball but his hype train has slowed down a bit in the second half and it became unclear if he would even win the AL Cy Young Award. (Corey Kluber really, really stepped it up as of late, didn't he? You could also make an MVP case for the Indians righty as well.) Altuve and Judge both get love for their basic and sabermetric stats and seem like the two strongest candidates for the 2017 AL MVP award. Depends on what metric you look at, they've both been productive in almost equal way – just in different manners. Judge, as you know, hits for massive power, a decent average, strikes out a lot, etc., and Altuve is a Swiss Army knife kind of guy who hits for high average, plays scrappy defense, steals bases, etc. Unfortunately for Judge, his two-month cold streak will seem to work against him. He went from a clear MVP favorite hitting .330/.440/.700~ish in early-July to .270/.410/.570 by early-September. That's still a great line! But during that period, from July 8 to September 9 (53 games), Judge hit for a .186 average, 9 HRs and struck out 84 times. And you know some writer are going to reference that when they write to explain their MVP votes.
As you know, however, from September 10 on, Judge has been on fire and could be making a case for some MVP votes. In those 14 games, he's hit eleven home runs with a 1.678 OPS. I assume he could be extra-wired for the last home stretch with a lot of fun things in stake – the rookie home run record, the Yankees AL East run (if not, clinching the top AL Wild Card spot) and, of course, making the last push for his MVP case. He may not talk about it, but I bet it is in his head somewhere. He's been a better home hitter (1.150 OPS) than road (.910 OPS) so get excited for the next six games! My question is, how much of a push push would he need to make the last six games to earn some votes? I think, unless Judge goes absolutely ballistic (something like, reaching 55 home runs), Altuve will still be the favorite. Getting to 50 home runs (because what a nice, round number that is for a Major League rookie!) could help, but Altuve is leading the league in hits, batting average, and has arguably been the best member of the top 2 team of the league. Also, for someone his size, boy he's getting every bit and inch out of the talent that's given. Judge has a clear flaw in his game (strikeouts) but Altuve is almost flawless. Besides that he's really, really undersized among his MLB peers. I know there are many ways to spin to argue that Judge has been more valuable than Altuve but, at least for this moment, the consensus seems to point to the latter. Obviously it would be really cool to see Judge be the first AL player to win both ROY and MVP since Ichiro Suzuki. We'll see how it goes though.