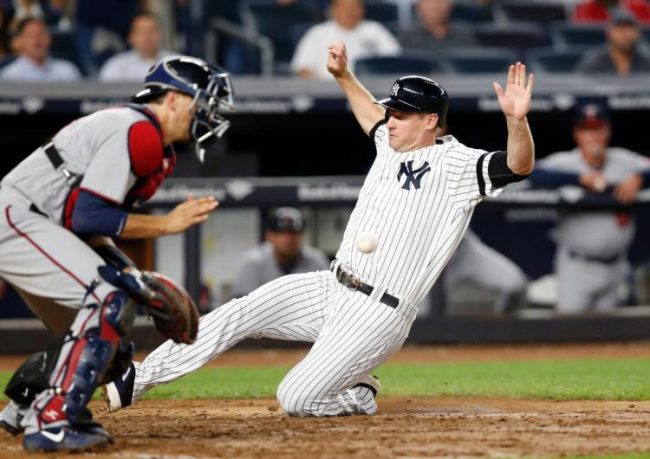 Who needs clutch hitting?
In what was billed as a potential Wild Card game preview, the Yankees struck first with a narrow 2-1 win in the series opener over the Twins. They overcame another massive RISPFAIL (0-for-12 with runners in scoring position) thanks to justenough power at the plate and a (mostly) lock-down performance on the mound.
Aaron Judge continued the steady climb out of his post-break slump with a first-inning solo bomb. It was his 28th home run in the Bronx this year, moving him into a tie for fourth place on the franchise single-season list for homers hit at home. A few guys named Gehrig (30 in 1934), Maris (30 in 1961), and Ruth (29 in 1928) are ahead of him.
After the Twins tied it in the fifth, Todd Frazier delivered a game-winning bases-loaded sac fly in the sixth inning. Here's a "betcha didn't know" stat: that was the Yankees' 52nd sacrifice fly of the season, the second-most in the majors behind the Astros. The last time they finished first or second in sac flies was 20 years ago (!) when they hit an MLB-best 70 in 1997.
Jaime Garcia pitched his finest game in pinstripes, allowing one unearned run on four hits while striking out nine, before getting pulled with two outs in the sixth. He remained winless as a Yankee, though, giving us an excuse for another #KillTheWin Yankeemetric:
Garcia is the third pitcher over the last 100 seasons to not get a win in his first seven starts with the Yankees – the others were Steve Trout in 1987 and Mike Kekich in 1969 – but his 3.86 ERA is by far the best among that trio (both those other guys had ERAs way above 5.00 during their streaks).
The Yankees nearly wasted Garcia's gem as Dellin Betances' control problems re-surfaced in an ugly eighth inning, during which three of the four guys he faced reached base without a hit (two walks, hit-by-pitch). Adding in the wild pitch he threw, and Betances gets our Obscure Yankeemetric of the Series.
Yes, it is very hard to cram all of that wildness into such a short outing. He is the first Yankee since at least 1912 to hit a guy, throw a wild pitch and issue multiple walks — while facing no more than four batters in a game.
Walks have always been a problem for Betances but he's taken the hit-by-pitch issue to another level this year. It was the 10th time he hit a guy, becoming the first reliever in franchise history to plunk double-digit batters in a season. Betances had a total of nine hit-by-pitches in his major-league career before this year.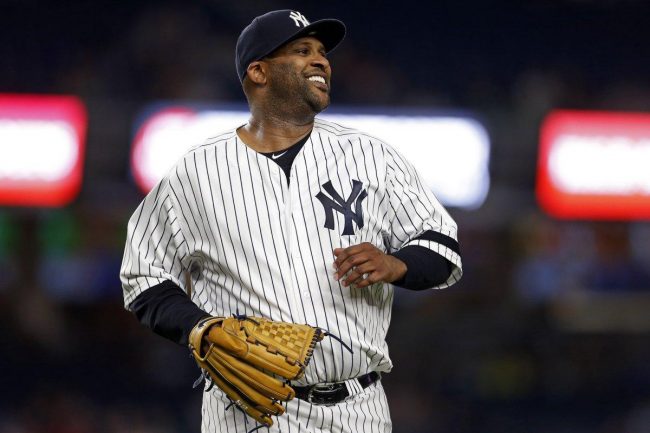 Don't forget about the Elder Bombers
The Yankees continued to build momentum down the stretch with a 5-2 win on Tuesday, clinching their sixth straight series win. Over the last month, the only series they have lost was to the Indians (August 28-30) during their historic 22-game win streak.
The win also was their third in five games against the Twins in 2017, and with Wednesday's finale being the only remaining matchup, the Yankees still haven't lost a season series to the Twins since 2001. That is … good?
CC Sabathia battled through a shaky first inning, but recovered for one of his sharpest and most efficient starts of the season (77 pitches, six innings, two runs). Sabathia's ability to come up huge in the most critical games has been well-documented here. And now we've got another "Big Game CC" stat to chew on: following Tuesday's solid outing, he is 6-0 with a 1.25 ERA in seven starts against opponents with a .500 record or better this season. That's the best record and lowest ERA in the majors among pitchers that have started at least five games against winning teams.
We've also got a Milestone Alert Yankeemetric for the big fella: his strikeout of Chris Gimenez to end the second inning was the 2,833rd of his career, moving him past Mickey Lolich for 18th place on the major-league all-time strikeout list, and third place among left-handers.
Most Strikeouts by LHP in MLB History
1. Randy Johnson – 4,875
2. Steve Carlton – 4,136
3. CC Sabathia – 2,836
4. Mickey Lolich – 2,832
Brett Gardner stuffed the stat sheet and provided the offensive spark at the top of the order, with three hits, two RBIs and a stolen base. The last Yankee leadoff batter to reach each of those totals in a game was Derek Jeter on July 9, 2011.
If that date sounds familiar …. yup, it was the Mr. 3000 game, when Jeter got his 3,000th hit against the Rays and produced one of the most iconic highlights in franchise history.
#TooManyHomers
The Bronx Bombers returned to their bread-and-butter winning strategy – explosive innings and dingers galore – in sweeping the Twins with a 11-3 win on Wednesday. It was their ninth sweep in 2017, nearly twice as many as they had last year (5).
If these teams do end up meeting for a one-game playoff in less than three weeks, the Yankees should like their chances based on recent history.
Their .721 winning percentage (44-17) in the regular season against the Twins since 2009 is the highest in any head-to-head matchup between any MLB teams (min. 25 games) over the past nine seasons. The Yankees' domination extends to the postseason, too. They are 12-2 against the Twins in the playoffs – their best postseason record against any opponent (min. 10 games) in franchise history – and have won all four series played between the two clubs.
So … back to Wednesday's game …. Not only did we get a ton of offensive fireworks to enjoy, but we also saw a bunch of rare, historical feats. Let's dive into the stat madness!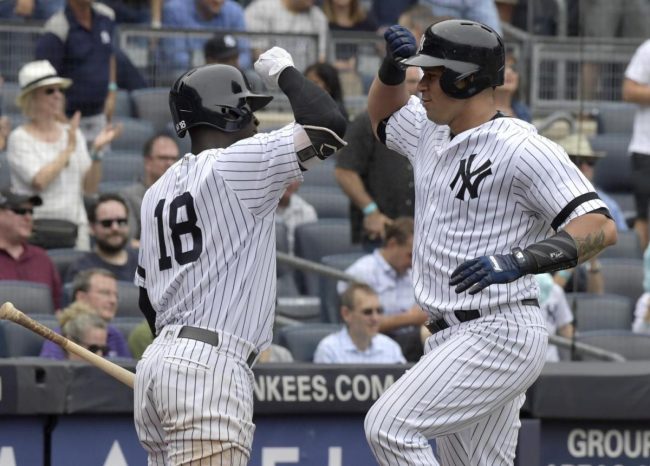 Judge started the party with a two-run homer in the third inning, his 45th of the season. He is the second outfielder in baseball history with 45 homers and 115 walks in his age-25 season or younger. The other? Babe Ruth in 1920.
The homer also gave him 100 RBIs for the year (he added RBI No. 101 later in the game on a sac fly), and when combined with his triple-digit-plus walk and run-scoring numbers, Judge has put himself in some very impressive company. Judge is the …
Fifth Yankee age 25 or younger with at least 100 RBI, 100 runs and 100 walks: Mickey Mantle, Charlie Keller, Lou Gehrig, Babe Ruth are the others
Second rookie all-time to with more than 100 walks, runs and RBIs, joining Ted Williams (1939)
Only right-handed batter in Yankees history to have a 100-walk, 100-RBI, 100-run season
Gary Sanchez then went back-to-back with Judge in the third, belting a mammoth 439-foot blast deep into Monument Park. Fifteen of his 32 homers this season have gone at least 425 feet, the highest rate (47 percent) among all players with at least 20 homers.
The Yankees turned the game into a rout with a six-run fourth inning, sparked by Jacoby Ellsbury's one-out triple. Ellsbury wasn't part of the homer-fest, but he still got on base four times via a single, double, triple and a walk – and that performance is worthy of a #FunFact. Over the last four decades, just two other Yankee centerfielders have produced a game with at least one single, double, triple and a walk: Bernie Williams (1998) and Dave Winfield (1984).
The biggest blow in the fourth inning was delivered by Didi Gregorius. His three-run shot to cap off the scoring made him the only shortstop in franchise history with 25 homers in a season, surpassing the 24 that Derek Jeter hit in 1999.