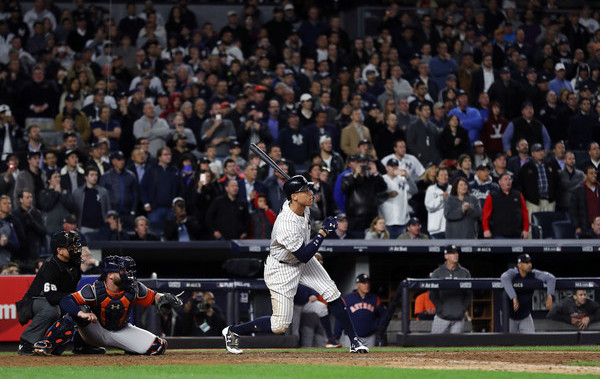 Looking back on it now, it seems sorta silly Aaron Judge had to compete for the right field job in Spring Training. He went into camp having to beat out Aaron Hicks for the starting right field job, and given his strikeout filled MLB debut last year, it wasn't unreasonable. The Yankees wanted Judge to win the job, it was pretty clear I thought, but a little competition never hurt anyone.
Now, eight months later, Judge is two weeks away from being named the AL Rookie of the Year, possibly unanimously, and from finishing in the top five of the AL MVP voting. There's a good chance he'll finish in the top three. He might even win! I still think it'll end up going to Jose Altuve. The fact Judge is even in the conversation is pretty amazing. From Spring Training right field competition to MVP candidate.
Overall, Judge hit .284/.422/.627 (173 wRC+) with a rookie record 52 home runs — 52 home runs! — in 155 games this season. His 127 walks were also a rookie record. (So were his 208 strikeouts.) Judge led all players with +8.2 fWAR in 2017. That includes rookies and veterans, position players in pitchers. That one widely used metric rated Judge as the most valuable player in baseball this past season. Incredible.
Going into the season PECOTA's 90th percentile projection, meaning its most optimistic projection, had Judge at .286/.384/.533 with 23 homers. He beat that by 29 homers and 132 OPS points. The Yankees qualified for the postseason this year and made it to within one game of the World Series thanks largely to Judge's instant success. He didn't reach the best case scenario. He beat it. Let's dive into his 2017 season.
A New Year, A New Stance
It is no secret Judge is a flawed hitter. Those 208 strikeouts and 30.7% strikeout rate are an eyesore, no matter how many dingers he hits or how often he gets on base. Judge, to his credit, has worked hard to get better and constantly makes adjustments at the plate. That includes tinkering with his batting stance over the years. Here is 2016 Judge and 2017 Judge side-by-side: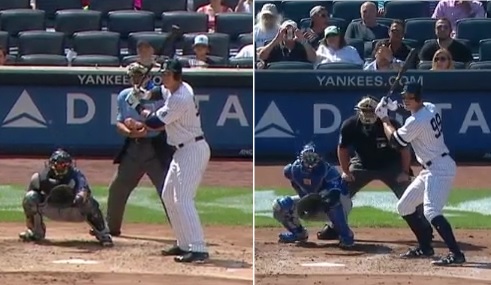 Last year Judge was more upright and closed with his stance. This year he was much more open with his knees bent, plus he had his hands higher as well. Last year his hands were even with his shoulders. This year they were closer to even with his head. That means a little less load time to get his swing started, allowing him to get the bat into the strike zone quicker.
"It's a project," Judge said to Billy Witz at midseason, when talking about his swing and stance. "Ever since I got drafted by the Yankees, I've been working on my swing. So it's just a culmination of all those things, and I'm finally starting to see some results."
Even More Power Than Expected
Coming into the 2017 season, Baseball America (subs. req'd) rated Judge's power a 70 on the 20-80 scouting scale while MLB.com rated it a 60. They sold him short. And that's okay! Scouts are always conservative with power. If you slap an 80 on a dude's power, you better be right. Also, there's a big difference between 80 raw power and 80 game power. Lots of guys can hit the ball a mile in batting practice. Can they hit the ball a mile in games?
Judge can hit the ball a mile in games. He showed it this year. The 52 home runs were nine (!) more than any other AL player — Khris Davis was second in the league with 43 dingers — and among the 68 players to hit at least 25 home runs this season, his average homer distance of 413 feet was sixth longest. His average exit velocity on all balls in play was 94.9 mph, far and away the best in baseball. Nelson Cruz was a distance second at 93.2 mph.
Here's the thing though: Judge actually hit 55 home runs this season. He had one home run ruled a triple even though the ball was clearly heading over the fence when the fan reached out to catch it. For whatever reason the replay crew in New York decided to give him a triple on the play, not a homer.
Furthermore, Judge had home runs robbed by Jackie Bradley Jr. (
video
) and Melky Cabrera (
video
), so yeah. That's three balls hit over the fence that did not become home runs for one reason or another. Judge accounted for the first and fourth longest homers in baseball this season, as well as the second, third, fourth, fifth, and eighth highest exit velocities.
All that power earned Judge a spot in the All-Star Game. In fact, he led all AL players in fan votes and started in the All-Star Game in right field. He batted third in the All-Star Game! How cool is that? Judge also won the Home Run Derby with shocking ease. Everyone else in the Home Run Derby, including Gary Sanchez, looked worn down by the end. Judge took easy batting practice swings for three rounds and won without even looking like he was trying.
My favorite thing about Judge? Beyond all the massive dingers? His spray chart. This is not your standard pull power hitter. Judge hits to all fields. And not just home runs either. All base hits. Here is his spray chart, via
Baseball Savant
: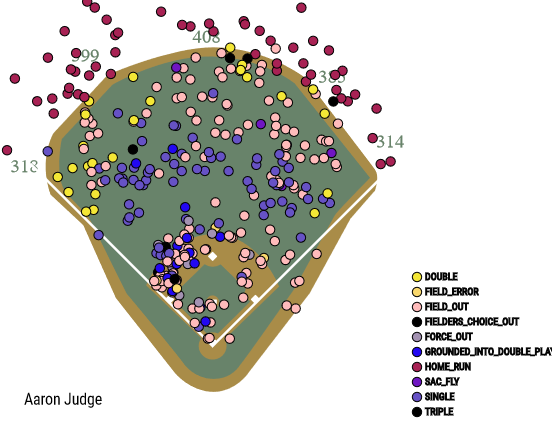 Homers to all field, singles to all fields, everything to all fields. I'm going to say it again: Judge does not get enough credit for being such a good pure hitter. His massive frame almost prevents him from being the type of hitter he should be. With a little smaller frame and a tighter strike zone, I think he'd be a legitimate .300 hitter year after year. The fact he managed to hit .284 at his size and with a 30.7% strikeout rate is a testament to how hard he is to defend because of his ability to a) hit the ball really freaking hard, and b) hit the ball to all fields.
So yes, Baseball America and MLB.com did undersell Judge's power, though I don't blame them. No one was quite sure how Judge's massive raw power would translate into games given his size and strike zone. Now we know the answer. The mammoth raw power equals massive game power. The 52 (55*) home runs are a new rookie record, and you need to see the all-time rookie home run list to really appreciate how insane 52 homers as a rookie is:
Aaron Judge, 2017 Yankees: 52 homers
Mark McGwire, 1987 Athletics: 49 homers
Cody Bellinger, 2017 Dodgers: 39 homers
Frank Robinson, 1956 Reds: 38 homers
Wally Berger, 1930 Braves: 38 homers
Judge is the only rookie ever to hit 50 home runs. He was only the second rookie ever with 40 home runs. The internet tells me 18,853 men have played Major League Baseball throughout history. All of them were rookies at some point. None hit more home runs than Aaron Judge as a rookie. Also, Judge shattered the Yankees rookie homer record. The previous record: 29 by Joe DiMaggio in 1936. Yeah.
What we just witnessed was on the very short list of the best offensive seasons by a rookie in the history of the universe, thanks mostly to Judge's near unmatched ability to hit the ball out of the park. I love Judge. I stuck with him as a top prospect even when so many others jumped ship last offseason. And I never in a million years thought he'd hit 50+ homers as a rookie. Is this real life?
Setting A New Standard For An Acceptable Strikeout Rate
Before the season, I took a quick look strikeout rates to see where the break-even point lies. How much is too much when it comes to strikeouts? I looked back and found that, based on recent history, a 25.0% strikeout rate seemed to be the cutoff point. Striking out in more than one-quarter of your plate appearances wouldn't necessarily stop you from being a good hitter, but it would limit your ability to be a great hitter.
Then Judge went out and hit .284/.422/.627 (173 wRC+) with a 30.7% strikeout rate this season, which I still can't believe actually happened. It defies everything we know about baseball. You're not supposed to strike out that much and be that productive. Here is the single-season wRC+ leaderboard among players with a 30.0% strikeout rate:
Aaron Judge, 2017 Yankees: 173 wRC+
Chris Davis, 2015 Orioles: 149 wRC+
Jack Cust, 2005 Athletics: 145 wRC+
Kris Bryant, 2015 Cubs: 136 wRC+
Adam Dunn, 2010 Nationals: 136 wRC+
The gap between No. 1 and No. 2 is the same as the gap between No. 2 and No. 19. Among players to put up a 173 wRC+ in a single season, the next highest strikeout rate behind Judge is 25.4% by Willie Stargell with the 1971 Pirates. No one else is over even 25.0%. This was, truly, one of the most unique offensive seasons in baseball history.
Judge's strikeout rate spiked following the All-Star break, when he slipped into that ugly seven-week slump before recovering with a great September. His strikeout rate in July and August: 35.9%. And at one point he struck out in an MLB record 37 games. His strikeout rate the other four months: 28.1%. Still high! But not as high as July and August, when Judge hit .207/.359/.402 (102 wRC+) in 233 plate appearances. Even his ugly slump was basically league average because he took walks and still hit mistakes out of the park.
The story we heard: pitchers were burying Judge with breaking balls and offspeed pitches, and forcing him to adjust. Reality: Judge saw more fastballs in July and August than at any point in the season. For real. From FanGraphs: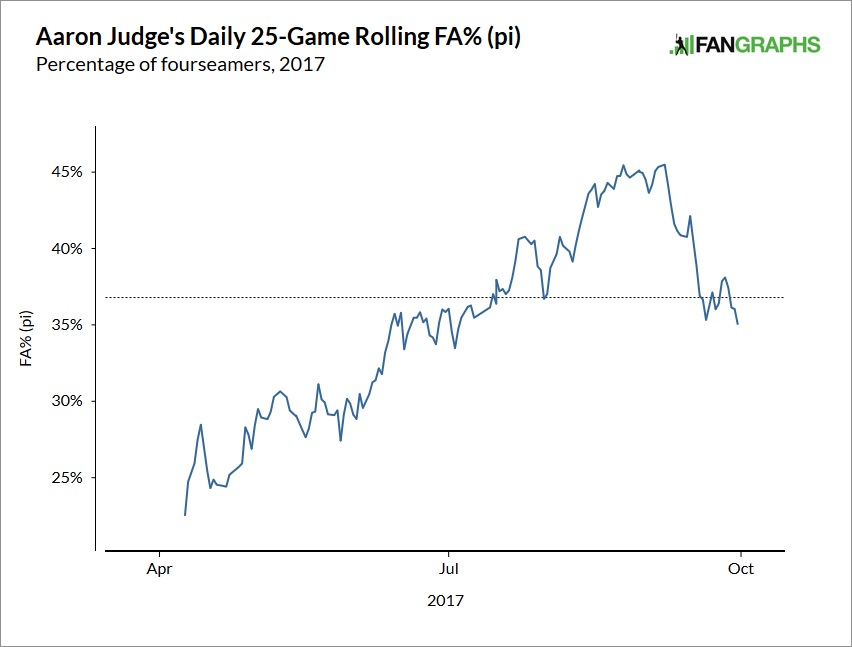 Didn't see that coming! Judge saw many more fastballs in the second half, particularly up in the zone. It wasn't until he started socking dingers left and right in September that pitchers stopped challenging him with heaters. The Indians and Astros — especially the Indians — buried Judge with breaking balls in the postseason, obviously, and I can't blame them. Judge was a very good breaking ball hitter in the regular season, but he still hit them worse than fastballs.
Judge vs. fastballs: .307 AVG and .386 ISO (MLB average: .274 AVG and .184 ISO)
Judge vs. breaking balls: .215 AVG and .215 ISO (MLB average: .217 AVG and .144 ISO)
Even the best breaking ball hitters hit breaking balls worse than the average hitter hits a fastball. Every team has seen more breaking balls in the postseason. That's what pitchers do. They force you to hit the hard-to-hit bendy stuff when the stakes are high.
During the regular season though, it was the high fastball that gave Judge the most trouble. Look at his swing-and-miss rate heat map against fastballs, via Baseball Savant: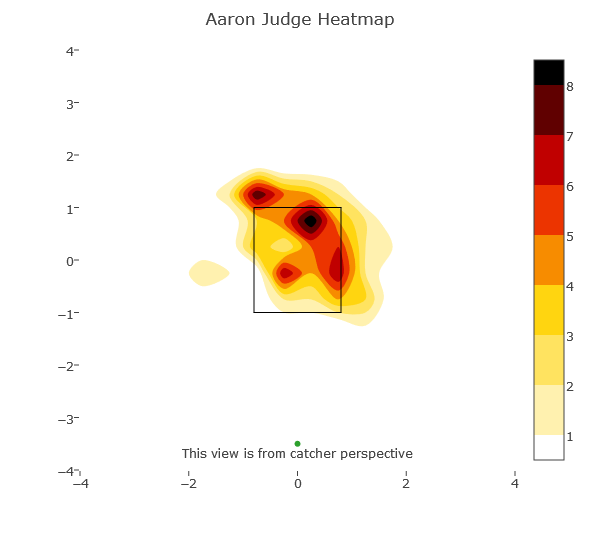 Up in the zone. Every hitter has trouble with breaking balls down and away. Hitters have been swinging and missing and making outs on breaking balls down and away since breaking balls became a thing. Judge is no different than anyone else in that regard.
The high fastball though, that's a different story. Judge has proven himself to be susceptible to high fastballs in his relatively brief big league career, and it's pretty darn impressive pitchers are able to get the ball all the way upstairs on a hitter his size. High fastballs are a great swing-and-miss pitch in general. Against Judge, they're the most effective way to attack him. If you want to beat him, do it up at his eyes.
Mike Trout had the same problem with high fastballs a few years ago and he was able to close that hole in his swing, mostly because he's a baseball freak who doesn't seem real half the time. That's the thing about strikeouts though: they tend to come down over time. George Springer went from a 33.0% strikeout rate as a rookie in 2014 to a 17.6% strikeout rate in 2017. Giancarlo Stanton went from 31.1% strikeout rate as a rookie in 2010 to 23.6% strikeout rate in 2017.
There is plenty of precedent for high strikeout hitters cutting their strikeout rate as their careers progress, and that's what the Yankees hope will happen with Judge. It doesn't happen with everyone, of course. It takes a certain level of baseball aptitude and athleticism to make it happen, otherwise you end up with a Mark Reynolds/Chris Davis type who flails away forever. I see Judge as more of a Springer/Stanton type than a Reynolds/Davis type, but maybe I'm just a raging homer.
Either way, Judge broke baseball this season. Never before has a hitter been this productive while posting a strikeout rate that high. No one has even come close to doing it. Before the year I came up with 25.0% as an acceptable strikeout rate. Apparently the real answer is 30.0%. Yes, it would be grand if Judge could cut his strikeout some in the coming years. But, if not, he showed this year it's possible to strike out that much and remain an offensive monster.
About All That "Clutch" Stuff
Why is it every great hitter seems to be dogged by questions about his ability to be clutch? Alex Rodriguez lived with it his entire career, from start to finish. There's a weird "Kris Bryant isn't clutch" movement in Chicago, if you can believe that. Even Trout deals with it to some degree. Judge is no different. Some numbers:
Judge with men on base: .267/.397/.605 (155 wRC+)
Judge with runners in scoring position: .262/.390/.624 (151 wRC+)
Judge in high-leverage situations: .250/.356/.521 (107 wRC+)
FanGraphs have a conveniently named "Clutch" stat that says Judge is literally the least clutch hitter on record, which is pretty silly. The Clutch stat compares hitters to themselves, not the rest of the league. So someone who hits .300 overall and .300 in high-leverage situations is deemed unclutch because they didn't raise their game. Judge going from a 173 wRC+ overall to a 107 wRC+ in high-leverage situations — in 59 high-leverage plate appearances, I should note — says he's incredibly unclutch. Hmmm.
High-leverage and runner in scoring position stats fluctuate wildly from year-to-year because they're all small sample sizes. Over time, each hitter's numbers in those situations tend to even out with his career numbers. As far as I'm concerned, there's a runner in scoring position every time Judge steps to the plate because of his power. He's a threat to put a run on the board even when the bases are empty. If you don't want Judge at the plate in a big spot, that's your thing. I want him up there because he's one of the most devastating offensive forces in baseball.
Defense & Baserunning
I don't think the average fan — not the average Yankee fan, the average baseball fan who follows their team most closely — doesn't realize how good Judge is in the field and on the bases. He's a finalist for the right field Gold Glove, and while Gold Gloves are kinda stupid, it's not undeserved. Some fielding numbers:
UZR: +6.1 runs saved (sixth among all right fielders)
DRS: +9 runs saved (fifth among all right fielders)
Total Zone: +19 plays above average (third among all right fielders)
The available data says Judge is a top five-ish defensive right fielder. Those stats account for his range and his throwing arm, which is a rocket. Among right fielders with at least 100 fielding chances, Judge's 54.3% hold rate was third best in baseball. That means runners did not attempt to take the extra base (first-to-third on a single, etc.) against Judge 54.3% of the time. The MLB average is 47.7%.
On the bases Judge went 9-for-13 (69%) stealing bases, and his extra base taken rate was 44%, above the 40% league average. Both FanGraphs (+0.0 runs) and Baseball Prospectus (-0.1 runs) say he's an average baserunner, and I don't know about you, but being an average baserunner at that size seems pretty good to me. Guys that big tend to be slow as hell. One thing though: I am totally cool with Judge never stealing a base again. Look at this slide:
Can we not with that? Judge is listed at 6-foot-7 and 282 pounds. Those slides are like a car crash. In my opinion — which is based on zero evidence, I should note — the risk (injury) is not worth the reward (extra 90 feet). I appreciate the effort and doing what you can to help the team win. But those slides at that size are dangerous. Let's stick to adding value on the bases by going first-to-third and things like that, mmmkay?
2018 Outlook
The hope going into this season was Judge would make the transition from right fielder of the future to right fielder of the present, and show signs of becoming a middle of the order bat. He did that before the end of May. Judge is under control through 2022 and he won't even be arbitration-eligible until 2020, so the Yankees have him dirt cheap for the foreseeable future. He's one of the best bargains in baseball.
What's the goal going forward? More consistency, for one. Avoiding that big ugly midseason slump would be cool. Look at his wRC+ graph, via FanGraphs: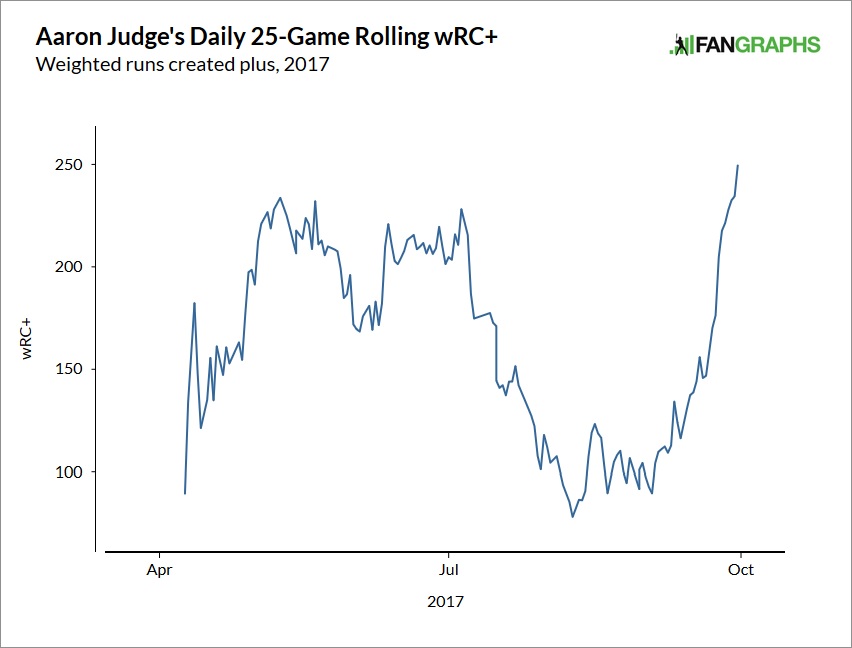 Avoiding that dip in the middle sure would be nice going forward. That big dip is likely why Altuve, not Judge, will win MVP. Cutting down on the strikeouts too. That is the obvious flaw in Judge's game — arguably the only flaw in his game — and given his size and strike zone, he's always going to strike out a bunch. But if he can bring that 30.7% strikeout rate down around 25.0%, or maybe even 20.0% to 22.0% in time, it'll serve him well long-term. Experience will help with that, and if nothing else, Judge has shown he can take instruction and make adjustments.