Oh well, a loss happens. Dallas Keuchel, who has a very well-documented history of dominating the Yankee lineup, did it again tonight, going 7 scoreless while striking out 10 on the way. On the other side of the mound, Masahiro Tanaka shrugged off his road woes to give the Yankees a chance to win. Greg Bird finally gave New York a run in the top of the 9th but it was not enough and too late. Astros won the Game 1 2-1 and the Yankees will look to bounce back tomorrow versus Justin Verlander. Let's recap this thing.
The pitching duel
In the postseason where the bullpen usage has dominated headlines, tonight was very much about the starting pitching. Keuchel and Tanaka both displayed what they can do. Masahiro didn't even really display his splitter – which worked so effectively against the Indians – yet he came away with a solid outing. In fact, he did not allow a hit for the first 3.1 innings. It seemed like the battle of who blinks first and it turned out to be the Yankees.
Well, New York came maybe a few feet of air away from scoring two in the top of the fourth. With two outs, Starlin Castro reached on base with a soft single to left. Aaron Hicks got a fastball up the middle and drove it deep to center. It looked like it had a decent chance to be a home run but the ball died right in front of the 409 feet center field wall. Gah. Maybe a tick or two higher launch angle or different direction and that ball's outta here. A 2-0 lead would have been very gratifying especially against Keuchel. Instead, the Astros struck the next inning.
Jose Altuve's feet manufactured the first run for the Astros. With one out, Altuve hit a grounder up the middle and beat out Castro's throw for an infield single. During Carlos Correa's at-bat, Altuve stole second to put himself in scoring position. It wasn't even a bad throw from Sanchez either. Altuve got a great jump and simply used his speed to reach safely. The Astros shortstop promptly followed it up with an RBI single to left to cash in a run for Houston. It was a slider that hung up on the zone and easy contact for a talented hitter like Correa. Marwin Gonzalez's groundout pushed Correa to the second base with two outs. Yulieski Gurriel tacked on another run for the Astros with an RBI single up the middle. With Dallas Keuchel on the other side of the rubber, 2-0 Astros lead seemed like a mighty order to top.
A 2-0 deficit  becomes more insurmountable when the team becomes unlucky in the game of inches. In the top of the fifth, the Yankees had two runners on with a Greg Bird single and Matt Holliday reaching on base on an Altuve error. After Todd Frazier lined out and Brett Gardner struck out, it was up to Aaron Judge to make something happen. He got a hold of a slider in the strike zone to line a base hit to the leftfielder Marwin Gonzalez.
At the moment that Gonzalez released the ball on the throw to the plate, Bird had just rounded third base and it seemed like he had a good chance to score. However, 1) Greg Bird isn't really fast 2) Marwin Gonzalez threw that ball really hard at 97.4 mph. As a result, Bird was tagged out by Brian McCann as his foot was about to slide into the plate. I would not pin that on third base Joe Espada. Bird was well on his way home as Gonzalez was releasing the ball, which is like a runner tagging up way before the throw during the sacrifice fly. Take a look: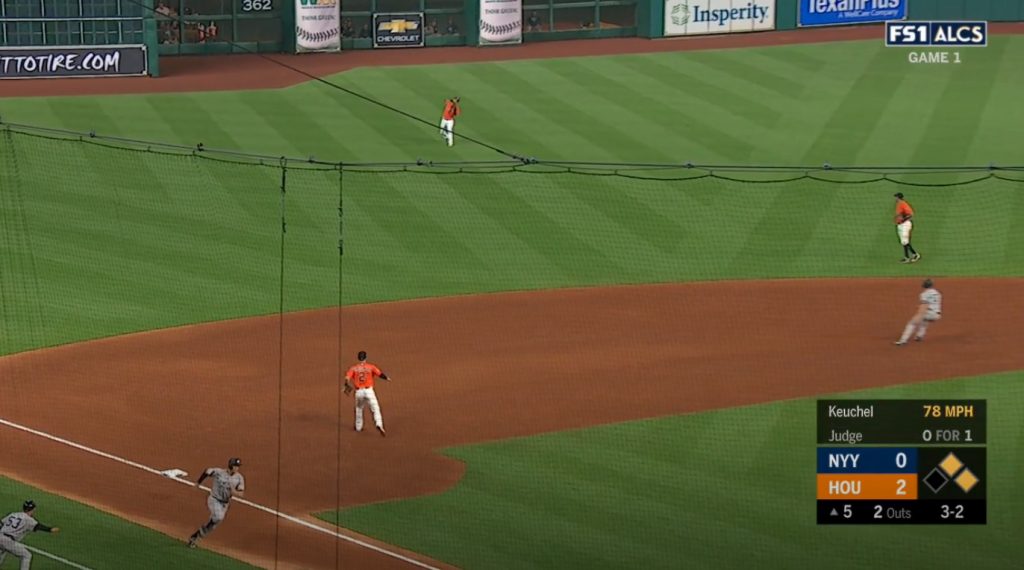 Again, stupid game of inches. Would have been nice to score a run and get the rally going in that inning but that's not how it went. Such is baseball. Another annoying thing happened in the top of the sixth when Didi Gregorius hit a blooper that headed towards the left field line… and was just foul. It could have placed a runner on the scoring position with one out but instead, Gregorius ended up striking out. It was close: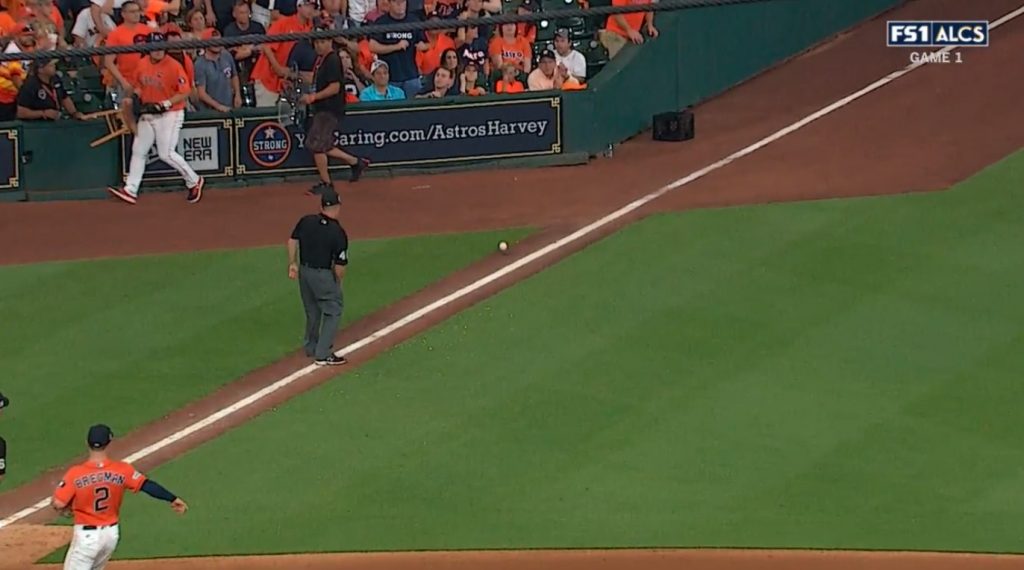 Tanaka threw a good start. 2 runs allowed in 6 innings of work against the fine-tuned machine that is the Astros lineup is more than enough. Just so happens that Keuchel is a postseason beast that also happens to own New York. The Yankees will have to win the series in spite of him.
The bullpen portion
After Tanaka, Girardi put in Chad Green to keep the game close for the Yankees. It was his first appearance since the ALDS Game 2 disaster and boy, he rebounded well tonight. In two innings, Green struck out two and allowed only two baserunners. I have a feeling that he might be coming out of the 'pen more frequently this series than in the ALDS. Tonight's outing certainly helped making his case for more appearances.
On the Astros side, Chris Devenski relieved Keuchel to start the eighth inning. As Gardner walked with one out, A.J. Hinch brought in the closer Ken Giles for a five-out save. Giles threw 38 pitches, which makes you wonder if he will be available at all tomorrow. Even if he will be, he'll probably be limited to an inning. With two outs in the top of the ninth, it looked like the Yankees will be shut out but Greg Bird denied it. On the third pitch of his at-bat, Bird squared up on Giles' 98 mph fastball up in the zone into the right field seats for a 399-footer. It was a classic lefty pull power swing and a beauty. I can watch this gif over and over for awhile.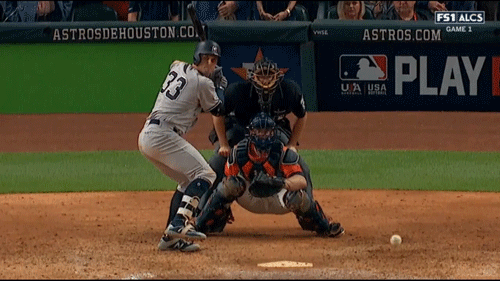 Unfortunately, the time for the Yankees to rally was pretty much at minimum. Jacoby Ellsbury, pinch-hitting for Matt Holliday, struck out in four pitches to end the game. 2-1 Astros was the final score.
Box score, updated standings, video highlights and WPA
Here is tonight's box score from ESPN, video highlights from MLB.com and WPA chart from Fangraphs.

Source: FanGraphs
---
The Yankees are back at it again at the Minute Maid Park tomorrow on 4 pm EST for the Game 2 of the ALCS. Luis Severino will be on the mound against Justin Verlander – two of the league's best fireballers! Should be a fun one to watch (or gut-wrenching, depends on how tense you feel).