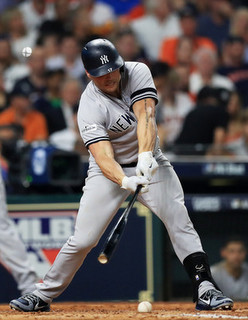 The Yankees' designated hitters in the playoffs have been way more 'designated' than they have been 'hitters.' It seems that no matter what name or number Joe Girardi calls for that spot in the order, it comes up empty. Chase Headley gave it a good try yesterday, robbed of a homer by Josh Reddick, and that–aside from one measly catcher's interference by Jacoby Ellsbury (of course)–has pretty much been the extent of the offensive production by Yankee DHs against Minnesota, Cleveland, and Houston. Short of someone being injured and another player–Tyler Austin? Clint Frazier?–being added to the roster, there really isn't much the team can do about the current DH situation aside from hope that someone runs into a pitch or two and gets out of this funk. The future of DH, though, is up in the air.
Two weeks ago, I wrote that Todd Frazier–current third baseman–makes the most sense at DH next year–though, really, this would Headley to DH as it seems the Yankees prefer Frazier defensively. This idea stems mostly from the fact that it's unlikely the team will go with a full time DH as there aren't many good full-time options and the team could have extra Greg Bird insurance. Frazier and the Yankees seem to like each other, but he's going to be a free agent and will have that leverage in his back pocket. So do the Yankees, though, as it seems like Bird is back and healthy and Headley did have a decent season and is a good defender at third, also on a one year deal. Would Frazier settle for a one year deal? Probably not. With Miguel Andujar just about ready to be a Major League player and Gleyber Torres (hopefully) knocking on the door behind him, it may not be wise to stock this team with too many third base types. Granted, Headley or Frazier on a one year deal could be jettisoned, but that's not necessarily what you want. The outfield situation may also complicate things.
As they do now, the Yankees will have four outfielders for three spots in 2018. Of course, they could flip one in a trade to free up room, but I'm still not sure there are viable markets for Brett Gardner and/or Jacoby Ellsbury. Aaron Judge isn't going anywhere and Aaron Hicks earned a starting spot for next year with his play this year. Gardner is, fankly, better than Ellsbury. If the team is willing to let Ellsbury be a high-priced fourth outfielder, then they could get another player to DH, rather than rotating the outfielders in and out when they need a day.
The more I think about it, the more it might make sense to let Todd Frazier walk. He's a great guy and I've enjoyed rooting for him in every way possible. But in terms of money and roster space, it might be best to let him go, shift Chase Headley back to third base, and roll with a rotating DH.