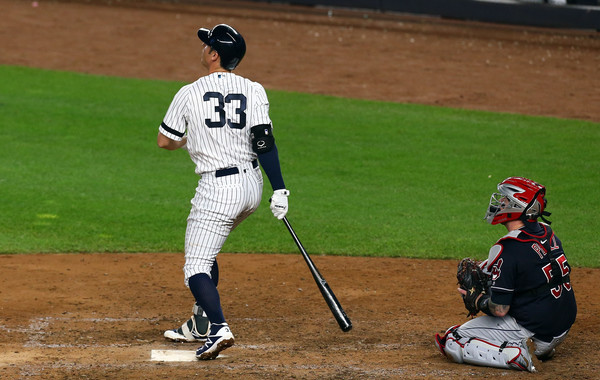 Last night was, hands down, one of the most intense and thrilling games in new Yankee Stadium history. There have been plenty of emotional farewells and of course there was plenty of drama during the 2009 postseason, but last night? It's hard to top that. A riveting 1-0 win in an elimination game against a great Indians team makes for wonderful baseball theater.
The Yankees scored their only run last night when, of all things, a left-handed batter took Andrew Miller deep. That doesn't happen often. It only happened once in the regular season, in fact. But, leading off the seventh inning, Miller left a fastball up in the zone and Greg Bird turned it around for a mighty blast into the right field second deck. Here is the very necessary video:
Yankee Stadium was shaking. It was as loud as any postseason game at the old ballpark. These Yankees are good, they're fun, and the fans are eating it up. All game long the crowd was waiting to erupt — Masahiro Tanaka did provide some nice stress-release moments along the way — and when Bird lifted that ball to right field, the place exploded. It was great. Everything you could want in a baseball game.
The Yankees are in the postseason right now mostly because their young players emerged as key contributors in a very short period of time. Aaron Judge, Gary Sanchez, and Luis Severino were all All-Stars this year and are the headliners in the youth movement, and understandably so. There's also Chad Green and Jordan Montgomery, and others like Clint Frazier and Miguel Andujar provided some exciting moments this year as well.
Bird was supposed to be part of that group this season. He hit third on Opening Day! Remember that? Bird tore the cover off the ball in Spring Training after missing all of last year with shoulder surgery, and it looked like he was poised to have a big year. Sanchez was the star of the show after last season, but Bird showed he could hit big league pitching in 2015, and now that he was healthy, he would reclaim his place as the first baseman of the future.
"I bet on it. To be honest with you, I bet on it. I bet on myself," said Bird after last night's win. "I got a little taste in 2015 and I've wanted nothing more than to be back. And going through the shoulder thing was tough, and I thought I got through that, and then obviously dealing with the ankle thing. I learned a lot, though, and like I said, I bet on myself and I knew I could come back and be a part of this."
An ankle injury quickly sabotaged Bird's season, really before it even had a chance to start. He fouled a pitch off the ankle in Spring Training, played hurt throughout April, then had to be placed on the disabled list in May. Eventually he had to have surgery, and it wasn't until mid-August that Bird returned to the lineup. And at that point, no one knew what to expect. Of course Bird is talented, but boy he missed a lot of time the last two years.
Not surprisingly, it took Bird some time to get his bearings at the plate. He went 9-for-43 (.209) with 12 strikeouts in his first 15 games back from the ankle injury, and Chase Headley was still getting plenty of time at first base. It wasn't until mid-September that Bird really started to lock in at the plate. He went 13-for-44 (.295) with six home runs and nearly as many walks (six) as strikeouts (eight) in his last 14 games of the regular season.
That hot finish to the regular season has carried over into the postseason. Bird drove in a run in the Wild Card Game and hit a two-run home run in Game Two of the ALDS on Friday. Then, last night, Bird took Miller deep for that solo home run in the 1-0 season-saving win. Through four postseason games Bird is 5-for-16 (.313) with two homers, three walks, and a hit-by-pitch, which works out to a .450 OBP.
"As I've said about Greg Bird, I think he's built for this park. I really do," said Joe Girardi after last night's game. "Just the way he played in the playoffs and the way he finished up the year, I felt really good. It's great to have him back healthy. It sure is."
The last two years have no doubt been difficult for Bird given all the injuries, and the Yankees have been remained very patient because they believe in him. They didn't bring in a big name first baseman over the winter despite Bird's shoulder surgery. Rather than add a first baseman at the trade deadline, they stuck with their in-house options because they thought there was a chance Bird would come back.
The Yankees have waited an awfully long time for this version of Bird to arrive, and now he's arrived at exactly the right time. He's finished strong in the regular season and has been the team's best hitter through four postseason games. And for Bird himself, this has to feel awfully rewarding. He spent many days in Tampa rehabbing and watching the Yankees on television. That's tough. Being away from the team that long is no fun.
"What got me through it? My family and my close friends. I have a great group, really, and they know who they are and they're really special to me," said Bird last night. "At times, it was hard. I mean, just watching from afar … I just like being there. So what a wild ride it's been. But like I said, I knew we had a good team and we'd be here and I was hoping that I could be part of it."