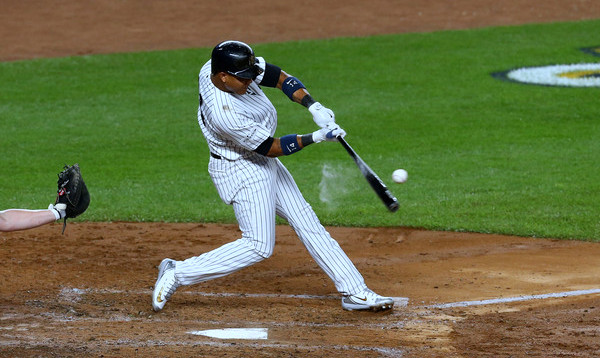 Once upon a time I was a hardcore "make the pitcher work" guy. And I still am, but to a lesser degree. There are obvious benefits to running up the opposing starter's pitch count and getting to the bullpen as early as possible, even these days when everyone coming out of the bullpen seems to throw 97 with a wicked slider. The more pitches you see in an at-bat, the more likely the pitcher is to make a mistake.
Over the years though, I've started to gradually shift away from the "work the count all the time" mentality, and now I'm a pretty big fan of swinging early in the count and ambushing first or second pitch fastballs. Especially against great pitchers who don't give you many pitches to hit in general. Selective aggressive is a good way to describe it. Work the count, sure, but if you get something to hit early, give it your "A" swing.
Part of selective aggressive is the 3-0 green light, which usually comes from the bench. The manager or hitting coach will decide who should swing away in a 3-0 count. When to swing away is pretty important too. Down a run or two late? Forget it. Take the 3-0 pitch because you need baserunners. Up a few runs? That's a good time to swing away and try to tack on runs.
The Yankees as a team hit .545 with two home runs in 3-0 counts this year. The same guy hit both homers: Starlin Castro. He hit one against Dylan Covey in April, which I do not remember at all, and he hit the other against Chris Tillman in June. That one I do remember. It was during that ridiculous series against the Orioles in Yankee Stadium, when the Yankees swept the O's and outscored them 38-8 in the three games.
Look at that cookie. That's a 91 mph get-me-over fastball right down the heart of the plate. Tillman might as well have put it on a tee. That's exactly the kind of pitch you're hunting when you get the green light on 3-0. You hope the pitcher assumes you're taking all the way and he gives you a meatball.
Now, the Yankees hit .545 in 3-0 counts this season and that sounds wonderful, but this is an extremely small sample size. The Yankees put eleven balls in play in 3-0 counts in 2017. That's all. They had 135 plate appearances end on a 3-0 pitch in 2017: 6-for-11 (.545) with two homers, four singles, one hit-by-pitch, and 123 walks. That doesn't mean they only swung eleven times in a 3-0 count, however. Sometimes you swing-and-miss in a 3-0 count, or foul it off. It happens.
Having watched an embarrassing amount of Yankees baseball over the years, it seemed to me the Yankees turned it loose in 3-0 counts a little more often this season than in previous years. So I decided to look it up. Why not? Here are the team's 3-0 swing rates over the last few years.
| | NYY 3-0 swing rate | MLB rank | MLB average | Hitting Coaches |
| --- | --- | --- | --- | --- |
| 2017 | 9.3% | 10th | 9.4% | Alan Cockrell & Marcus Thames |
| 2016 | 5.6% | 26th | 8.7% | Cockrell & Thames |
| 2015 | 6.2% | 21st | 7.9% | Jeff Pentland & Cockrell |
| 2014 | 6.9% | 21st | 8.3% | Kevin Long |
See? I wasn't crazy. The Yankees did swing more often in 3-0 counts this season. And that's all swings, just to be clear. Balls in play, swings and misses, foul balls … if they offered at a 3-0 pitch, it's included in the data regardless of outcome. The Yankees definitely did swing more often in 3-0 counts this season. But was it worth it?
2017: 134 OPS+ in 3-0 counts (8th in MLB)
2016: 0 OPS+ (30th)
2015: 108 OPS+ (14th)
2014: 112 OPS+ (11th)
So … kinda? Yeah, I guess it was worth it, but again, we're talking super small sample sizes here. The way I see it, swinging more often in 3-0 counts might not make much difference across a full 162-game season, but in an individual game, it could make a huge difference. Good or bad. You could hit that homer to break the game open or pop it up and kill a potentially big inning.
The 3-0 green light is one tool in the shed. It's something teams can employ strategically depending on the game situation and the personnel. It wouldn't make sense to let Ronald Torreyes or Austin Romine swing away 3-0. Someone like Castro or Gary Sanchez or Aaron Judge could do major damage with a 3-0 green light, however. And because the Yankees have so many count workers — the Yankees saw the fifth most 3-0 counts in baseball in 2017 — they're going to see a lot of 3-0 counts. Giving everyone the take sign would be silly.
Working the count and prolonging at-bats will forever be a good strategy, as will taking walks. Those are never bad. Walks alone won't win you games though. There is such a thing as being too passive at the plate — Brett Gardner is definitely guilty of this at times — and there's value in being unpredictable. Swinging at a few more 3-0 pitches can equal more walks as pitchers become more careful. The 3-0 green light may not turn an average offense into a powerhouse, but it something that can help, and the Yankees used it more often in 2017 than in previous years.