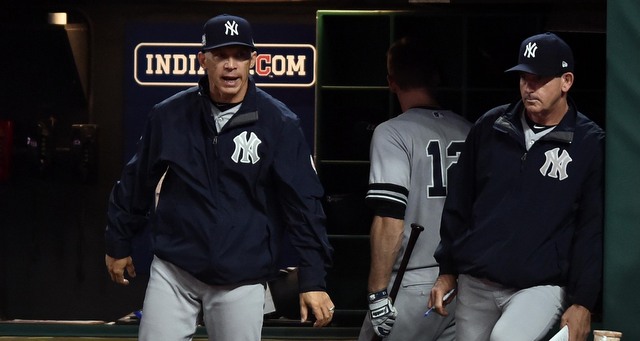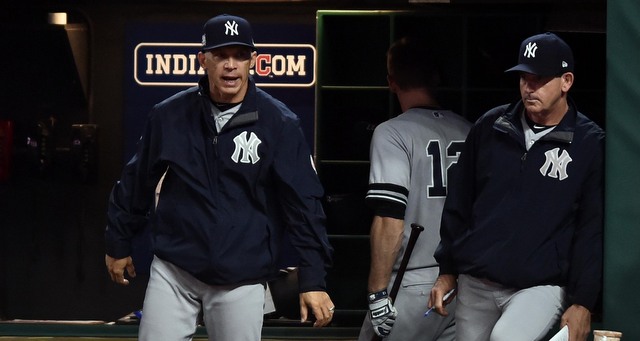 Hello, dear reader. A lot has happened since last we spoke and I'm hoping a lot more happens before we speak again. Let's hope this isn't the last Sunday of 2017 when we can look forward to Yankee baseball, huh? Anyway, let's get on with my thoughts, ones that hopefully won't be the last of the season, however long that shot might be.
Oh, Joe
By now, you've read every Joe Girardi hot take, but allow me to pile on, self-indulgently. At the time he did it, I really had no problem with Girardi taking out Sabathia. It's the playoffs, and you've gotta go to the power arms quickly, even if it's CC Sabathia out there, who's been an absolute rock this year. It's too bad Chad Green didn't quite have it, though, and that is understandable. Even with some days off, he pitched the most stressful game of his life on Tuesday and may have been fatigued.
Sadly, the bad decisions cascaded from there. Not challenging on the Lonnie Baseball foul tip/HBP. What. And even if Joe owned up to it yesterday, that seems a bit late, doesn't it? Declaring in the aftermath that he didn't want to disturb Green's rhythm is like my students telling me they finished their essay, honestly, but they just left it at home! Or their printer stopped working. Or their email got lost. Right. Just tell me you didn't do it and let's move on. I'll still be disappointed, but at least you won't be insulting my intelligence until you do own up to it. Then he pushed David Robertson too far. Then he went to Aroldis Chapman for two innings…instead of just pitching him in the eighth and ninth. And then he pushed Betances too far. It's safe to say that Friday night was probably the worst managerial night Girardi has had as Yankee manager.
In the immediate aftermath, people were discussing replacing Girardi and that conversation spilled over into Saturday. I'm of two minds here. With the one, I think that there really isn't anyone better to manage this team than Girardi and he's proven that over the years. But with the other, ten years is a damn long time and it might be time for a new voice in the room, especially as the team starts to skew younger. Who could that voice come from? I have no idea, honestly. If I had to bet, I'd say Girardi is back next year and thereafter.
If and when he is back, the most important thing for Joe to do is gain some more confidence in Gary Sanchez. He's shown that by keeping Sanchez behind the plate and not buying into any sort of narrative, but not challenging despite Sanchez's insistence looks bad. Gary needs to improve on blocking balls, sure, but he's a good framer and receiver and he's an elite level thrower behind the plate. Atop all that, he's the best hitting catcher in baseball not named "Buster Posey." Winning the trust and confidence of Sanchez, Aaron Judge, Luis Severino, and the other young players on the team and on the 40-man is the most important thing Girardi can do. If the front office–read Brian Cashman–thinks he can do that, then he is certainly the right man for the job.
There's a chance the Yankees' season will end before I write again–duh–and I hope it doesn't. I have missed playoff baseball, even if it is stressful and a cause for sleeplessness. This is why we watch, isn't it? Baseball, more than other sports, may be about the journey more than the destination, but when the destination is in sight, it sure is more exciting. We've harped a lot about how this team wasn't expected to go this far, wasn't expected to win in the high 80's, let alone the 90's. This playoff run is gravy and a half. But that doesn't mean I won't be disappointed if it ends. That disappointment comes from enjoying the hell out of this team, but also from the fact that it's a good team that could go farther than the ALDS. Is there shame in losing to the best team in the game? No, but that doesn't mean it won't sting if it happens. If this is the end, thanks for going on this ride with me for 2017; I can't wait for 2018 and beyond.