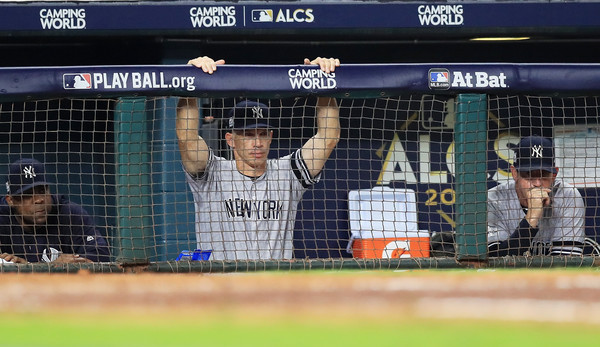 Last night the Yankees opened the ALCS with a Game One loss (again) to Dallas Keuchel (again). Keuchel's annoying, isn't he? He's the new Cliff Lee, who was the new Chuck Finley. The Yankees will look to even the series at a game apiece this afternoon. This group is pretty resilient. They've bounced back from tough losses all year. That didn't even feel like a tough loss last night anyway, did it? Not to me. Whatever. Here are some thoughts.
1. Joe Girardi learned from the non-challenge fiasco in Game Two of the ALDS! Following the game last night, Girardi said the Yankees thought Greg Bird was out on the play at the plate, but he decided to challenge it anyway. His exact quote: "Well, we thought he was out. But God knows I'm not doing that again." By "that again" he means not challenging a big play. Just because replay guy Brett Weber may not see enough evidence to overturn something doesn't mean the replay crew in New York will see it the same way. To paraphrase Wayne Gretzky, 100% of the calls you don't challenge don't get overturned. Bird getting thrown out was a huge play in the game. To wit:
Bird is thrown out: 15.7% win probability for the Yankees
Bird is called safe: 32.1% win probability for the Yankees
Big swing! It's not just that the run scores, remember. The run scores and the inning continues with two men on base for Gary Sanchez, who was seeing Keuchel for the third time. The challenge didn't work, but I'm glad Girardi asked for the review. This is the kind of challenge I've been hoping to see more of over the years. It's a bang-bang play that could go either way and have a big impact on the game. And if it doesn't work, it doesn't work. There's no bonus points for unused challenges. Shoot your shot.
2. The Yankees pitched the Astros very well in Game One. Masahiro Tanaka did not have his Grade-A splitter, yet he still held Houston to four singles in six innings, three of which bounced before passing the pitcher's mound. The 'Stros have a great lineup and the Yankees held them to two runs on six singles and one walk in the game. Continue to do that and things will be just fine the rest of the series. As a team, the Yankees have a 3.09 ERA (3.23 FIP) in the postseason so far. Aside from Game Two of the ALDS, which was a disaster for multiple reasons, they've held the Indians and Astros to no more than six hits in their five meetings. That'll work. The pitching has been phenomenal in the postseason so far, even with Luis Severino's dud in the Wild Card Game and Sonny Gray's dud in Game One of the ALDS. I feel like this is not being talked about enough. The pitching staff has been on point.
3. Good to see Chad Green get back into a game and look like regular season Chad Green last night. He gave up the grand slam to Francisco Lindor in Game Two of the ALDS and hadn't been heard from since. It seemed like he earned a temporary demotion out of the Circle of Trust™. And, given how flat his stuff looked in that Game Two meltdown, it was fair to wonder whether he hit a wall after appearing in so many games and throwing so many high-leverage innings this year. Green had six days off between appearances and it seems to have served him well. He was throwing fire and missing bats last night. That's huge. A back-to-normal Chad Green makes the Yankees that much more dangerous, especially since these two teams will play three games in three days next week. Girardi won't be able to ride David Robertson and Aroldis Chapman as much those days, so someone else will have to pick up the slack. Green will be one of those someones.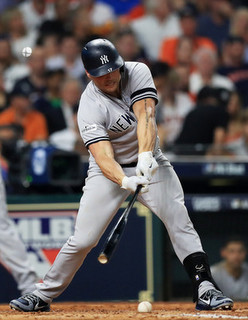 4. Seriously, what in the world are the Yankees going to do at DH? Matt Holliday returned to the lineup last night and went 0-for-3 on seven pitches. Jacoby Ellsbury pinch-hit for him in a one-run game in the ninth inning, which I don't understand at all. At least Holliday has a chance to run into a fastball and hit a game-tying home run. He did it against Craig Kimbrel right after the All-Star break. Remember that? Holliday also took a right-hander deep in the regular season finale. Holliday's upside there is a game-tying homer. Ellsbury's upside is … a catcher interference? Anyway, including last night, the DH spot is now an unfathomable 0-for-24 with three walks and nine strikeouts in the postseason. (And one catcher interference.) It's not like these guys are hitting into bad luck. The at-bats aren't all that competitive. There's a decent chance the best DH candidates right now are Tyler Austin, Clint Frazier, and Miguel Andujar, but none of them are on the ALCS roster. Do the Yankees keep running Holliday and Ellsbury and Chase Headley out there and hope one of them finds it? What about Ronald Torreyes? Do you consider him at some point? Torreyes might be worth a try. Oh geez, I can't believe I just said that. I know one thing for sure: the Yankees are going to have a very hard time advancing if this whole Designated Out-Maker thing continues. The Astros are too good.
5. A #thingtowatch in Game Two: Severino's fastball against the Astros. They're a great fastball hitting team. During the regular season they hit .281 (5th in MLB) with a .229 ISO (4th in MLB) against four-seam fastballs. They crush fastballs. (The league averages were a .269 AVG and a.155 ISO against four-seamers in 2017.) I get the sense Severino is going to rely on his slider quite a bit this afternoon. This isn't the kind of team you can beat with the heater only. And with Robertson and Chapman ready to go (and Tommy Kahnle too), presumably for more than one inning each, the Yankees might only need Severino to go through the lineup twice. Hopefully he dominates and it's not a problem. But just watch the Astros and how they handle Severino's fastball. We might see more foul balls and comfortable swings against the pitch than usual because they're such a good fastball hitting team.
6. Is it weird that I think (hope?) the Yankees will have more success against Justin Verlander in Game Two than they did against Keuchel in Game One because he's more conventional? Don't get me wrong, Verlander is still very good. But Keuchel is an outlier in today's game. He's a finesse pitcher who doesn't crack 90 mph with his fastball all that often. Keuchel succeeds by pounding the bottom of the zone with pitches that cut, sink, fade, you name it. Verlander is a more conventional mid-90s fastball guy with a nasty breaking ball. The Yankees just finished a series with the Indians, who have a rotation full of Verlander types. That's what they're used to seeing. Not finesse pitchers like Keuchel. Hopefully the return to normalcy (so to speak) leads to more success for the offense today.