We've got eleven questions in this week's mailbag. The email address to send us any questions or comments is RABmailbag (at) gmail (dot) com. We get a lot of submissions each week and I get to as many as I can. Don't give up if your question didn't get picked this week.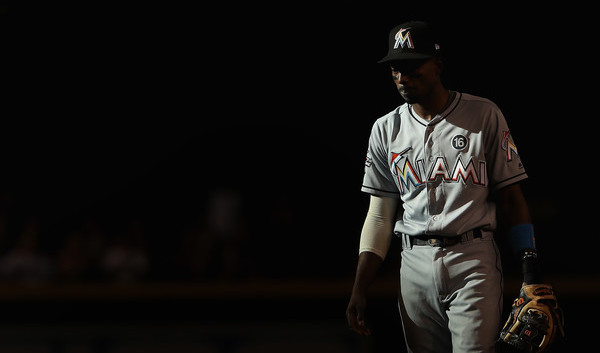 Doug asks: The RAB comment section has caught full blown Giancarlo Stanton fever but given the Marlins' fire sale, his smaller contract, contact rate at the plate, his Gold Gloves and the fact that it would be easier to move the player currently playing his position (the 27 year old Starlin Castro) then the player holding down a corner outfield position (the 34 year old Brett Gardner), what about trading for Dee Gordon? Given the other sources of right handed pop in the Yankee line-up, it seems like Gordon might be a better fit for this roster right now then Castro.
Gordon turns 30 in April. Did you know that? I had no idea. I would've guessed he was still 27 or 28. Anyway, Gordon hit .308/.341/.375 (92 wRC+) with two homers and 60 steals in 76 attempts (79%) this season. That's right in line with his career .293/.329/.367 (92 wRC+) line. Gordon doesn't walk (3.6%) or strike out (13.4%), and is an elite baserunner. (It's not just steals, he's an extra base taking machine.) Also, his defense at second base keeps getting better as he gains more experience.
I do believe Gordon is a better all-around player than Castro. He won't have as much impact at the plate, but the edges in baserunning and defense are significant. Plus he's a lefty contact guy who would balance the lineup a bit. I wouldn't bat Gordon leadoff. I'd bat him ninth and let him raise hell at the bottom of the order. The downside here is the $38M owned to him from 2018-20. As soon as Gordon starts to lose a step, forget it, his value will crater. I think I'd rather stick it out with the younger and cheaper Castro than bet on the age 30-32 seasons of a pure speed guy. (A Dee and Didi double play combination would be pretty cool though. D & DD.)
Tom asks: Say Otani gets the go ahead to come over fairly soon and the Yankees sign him, do you think they pass on signing Sabathia? That's at least another $10 million under the tax, maybe they can use that to extend Didi.
Nope. The more pitching, the better. There's a pretty good chance whichever team signs Shohei Ohtani will use a six-man rotation — that's an idea worth its own post at some point — plus there's no such thing as too much pitching. If the Yankees sign Ohtani and CC Sabathia, and Jordan Montgomery has to start the season in Triple-A, so be it. He'll be back in the big leagues soon enough. Keep in mind Ohtani's career highs are 24 starts and 160.2 innings, and he's a few months younger than Luis Severino. Gotta keep an eye on his workload, so get the pitching. The Yankees shouldn't pass on doing anything if they get Ohtani, especially adding pitching.
Erick asks: It seems to me that teams can argue with Otani about him running the bases. His ankle injury occurred running, it might give headway for teams to reduce his potential plate appearances no?
Teams are probably going to say and do whatever it takes to sign Ohtani, and if that means promising him regular at-bats, so be it. The ankle injury was fluky — Ohtani rolled his ankle running through first base — though it was bad enough that it hampered him all season and required surgery last month. Ohtani has already started hitting off a tee as part of his rehab, according to the Kyodo News, so he's expected to be ready in time for Spring Training.
The ankle surgery could justify limiting Ohtani's plate appearances, especially early in the season, but ultimately I think this will come down to performance. If he hits, it'll be hard to keep him out of the lineup. I'm with Grant Brisbee on this. Ohtani will get a chance to hit and pitch right away because that's probably what it'll take to sign him. Within two years though, he'll be hitting or pitching. Not both. This'll work itself out.
Mathieu asks: I've been a longtime believer in Miguel Andujar. I also think it's clear that Castro, while serviceable, is merely a placeholder until someone better comes along. Am I wrong to think that the best future infield is Andujar at 3B and Torres at 2B? If so, why is there such a push to have Torres play the hot corner?
I like Andujar as well and think he'll be a starting third baseman within a year or two. The beauty of all this is the Yankees have plenty of options. They could go Andujar at third and Gleyber Torres at second if that's best. Or Torres at third and Castro at second. Or Andujar at third and Tyler Wade at second. Who knows? These things have a way of sorting themselves out. I really like Andujar and think he'll be a sneaky good player in time. The Yankees will make room for him when that time comes. Gleyber isn't being pushed into anything right now. Second and third (and short) are all potential long-term positions for him.
Chris asks: Would you make a deal for Raisel Iglesias for Dellin Betances & Tyler Wade? Raisel is a few years younger than Dellin, the Reds need a SS and a closer if they trade Iglesias and Dellin needs a change of scenery. And the Reds and Yankees seem to have a trade pipeline set up.
Chris, I'm going to hit you with a your trade proposal sucks here. The rebuilding Reds aren't trading their borderline elite (and affordable!) closer for a broken setup man making similar money and a good but not great prospect. They could get lots more for Iglesias. Lots more.
As for pursuing Iglesias himself, sure, go for it. He's really good. He's only 27 and he had a 2.49 ERA (2.70 FIP) with 30.1% strikeouts and 8.8% walks in 76 innings this year, and he's owed only $14.5M from 2018-20. Also, Iglesias has proven the last two years that he can go multiple innings, which is always nice. I don't think the Yankees will trade prospects for relievers this offseason because the bullpen isn't much of a priority. Iglesias is good though, and hey, if the Reds want Betances and Wade for him, do it.
Mary asks: What about Chris Tillman on a one-year rebound contract? Worth it for the Yankees? Would he be willing to sit in AAA until needed (maybe with a June 1 opt-out)?
Gosh, the Yankees have been pounding on Tillman for almost a decade now. He made his big league debut in 2009. Has it really been nine seasons already? Tillman has a career 5.54 ERA with a .307/.372/.494 opponent's batting line in 112 career innings against the Yankees. Seems like they hammer him every single time.
In all seriousness, the 29-year-old Tillman has not been the same guy since he hurt his shoulder last year. There has been no life on his pitches at all since then. Tillman threw 93 innings with a 7.84 ERA (6.93 FIP) this season, though I suppose he could be better next year, as he gets further away from the injury. That's what you'd be banking on. Given how bad he looked this year, I wouldn't give Tillman a guaranteed deal. A minor league deal? Sure. Why not. No harm in those. One-year prove yourself contracts usually don't happen in Yankee Stadium. Not for pitchers. Tillman will try to rebuild his value in a more pitcher friendly park.
Michael asks: Are there any rules prohibiting active players from full or partial ownership of an MLB team? If not, do you foresee a situation in MLB where a player contract includes partial ownership of the team?
Yes, there is a rule against that. It would be a massive conflict of interest if the player ever gets traded or changes teams. The rule was put in place because Rogers Hornsby had an ownership stake in the Cardinals when he played, then they traded him to the Giants. MLB forced him to sell his stake and St. Louis lowballed the hell out of him because he had no leverage. They knew he had to sell. Giving players an ownership stake is never ever ever going to happen again, and it shouldn't. I'm surprised MLB is okay with Billy Beane having an ownership stake in the Athletics.
Thomas asks: Do you think the Yankees history policy of not renegotiating deals hurts them at all in the Ohtani sweepstakes? Either because Ohtani wouldn't like to sign with a team that has a policy like that or because MLB will look at any extension deal they (potentially) do extra carefully?
Interesting. I hadn't thought about that. The Yankees supposedly did away with the no extensions policy a few years ago, when they signed Gardner long-term, though it wasn't until recently that they had more 20-somethings worth extending. The Yankees have extended players before. Gardner and Robinson Cano are the notable examples. They signed Derek Jeter to a massive extension back in the day. The no extensions thing could be a red flag for Ohtani, but ultimately, the Yankees have a history of paying their players top dollar, and I think that'll make up for it.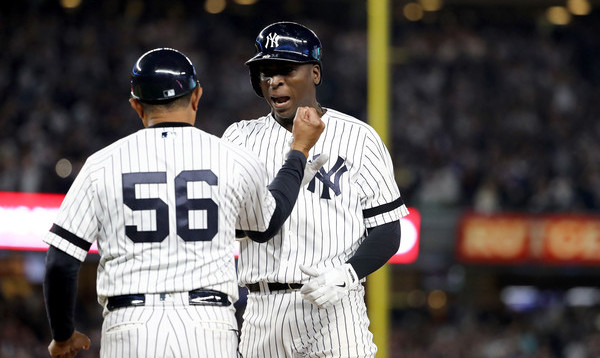 Todd asks: With the Yankees saying they will cap it at 5-6 interviews for manager, what do you see in Tony Pena's future?
Pena interviewed for the managerial opening last time around, though that was just for show. The Yankees wanted Joe Girardi, but MLB's rules say each team must interview a minority candidate, so Pena was that candidate. This time around Hensley Meulens is that candidate. (I don't mean Muelens is the token minority candidate. He's a legitimate managerial candidate.) As far as we know, Pena won't interview for the job. Rob Thomson said he wants to come back even if he doesn't get the manager's job, but we have no idea how Pena feels about things. He might not want to come back with Girardi gone. Or it could be up to the new manager. If the new manager wants Pena, they could offer him a position. If the new manager wants to bring in his own guys, Pena might be a goner. I'm not really sure what's next for him. I like Tony. Hopefully he gets to stick around.
RJ asks: Mike, what do you think about the Twins voiding the 3 million dollar contract with Jelfry Marte over a vision problem? Coincidentally there's a superstar from Japan that just so happens to being posted this offseason. Now 3 teams can offer 3+ million.
Eh, it's just a coincidence. A few international (and draft) signings get voided each year due to physical issues. The Twins knew Ohtani was likely to be posted back when they signed Marte, and now there's a really good chance the Twins don't get either guy, Ohtani or Marte. And if the Twins were trying to weasel out of the Marte deal to free up money for Ohtani, Marte's people would make a big stink and file a grievance with MLB. Backing out of a $3M contract is not something that gets taken lightly.
Dan asks: The Chad Green situation got me thinking. C.J. Wilson was exclusively a reliever for 4 straight years, never going over 73 IP. They made the switch, and he averaged 204 IP and 34 starts for the next 5 years. Was he a 1 in a million anomaly, or is this something that teams are missing out on?
Wilson is a big time outlier. He had a ton of arm injuries earlier in his career too, when he was a reliever, yet he stayed completely healthy for a few years as a starter. It was pretty incredible. A lot of guys have done the reliever-to-starter thing early in their careers (Chris Sale, Zack Greinke, etc.), but that late in their careers? No. Wilson did it at age 29. Guys like Danny Graves and Braden Looper tried it late and got knocked around as starters.
Are there some relievers out there who could be successful starters? Yeah, probably. I think Adam Warren could be a league average starter if given the chance. Or at least could've been earlier in his career. Most guys are in the bullpen for a reason though. They don't have a third pitch, or they have crummy command, or they can't stay healthy, something like that. Wilson is definitely an outlier. Going from career reliever to five straight seasons of 31+ starts and 170+ innings in your early-30s just doesn't happen.