In my personal and professional lives, I try to be open-minded and give things lots of consideration before making a decision. Of course, that comes with a fair amount of vacillation sometimes, and it wouldn't be inaccurate if you were to call me indecisive at times. At times, this spills over into my "life" as a "writer" and baseball fan; it'll take me a while to figure out what I'd want the Yankees to do and I end up spilling lots of digital ink in lots of directions before coming to a "decision." This is completely true of my thoughts on the Yankees' DH situation for 2018. Or it was. I've made up my mind.
My gut has been wrong this offseason once so far–I really didn't think Shohei Ohtani was going to be posted, but that appears imminent–but my gut tells me the Yankees aren't going to find a trade partner for Jacoby Ellsbury and they're going to be left holding the bag, so to speak, with five capable outfielders deserving of Major League time: Ellsbury, Gardner, Aaron Judge, Aaron Hicks, and Clint Frazier. The obvious fix to that is that you start Frazier in AAA and let him work on things there. But let's assume he has a Spring Training like Aaron Judge did last year and there's really no way to justify holding him down there. This also all presupposes that there will be no full-time DH, which I think is a likely scenario, given what happened with Matt Holliday this year.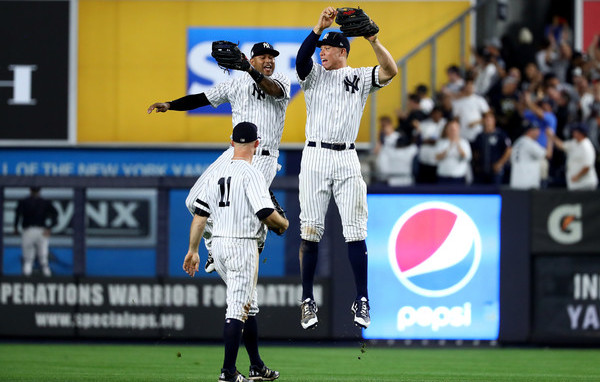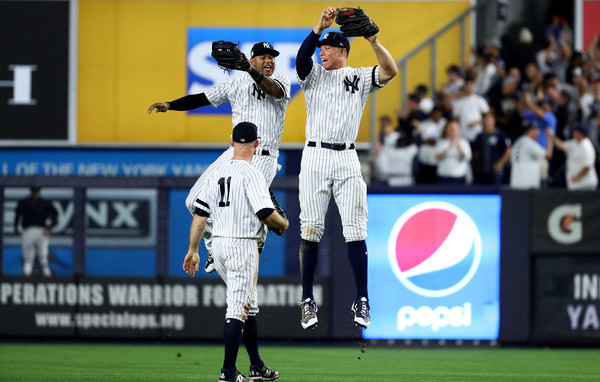 That leaves us with five bodies for four spots, including the DH. How would I shake these guys out in a lineup? Four of them would play, with one as the DH, and one as the bench guy, depending on what the matchups or needs of the defense dictated. Now, obviously, right field never gets touched unless there's a rest day or an injury to Judge. That's his spot for the year almost no matter what.
Against righties, you'd line up Judge in right, Gardner in left, and one of Hicks or Ellsbury in center. This part gives me hesitation because I'm not sure if the new manager will want to give Ellsbury a chance to reclaim his spot or if what happened in the playoffs will continue. If it's the former, Ellsbury plays center and one of Hicks or Frazier is the DH. Normally you'd just default to the switch hitting Hicks here, but batting lefty is the weaker position for him. Additionally, you wouldn't want to bury Frazier; might as well have him playing every day in AAA instead of riding the pine with infrequent at bats.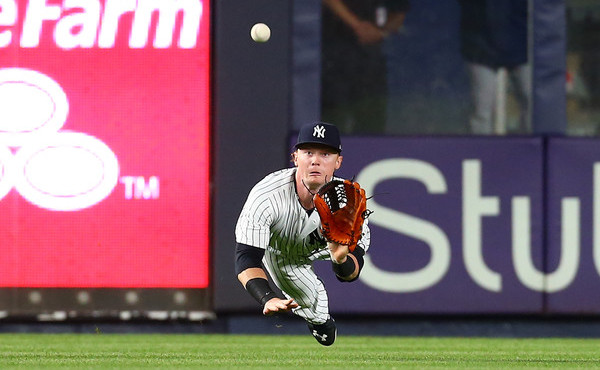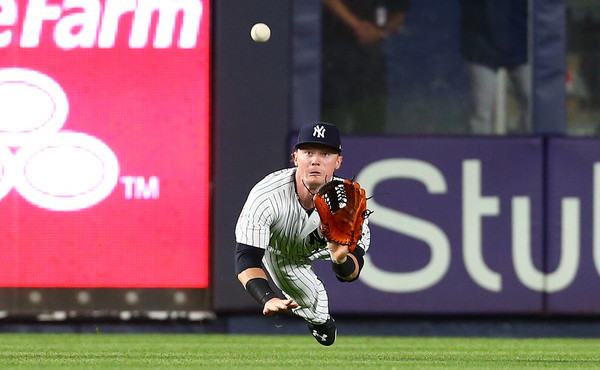 Against lefty pitchers, Hicks plays center, Frazier plays left, and Gardner gets a half day off at DH. He's getting up there in age and it makes sense to let him rest a bit while the younger guy roams left field. Once again, we relegate Ellsbury to the bench here, unless he manages to improve against lefties while Gardner falls off a bit.
So my five man plan is really a four man shuffle with Ellsbury relegated to the bench. If they manage to trade Taco, this plan is uninterrupted. But, there is another wrinkle, and that's Ohtani. If he signs with the Yankees, will he be getting DH at bats between starts? If he does, this plan may not work. Setting that aside for the moment, though, I think this is the best way to balance rest and playing time for the outfielders. Of course they'll have to throw in some DH days for Gary Sanchez and Greg Bird every so often ,but doing this day in, day out probably gives the Yankees the best possible lineup most of the time. Until something big happens, keep it this way.