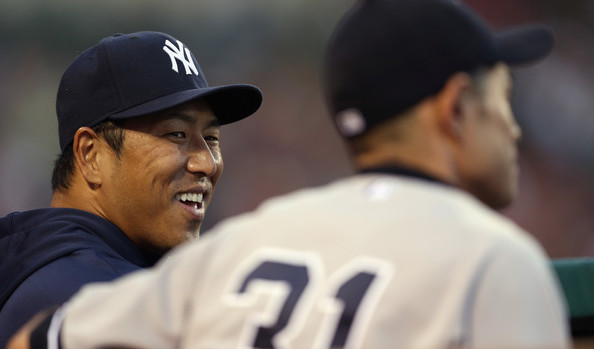 We're now into yet another new month, which means it is once again time to go back through the MLB Trade Rumors archives. We have two months to cover, actually. I forgot skipped October because things were hectic during the postseason. October is a slow month for trade and free agent rumors anyway. So I'm going to combine October and November here. Easy enough, right?
Anyway, the Yankees finished the 2012 season in first place at 95-67. They beat the Orioles in five games in the ALDS before getting swept by the Tigers in the ALCS. A disappointing finish to the season, that was. The big story going into the 2012-13 offseason was the futures of Andy Pettitte and Mariano Rivera, as well as the impending free agencies of Nick Swisher and Hiroki Kuroda, and Rafael Soriano's opt-out clause. Let's go back through October and November rumor mill.
October 2nd, 2012: AL East Notes: Banuelos, Farrell, Ortiz, Steinbrenner
Though the Yankees went from a big AL East lead in mid-summer to fighting for the division title with two games left, managing general partner Hank Steinbrenner told reporters (including MLB.com's Bryan Hoch) that the team's minor collapse won't lead to any offseason changes.  "Are jobs riding on this? Not that I know of," Steinbrenner said. "Jobs are not riding on this, but that's not something I'm concerned about right now. We look at everything in the offseason, as we always do."
There was a lot of talk about coaching staff changes following the 2012 season because the Yankees collapsed. No one remembers because they won the AL East anyway, but they had a ten-game lead on July 18th. It was gone completely by September 4th, and the Yankees eventually won the division by two games. Joe Girardi and hitting coach Kevin Long were on the hot seat, at least in the minds of many fans and media members, though that wasn't really the case. Hal Steinbrenner said so.
October 8th, 2012: Pettitte Likely To Return Next Season
Throughout the 2012 season, Yankees pitcher Andy Pettitte has been non-commital when asked whether he would return next year.  However, the 40-year-old gave a strong indication that he will be back in 2013 as he gets ready to take on the Orioles in Game 2 of the ALDS, writes Mark Hale of the New York Post.

"I know one thing: I know the competition and the desire to compete is still there, and I don't feel like I kind of got that itch out from the 70 innings or so that I threw this year," Pettitte said.
Ah yes, another offseason of "will Pettitte retire or won't Pettitte retire?" I love Andy. He's the man. But the annual offseason waffling got old after a while. Of course, this time things were different, because Pettitte had retired and unretired earlier in the year. He came back and had his leg broken by a comebacker, cutting his comeback short. Andy eventually admitted he was planning to call it quits (again) after the season before the injury. He didn't want to go out like that though.
October 8th, 2012: Yankees Designate Cory Wade For Assignment
The Yankees have designated right-hander Cory Wade for assignment, according to Mark Feinsand of the New York Daily News (via Twitter).  In a related move, Dellin Betances was reinstated from the 60-day disabled list to play in the Arizona Fall League.
Awww, Cory Wade. He was a personal favorite. The Yankees grabbed him from the Rays at midseason in 2011 and he threw 39.2 innings with a 2.04 ERA (3.76 FIP) that year. What a find. It didn't last though. Wade couldn't keep the ball in the park in 2012, and finished with a 6.46 ERA (4.51 FIP) in 39 innings. An upper-80s fastball never left him much margin for error.
As for Betances, he started the 2012 season in Triple-A and eventually earned a demotion to Double-A. His line in the minors that year: 6.44 ERA (5.11 FIP) with 19.6% strikeouts and 15.7% walks in 131.1 total innings. Shoulder inflammation sent him to the disabled list in mid-August. That was back in the "please figure out how to throw strikes, Dellin" days. Funny how history repeats itself.
October 18th, 2012: Yankees, Marlins Had Preliminary A-Rod Talks
THURSDAY: Marlins president David Samson told Joe Frisaro of MLB.com that there have been "no conversations between the Yankees and the Marlins."

WEDNESDAY: Earlier today, Yankees General Manager Brian Cashman shot down a report from Keith Olbermann which indicated that the club has talked with the Marlins about a possible trade involving Alex Rodriguez.  However, Yankees president Randy Levine and Marlins owner Jeffrey Loria have in fact had a casual conversation about relocating the embattled third baseman to Miami, a source tells Wallace Matthews and Andrew Marchand of ESPNNewYork.com. 
Good times, good times. This was shortly after Raul Ibanez pinch-hit for Alex Rodriguez in the postseason, kicking off the annual "how will the Yankees get rid of A-Rod this offseason?" chatter. Every year, like clockwork. This time we had organizational higher ups involved. Levine said he talked to the Marlins about an A-Rod trade. Samson said no, that conversation didn't happen. Hmmm, which completely unlikable team president to believe?
October 25th, 2012: Latest On Ichiro, Yankees
Ichiro Suzuki strongly wants to re-sign with the Yankees, a person close to the free agent outfielder told Joel Sherman of the New York Post. Ichiro enjoyed playing in a winning atmosphere with players in his age range this past season, Sherman reports
The "enjoyed playing … with players in his age range" line is too funny. Sad, but funny now looking back on it. Ichiro was 39 years old at the time of this report! Among his teammates in 2012: 38-year-old Derek Jeter, 37-year-old A-Rod, 40-year-old Ibanez, 40-year-old Pettitte, 37-year-old Kuroda. Oy vey.
October 29th, 2012: Yankees Exercise Options For Aardsma, Cano, Granderson
The Yankees announced that they have exercised the 2013 options for right-hander David Aardsma, second baseman Robinson Cano and outfielder Curtis Granderson.
The Cano and Granderson options, both worth $15M, were easy calls. I forgot the Yankees picked up the Aardsma option. They signed him the prior offseason, as he rehabbed from Tommy John surgery. He had a few setbacks and wound up pitching one whole inning in pinstripes in September 2012. The Yankees picked up his $500,000 option for 2013 … and then released him at the end of Spring Training.
October 31st, 2012: Rafael Soriano Opts Out Of Contract
7:45am: Rafael Soriano will opt out of his contract with the Yankees and elect free agency today, Jon Heyman of CBSSports.com reports. Soriano's contract includes a $14MM player option for 2013 with a $1.5MM buyout.
Rivera blew out his knee on the Kauffman Stadium warning track, pushing Soriano into the closer's job, and he was great. Dude went 42-for-46 with a 2.26 ERA (3.32 FIP) in 67.2 innings. After that, Soriano used the (second) opt-out clause in his contract and eventually landed a two-year deal worth $28M with the Nationals. Fun fact: that contract included a ton of deferred money, and the Nationals have to start paying it next year. Soriano will get $2M each January 5th from 2018-24.
October 31st, 2012: East Links: Ortiz, Hunter, Oliver, Marlins, Phillies
The Yankees have some interest in Torii Hunter, reports Mark Feinsand of The New York Daily News (on Twitter). Since the Angels are unlikely to make Hunter a qualifying offer, it wouldn't cost a draft pick to sign him.
I was very much against signing Hunter at the time. He was 36 and I wanted the Yankees to get younger. They had an opening in right field given Swisher's free agency, and it seemed like a chance to find a younger player to potentially build around going forward. The Yankees wound up re-signing Ichiro. Womp womp.
Hunter (two years, $26M): .295/.327.456 (116 wRC+) and +2.7 WAR
Ichiro (two years, $13M): .271/.308/.341 (79 wRC+) and +2.6 WAR
WAR says their production was equal from 2013-14. Me? I'll take the good bat/bad glove guy over the bad bat/good glove every day of the week.
November 2nd, 2012: Soriano, Swisher, Kuroda Obtain Qualifying Offers From Yankees
The Yankees extended qualifying offers to Rafael Soriano, Nick Swisher and Hiroki Kuroda, Danny Knobler of CBSSports.com reports (on Twitter). The players now have one week to accept or decline the offers.
Fun fact: the qualifying offer was worth only $13.3M during the 2012-13 offseason. It's $17.4M this offseason. It was an easy decision to give all three guys the qualifying offer. And they all declined it. Kuroda wound up re-signing with the Yankees. Swisher went to the Indians and Soriano went to the Nats, and with the compensation draft picks, the Yankees took Aaron Judge and Ian Clarkin, respectively. That Swisher trade, man. It's the gift that keeps on giving. Four great years from Swisher and now at least one MVP caliber year from Judge.
November 3rd, 2012: AL East Links: Swisher, Orioles, Ross, Cabral
The Yankees intend to keep 2011 Rule 5 Draft pick Cesar Cabral and give him another look in Spring Training, reports Chad Jennings of The Journal News. Cabral, a left-hander, missed all of this season with an elbow injury.
The Yankees liked Cabral so much they traded up to get him in the 2011 Rule 5 Draft — in a prearranged deal, the Royals selected Cabral and traded him to the Yankees for $100,000 (Cabral wouldn't have made it to New York's pick) — then kept him around for a second Rule 5 year. Rule 5 players have to spend 90 days on the active roster, and since Cabral missed 2012 with the elbow injury, the Rule 5 Draft rules carried over to 2013. All told, he allowed four runs in 4 2/3 innings for the Yankees. He plunked three batters in his final appearance, you may remember.
November 3rd, 2012: Mariano Rivera To Return In 2013
Mariano Rivera informed Yankees General Manager Brian Cashman that he wants to return next season, tweets Erik Boland of Newsday.  The closer is now a free agent after finishing up his two-year, $30MM contract.
This was when we found out Rivera was planning to retire following the 2012 season. Then he blew out his knee in Kansas City, and decided he didn't want to go out like that. I wonder what would've happened had Mo not hurt his knee, and instead followed through on his plan to retire following 2012. Hmmm. Do the Yankees re-sign Soriano to close? Do they hand the reins to David Robertson a year earlier? And if so, do they re-sign Robertson after two great years as closer? That likely means no Andrew Miller, and then no Clint Frazier and Justus Sheffield. Intrigue!
November 5th, 2012: Yankees Claim Eli Whiteside
The Yankees announced that they claimed catcher Eli Whiteside off of waivers from the Giants.
In the coming days lots of players will hit the waiver wire as teams clean up their 40-man roster. These days the Yankees are a team that loses players on waivers in November, like Blake Parker and Kirby Yates last year. Once upon a time they were a team claiming random players for depth. That was the case in 2012.
A complete list of players the Yankees claimed on waivers during the 2012-13 offseason: Eli Whiteside, David Herndon, Josh Spence, Mickey Storey, Jim Miller, Russ Canzler, Dan Otero, Sam Demel. Whiteside, Storey, Canzler, and Otero were all lost on waivers later in the offseason. Otero's gone on to have a few solid years as a middle reliever for the Athletics and Indians. Everyone else? Nope. Yet they all spent time on the 40-man roster. Miller actually had cups of coffee with the Yankees in both 2013 and 2014. Huh. Had a 20.25 ERA both years too. Gave up Xander Bogaerts' first career dinger.
I embedded that just so any visiting Red Sox fans can remember what it looked like Bogaerts had power.
November 5th, 2012: Soria Would Set Up For Yanks; Eight Other Teams Interested
Oscar Suarez, the agent for Joakim Soria, has received calls from eight contending teams expressing interest in his client, writes Andrew Marchand of ESPN New York. Suarez has yet to hear from Yankees general manager Brian Cashman, but says that Soria would be more than willing to pitch in a setup role for his idol, Mariano Rivera.
Remember Greg Holland last offseason? That was Soria back during the 2012-13 offseason. He was a formerly elite closer who hadn't pitched at all the prior season as he rehabbed from Tommy John surgery. In Soria's case it was his second career Tommy John surgery, which adds another layer of concern.
Everyone wanted Soria back then. It's so very easy to dream on these guys coming back from elbow reconstruction good as new, and dominating. How often does that happen? Very rarely. Soria eventually signed a two-year deal worth $8M with the Rangers, and gave them 57 innings with a 3.16 ERA (2.15 FIP). That one worked out. Texas traded Soria to the Tigers for Corey Knebel at the 2014 trade deadline, then a year later they traded Knebel to the Brewers for Yovani Gallardo. D'oh.
November 12th, 2012: Yankees, Red Sox Interested In Napoli
2:38pm: The Yankees are also interested in Napoli, Bob Nightengale of USA Today reports (on Twitter). The Yankees have a need at catcher, since Russell Martin has also hit free agency. Both Napoli and Martin have strong career numbers against left-handed pitching.
The Yankees lost Martin to the Pirates during the 2013-13 offseason without even making him an offer, which annoyed me to no end. He only wanted a three-year deal and later said he'd take a one-year deal, but nope, Yankees let him go, and we were saddled with the Chris Stewart/Francisco Cervelli/Austin Romine mishmash in 2013. Next time you feel like complaining about Gary Sanchez's passed balls, remember that season.
Martin and Napoli were the two top free agent catchers that offseason. And Napoli never caught again. He agreed to a three-year, $39M deal with the Red Sox, but it was discovered he had a degenerative condition in both hips during his pre-signing physical, so they cut their offer to one-year and $13M, and moved him to first base. I was very Mad Online about the catcher situation going into 2013.
November 13th, 2012: AL East Links: Ibanez, Orioles, Blue Jays, Red Sox
Dan Martin of The New York Post reports that the Yankees have had "preliminary discussions" about bringing Raul Ibanez back as a platoon player next season. The 40-year-old played more than the club would have liked this year due to Brett Gardner's injury.
We all remember the clutch homers. They were awesome. The fact of the matter though was Ibanez was 40 years old, and he'd hit .240/.308/.453 (102 wRC+) in 2012, which pretty much sucks for a bad defense corner outfielder-slash-DH. There were plenty of reasons to stay the hell away. Then Ibanez went back to the Mariners and hit .242/.306/.487 (121 wRC+) with 29 homers in 2013. Go figure.
November 14th, 2012: Marlins Shopping Morrison; Nolasco May Be Traded
The Yankees are among the teams with an interest in Nolasco, Erik Boland of Newsday reports (on Twitter). The right-hander has one year and $11.5MM remaining on his contract with Miami. The Rockies had interest in Nolasco last winter and could inquire about him, Troy Renck of the Denver Post suggested this morning (on Twitter).
I was pro-Nolasco back then, when most baseball analysis was "ignore the hundreds and hundreds of innings of crummy run prevention because one of these years his ERA will match his FIP!" Nolasco had a 4.48 ERA (3.57 FIP) in 2012 and was a good bet to chew up innings. The Marlins didn't trade him that offseason though. They sent him to the Dodgers at the deadline, a few months before he became a free agent, for nothing in particular. I'm pretty sure Nolasco in Yankee Stadium would've set a new single-season home runs allowed record. (Current record: 50 by Bert Blyleven in 1986.)
November 20th, 2012: Yankees Agree To Terms With Hiroki Kuroda
The Yankees have retained their most consistent starter from 2012 as the club has agreed to terms on a one-year, $15MM contract with Hiroki Kuroda, reports ESPN's Buster Olney (Twitter links).  Kuroda is represented by the Octagon agency.
Welcome back, Hiroki. Kuroda was just the best, wasn't he? Three years with the Yankees, all one-year contracts, totaling 620 innings with a 3.44 ERA (3.68 FIP) and +12.0 WAR.
Man it would be so awesome to add 2012-14 Kuroda to the 2018 Yankees. What a stud.
November 20th, 2012: Tigers, Red Sox, Yankees Interested In Stephen Drew
Shortstop Stephen Drew is drawing interest from such clubs as the Tigers, Red Sox and Yankees, reports CBS Sports' Jon Heyman.  Drew became a free agent after the A's declined their half of a $10MM mutual option in October, though Oakland is still interested in re-signing the Scott Boras client at a lower price.
The Stephen Drew love goes back a long, long time. The Yankees wanted him long before getting him at the 2014 trade deadline. They were after him during the 2012-13 offseason. Drew signed a one-year deal with the Red Sox that offseason and hit .253/.333/.443 (108 wRC+) in 2013. Why couldn't he do that in pinstripes?
November 24th, 2012: Yankees Have Interest In Jeff Keppinger
The Yankees have "renewed (their) longstanding interest" in free agent utility man Jeff Keppinger, reports Ken Rosenthal of FOX Sports. People within the industry think the team may be laying groundwork to use Alex Rodriguez as the primary DH as soon as 2013, which GM Brian Cashman refuted.
Good gravy Jeff Keppinger was still a thing in 2012? Apparently so. The internet tells me he hit .325/.367/.439 (128 wRC+) with the Rays in 2012. What the what. The White Sox gave him three years and $12M, then he hit .253/.283/.317 (62 wRC+) in 2013 and was released in May 2014. The Yankees always seemed to be connected to Keppinger because he could kinda sorta hit and play a few different positions. Keppinger, Ty Wigginton, Mark DeRosa … the Yankees were always connected to those dudes without ever actually signing one of them.
November 26th, 2012: Seven Teams Interested In Victorino
B.J. Upton's name has dominated the conversation regarding free agent center fielders lately, but Jon Heyman of CBS Sports reports that the Indians, Rangers, Yankees, Giants, Rays, Red Sox and Reds all have interest in another free agent center fielder — Shane Victorino.
Victorino, like Hunter, was not someone I wanted the Yankees to sign. He was 32 at the time, which isn't old by any means, but he'd just hit .255/.321/.383 (94 wRC+) in 2012, and was trending down. I thought the Red Sox were asking for trouble when they gave him a three-year deal worth $39M. Then he hit .294/.351/.451 (119 wRC+) in 2013. Pretty much every free agent the Red Sox signed in 2013 worked out perfectly. Annoying! Victorino was awful in 2014 and 2015, but by then, no one cared. The 2013 World Series title made the contract worth it.
November 28th, 2012: Yankees To Sign Andy Pettitte
The Yankees announced that they have signed Andy Pettitte to a one-year, Major League contract. Ken Davidoff of the New York Post, who first reported the deal, adds that it's worth $12MM (on Twitter). The contract also includes $2.5MM in awards bonuses according to Mark Feinsand of The New York Daily News (on Twitter). Excel Sports Management now represents the 40-year-old left-hander. 
Welcome back, Andy. He retired after the 2010 season and yet here were the Yankees, giving him $12M in November 2012. And everyone was totally cool with it.
November 29th, 2012: Yankees Agree To Terms With Mariano Rivera
The Yankees have agreed with closer Mariano Rivera on a one-year contract for 2013, reports Jon Heyman of CBS Sports (Twitter link).  The deal is worth $10MM in guaranteed money, plus extra performance and awards incentives.  Rivera is represented by SFX.
Welcome back, Mariano. In the span of ten days the Yankees handled three major pieces of offseason business by re-signing Kuroda, Pettitte, and Rivera. They committed $37M to three players who averaged 41 years of age, and they were basically the three best pitchers on the team in 2013. Those three gave the team 450.2 innings of 3.32 ERA ball.
November 30th, 2012: Yankees Designate Jayson Nix For Assignment
The Yankees have designated Jayson Nix for assignment, the team announced. The move creates room on the 40-man roster for the recently re-signed Mariano Rivera.
We all thought this would be the end of the Nixy (Nixie?) era, but nope, just some clever roster manipulation by the Yankees. We later found out they signed Nix to a one-year deal worth $900,000 prior to this move, which was quite a bit more than everyone expected him to get. About $900,000 more then expected. The relatively pricey one-year deal meant he'd get through waivers, so the Yankees dropped him from the 40-man roster, Nix agreed to stick around as a non-40-man player until Opening Day, when he was re-added to the roster. The essentially bought a temporary 40-man roster opening by giving their utility infielder a few extra grand. Seems …. unnecessary?