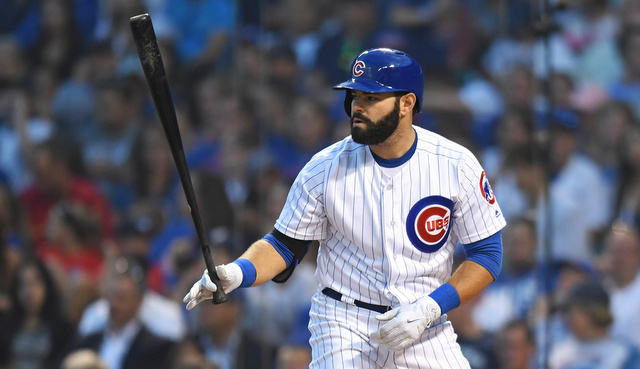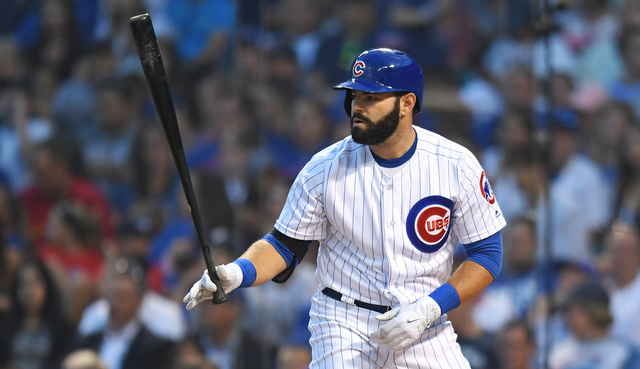 Weirdly enough, the Yankees could be in the market for a catcher this offseason. Gary Sanchez is one of the best catchers in baseball and the Yankees aren't about to move him out from behind the plate — "Hell no," said Brian Cashman to Jon Morosi when asked about moving Sanchez to DH earlier this week — so there is no need for a starting catcher. The Yankees could use a new backup though.
Austin Romine, the backup catcher the last two seasons, hit .218/.272/.293 (49 wRC+) this year and .228/.271/.330 (57 wRC+) the last two years. Forty-four catchers batted at least 400 times from 2016-17. Romine ranks 43rd in wRC+, ahead of only Caleb Joseph. He's a bad hitter even by backup catcher standards. Also, Romine threw out only 10% of basestealers this year, and his overall defensive numbers are just okay.
Point is, Romine doesn't really do anything well, at least not according to numbers we have. Being just an okay defender is not enough when you don't provide any offense. MLBTR projects a $1.2M salary for Romine next year, and while that's not much in the grand scheme of things, it could push the Yankees to look at other backup catcher options. They might be able to find a more impactful backup catcher, even though most backup catchers provide no impact.
Arguably the best catcher on the free agent market this year is longtime Tigers (and short time White Sox and Cubs) backstop Alex Avila. It's either Avila or Jonathan Lucroy. Avila has settled in as a backup the last few years and, as a left-handed hitter, he could mesh well with Yankee Stadium. Would it make sense for the Yankees to pursue him? Well, yes, of course. But how aggressive should they be? Let's see whether Avila fits with the Yankees need.
Offensive Performance
Way back in 2011, during his age 24 season, Avila hit .295/.389/.506 (140 wRC+) with 19 home runs and was an All-Star. True story. He followed it up by hitting .243/.352/.384 (104 wRC+) in 2012 and .224/.334/.360 (96 wRC+) from 2012-15, which isn't truly awful for a catcher, but it isn't great. Avila's playing time was reduced and he became a backup the last two years.
With the White Sox last season Avila put up a .213/.359/.373 (106 wRC+) line with seven homers in 209 plate appearances. Pretty good! The Tigers brought him back this year, and he hit .274/.394/.475 (133 wRC+) in 264 plate appearances with them before being traded to the Cubs, with whom he hit .239/.369/.380 (103 wRC+) in 112 plate appearances. The end result: .264/.387/.447 (124 wRC+) with 14 homers in 376 trips to the plate.
Early this season Avila looked like one of those "fly ball revolution" guys, the guys who apparently just now realized hitting the ball in the air and out of the ballpark is a good thing. Avila had a 52.2% ground ball rate last year. It was 30.5% in April, May, and June of this season. It didn't last though. Avila's ground ball rate climbed as the season progressed and his production dipped.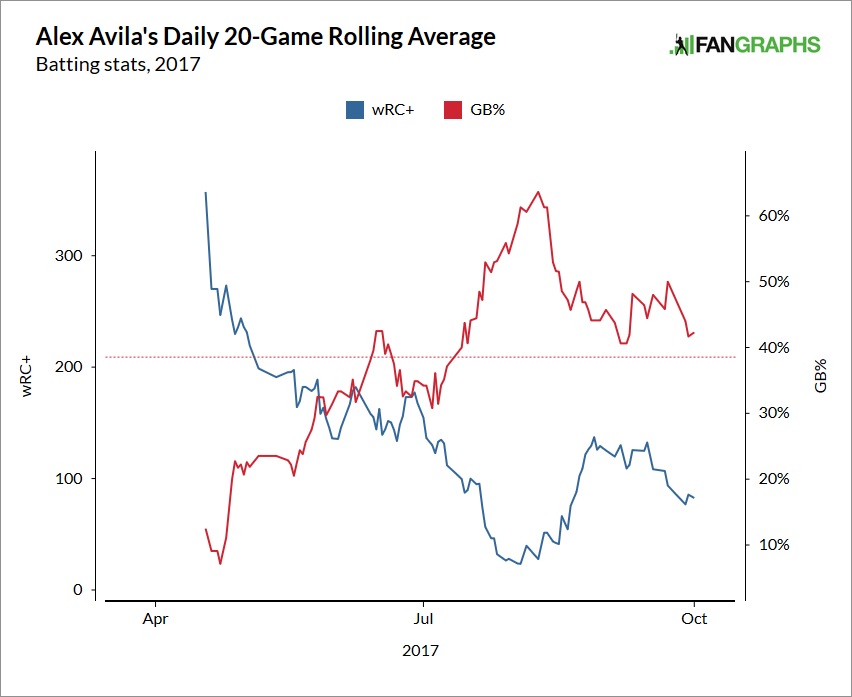 So who is the real Avila? The league average-ish hitter with a 44.8% ground ball rate from 2012-16, or the well-above-average hitter with a 38.5% ground ball rate in 2017? The smart money is on the league average-ish guy, and hey, league average is a-okay with me. We're talking about a backup catcher here.
For what it's worth, here's what Avila told Chris McCosky back in June when asked about the fly balls and potential swing changes:
"I haven't changed anything with my swing," he said. "It's the same, it really is. I haven't tried to make any adjustments with it."

…

"Toward the end of last year and going into this year, I was like, 'I really don't care (about the shift). I am just going to hit it hard,'" he said. "I've got balls through the shift and I've hit balls the other way. My focus now is just hitting the ball hard and let whatever happens happen."
Avila is, for the most part, a dead pull left-handed hitter, so he does get shifted. A lot. The shift has been on for 81% of Avila's balls in play the last three years, which is Brian McCann/David Ortiz/Chris Davis territory. Being a dead pull hitter is not necessarily a bad thing. It does limit Avila's ability to hit for average, however.
Fly balls or no fly balls, shift or no shift, Avila's offensive game breaks down into three things. One, he draws a ton of walks. His career walk rate is 14.0% and over the last three years it's 17.4%. Two, he strikes out a lot. His career strikeout rate is 28.1%, and over the last three years it's 32.9%. And three, when Avila hits the ball in the air, he hits it hard. His average exit velocity on fly balls and line drives the last three years is 95.9 mph. The league average is 92.1 mph.
With Avila, you're getting a hitter who hits for a low average because he strikes out and pulls the ball into the shift, but also will draw a ton of walks and hit for power when he gets the ball in the air. Whoever signs him will hope he gets the ball airborne as often in 2018 as he did in 2017. And if not, he can still be a useful hitter based on 2016. Lots of strikeouts, lots of walks, some power depending on his ground ball rate. And zero baserunning value. Avila is every bit as slow as you'd expect a soon-to-be 31-year-old catcher with over 6,000 career innings on his legs.
Defensive Performance
Catcher defense is difficult to evaluate, and for what it's worth, the various defensive stats all say Avila is below average overall behind the plate. He is basically an average thrower. We know that much. He threw out 31% of basestealers this year and 29.4% the last three years. That is a hair above-average. The pitch-framing numbers are not good:
Pitch-framing is a weird thing. It obviously exists and is a valuable skill, but are the stats we have precise enough to measure it within a tenth of a run? Of course not. The stats we have are good directionally. When we have two sites and three years worth of data telling us Avila is a bad framer, I'm inclined to believe he's a bad framer. How bad, exactly? That's debatable. But bad.
The stats at Baseball Prospectus grade Avila as an average blocker — they have him at -0.8 runs blocking in over 1,400 innings the last three years — so put it all together and you get a below-average gloveman. Average throwing, average blocking, bad framing. Most backup catchers are good defenders, or at least talked up as good defenders, and bad hitters. Avila's kinda the opposite. An average or better hitter and below average defender. You hope the bat makes up for the poor framing. Everything else kinda evens out.
Injury History
Like a lot of catchers his age, Avila has visited the disabled list a few times over the years. Hamstring trouble sidelined him twice last season, and he's also missed time with knee soreness, a bruised forearm, and banged up fingers over the years. Typical catcher stuff.
The biggest injury concern with Avila is his concussion history. Remember a few years ago when he took a foul tip to the face mask so hard that the damn thing sparked?
Cool visual! But also probably incredibly bad for Avila's brain. He missed time with concussions every year from 2012-14, and while he did not have a documented concussion from 2015-17, there's a pretty good chance Avila got rattled behind the plate a few times. It's scary stuff. Mike Matheny had to retire early due to concussions. Joe Mauer had to move to first base due to concussions.
The hamstring injury last season was just one of those baseball injuries. They happen. Avila doesn't have a history of chronic hamstring problems. And a catcher missing time because he takes a foul tip to the forearm or fingers, or has sore knees, is not exactly unheard of. Those injuries come with the position. The concussions are another matter. They're scary and, unfortunately, part of the job.
Contract Estimates
Catchers are always in demand and Avila will have no trouble finding work this winter, pitch-framing problems and concussion history and all. Here are some contract estimates:
Well how about that? Two projections that agree exactly. Avila signed one-year contracts worth $2.5M and $2M the last two offseasons, though neither time was he coming off a 124 wRC+ season with 14 homers. Also, the current free agent catching market stinks. Avila and Lucroy are the best available catchers, and Lucroy was terrible this season.
That two-year, $16M projection is based on Jason Castro getting three years and $24M last year, and injured Wilson Ramos getting two years and $12.5M. That $8M annually seems to be the going rate for a catcher who is kinda sorta good but flawed. Castro hadn't hit in years. Ramos was coming back from a torn ACL. Avila isn't a good framer and it's been a very long time since he hit like he did in 2017. It's not unreasonable to be skeptical of his ability to maintain that pace.
Does He Make Sense For The Yankees?
In a vacuum, yes. Even the bad hitting version of Avila is an upgrade over 2016-17 Romine, and the offensive/throwing upgrades are likely more than enough to make up for the pitch-framing downgrade. Also, Avila can still fill in at first base like Romine — he's started 24 games at first base over the years, and has made 43 career appearances at the position — plus he's a left-handed hitter, which is nice for matchup purposes.
I see two problems with signing Avila to be the backup catcher. One, there's not a chance in hell the Yankees will spend $8M annually (or thereabouts) on a backup catcher. Not with the plan to get under the $197M luxury tax threshold next season firmly in place. And two, why would Avila sign with the Yankees to back up Sanchez, one of the best catchers in baseball? Who wants that job? The Yankees will be faced with that problem every year going forward.
The Yankees could sign Avila with the idea of giving him, say, 60 starts behind the plate and another 40 or so at DH. There is something to be said for giving Sanchez only 100 starts behind the plate rather than 120-130 as a way to keep him healthy, and potentially reduce wear and tear so he stays productive later in the season. Is that really something Avila would be interested in though? I have to think he's looking for a starting job, or at least something close to a starting job, after the season he just had.
Avila does fit what the Yankees need on the field, in my opinion. His expected salary doesn't fit the luxury tax plan though, and I don't think Avila wants to be stuck behind Sanchez. This is one of those "he's a fit for the Yankees but the Yankees are not a fit for him" situations. Maybe Avila's market will collapse this winter and the Yankees can scoop him up on a one-year, $2M-ish contract like the deals he's signed the last two offseasons. I have a hard timing thinking that'll happen though. Catching is always in demand and other teams can offer Avila a greater opportunity.