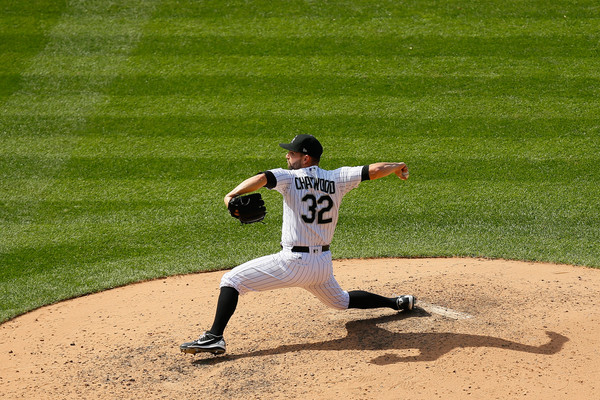 The Yankees starting rotation is far more settled heading into 2018 than it was this past season, and it's a pretty good feeling. Luis Severino earned a top-three finish in the Cy Young voting, Masahiro Tanaka rebounded brilliantly from a poor first half, Sonny Gray was mostly as good as advertised, and Jordan Montgomery was the best rookie starting pitcher in baseball, and all four will be in the rotation this coming season.
That leaves one spot open for a potential reunion with CC Sabathia, an internal candidate like Chance Adams, international free agent-to-be Shohei Otani (perhaps their primary target), or "other." There's a great deal of off-season to go, but it is clear that, as of this writing, the Yankees need a fifth starter. And my favorite free agent for that role is Tyler Chatwood.
Recent Performance
Let's take a look at Chatwood's numbers over the past two seasons:

Two things jump out immediately – he didn't throw a full workload in either season, and he regressed fairly heavily from 2016 to 2017. Well, those things, as well as the fact that Coors Field is still a veritable death trap for pitchers, given that his 4.69 ERA was actually 7% better than league-average (relative to the conditions in which he played) … but I digress.
Chatwood was quite good across the board in 2016, and something closer to mediocre in 2017, and there's obviously value in both. The middling strikeout and walk rates leave something to be desired, but his groundball rates are elite, he limits hard contact (league-average was 31.8% in 2017), and his home run rate was actually a tick above-average. There are reasons to believe that he is closer to the pitcher that we saw in 2016 than last year's version as a result.
And, as you might suspect, he has been significantly better on the road the last two years:

The sample sizes are relatively small, and Chatwood pitched in a division with three pitcher's parks on the docket, but the underlying numbers nevertheless paint him as a different pitcher on the road. His walk rate is still discouraging, but he picks up more whiffs and garners less hard contact on the road, which may be indicative of him changing his plan of attack to suit his environment. He is not as good as the 2.57 road ERA indicates, but he has been a far better pitcher than his overall numbers suggest.
The Stuff
Chatwood throws five different pitches, each of which has a fair bit of moment. It may be a bit disingenuous to call him a true five-pitch guy, though, as his change-up is more of a show-me pitch than anything else, and he doesn't use it all that often. Take a look: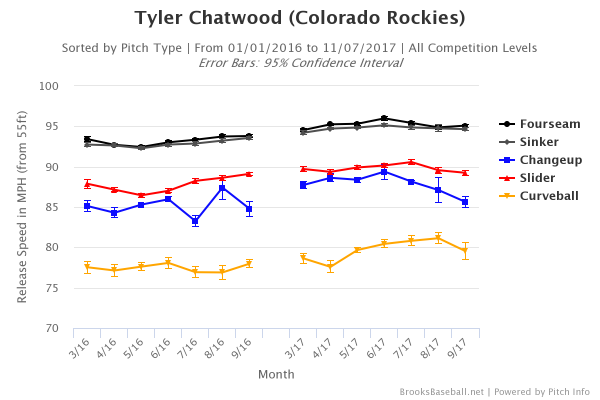 His fastball and sinker velocity ticked up this past season, jumping from the low-90s to sitting comfortably in the mid-90s, which fits the league-wide trend in velocity. And all of those pitches have a great deal of movement, which allows him to induce grounders with all five.
Chatwood boasted healthy whiff rates on his change-up (20.16%), slider (16.9%), and curve (12.9%) last year, which has led some to speculate as to why he doesn't use his off-speed stuff more often. That curveball is also a groundball generating machine, with 70.4% of those put into play were worm burners. And, while we still have a great deal to learn about the usefulness of spin rate, it's worth noting that Chatwood's curveball (4th among starting pitchers) and four-seamer (7th) have elite spin rates, as per Statcast.
Injury History
The reason why Chatwood threw so few innings in 2016 is because he underwent Tommy John surgery in the Summer of 2014, and was on an innings limit as a result. He made just four starts in 2014 and missed all of 2015 as he rehabbed from the procedure. That was the second such surgery of his career – the first came way back in 2005, when he was a 15-year-old pitching for Redlands East Valley High School.
Having two Tommy John surgeries is never a good thing, so caution may be a key word thrown around by any team interested in his services – but he has otherwise been mostly healthy as a professional. He spent time on the disabled list in 2017 with a calf strain, and that's about it.
Contract Estimate
MLB Trade Rumors predicted a 3-year, $20 MM deal for Chatwood, ranking him as the sixth best starting pitcher on the market (not including Shohei Otani). That feels a bit light for a 28-year-old with a recent history of success, but his ugly overall numbers and twice-repaired elbow may well give some teams pause. The market was light last year, as well, with Rich Hill being the only free agent starter to get a multi-year deal worth $10 MM or more per year.
If I had to hazard a guess, I would go with something closer to 3-years, $30 MM.
Does He Fit the Yankees?
Chatwood is young, he throws hard, his pitches have great movement, and he keeps the ball on the ground – that sounds like the sort of package that the Yankees would salivate over. And, should Otani not come to the Yankees (be it by staying in Japan, or signing elsewhere), I could see him being at or near the top of the team's list.
That being said, the Yankees are trying to limit payroll, and I don't know that they'd view Chatwood as the player to invest precious dollars in, given the team's internal options and potentially cheaper options on the market. The fit in a vacuum is obvious, but it becomes less so when viewed under the totality of it all.